Leyba's big night propels Jackson to SL win
D-backs prospect goes yard, collects four RBIs in Game 3 romp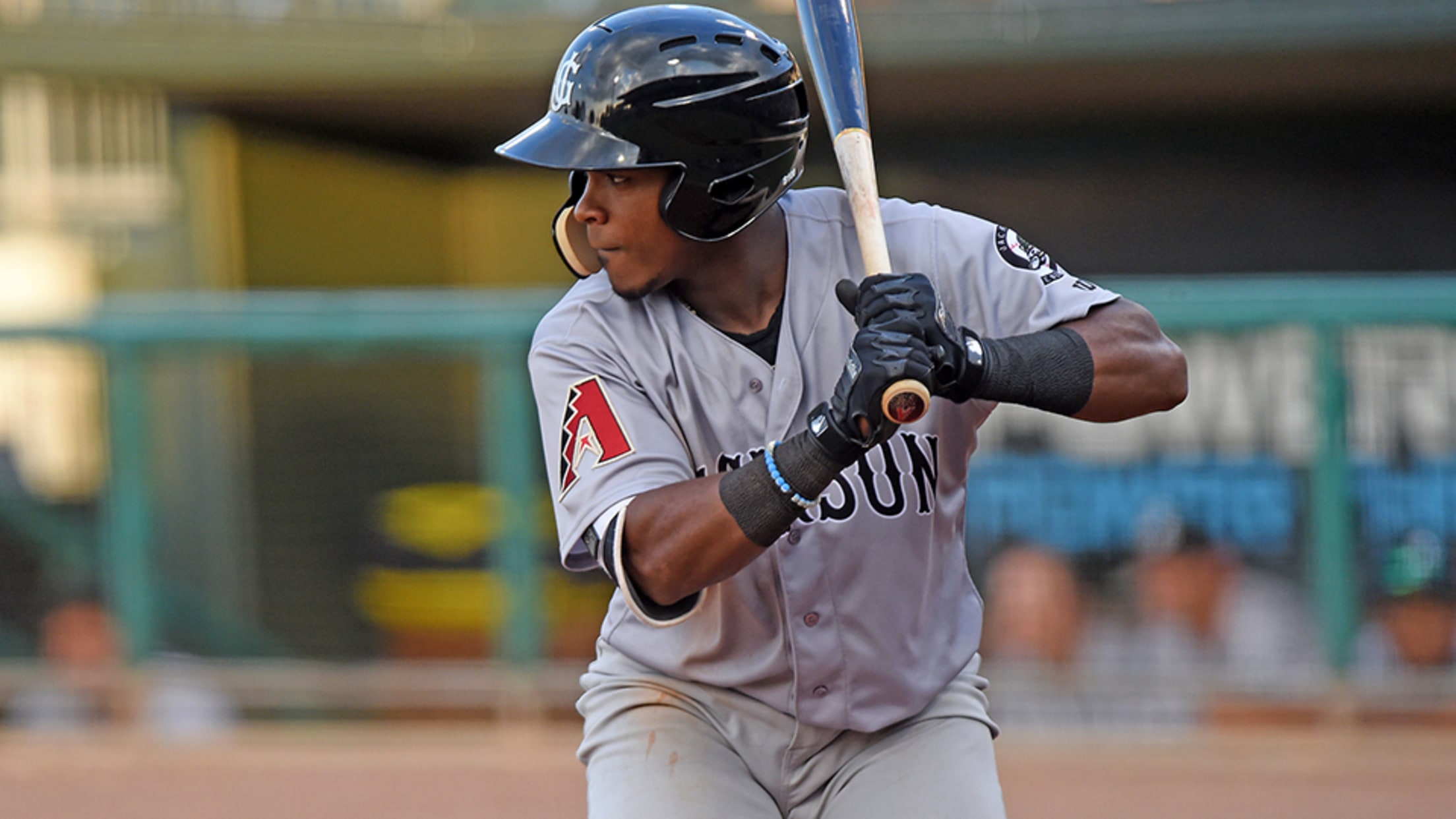 Domingo Leyba has an eight-game hitting streak in the Southern League playoffs. (Brian McLeod/MiLB.com)
Throughout the Southern League playoffs, Domingo Leyba has been a key cog in Jackson's offense. In Game 3 of the Southern League Finals on Friday, the No. 17 D-backs prospect outdid himself.Leyba matched his career high with four hits -- including a homer -- and collected four RBIs as the Generals
Throughout the Southern League playoffs, Domingo Leyba has been a key cog in Jackson's offense. In Game 3 of the Southern League Finals on Friday, the No. 17 D-backs prospect outdid himself.
Leyba matched his career high with four hits -- including a homer -- and collected four RBIs as the Generals beat Biloxi, 12-7, to grab the lead in the best-of-5 series at MGM Park.
"Any win in a series is a big win, especially against Biloxi -- they're a really, really good team and complete," Jackson manager Shelley Duncan said. "Getting a win against them is hard work. But Leyba, he was our dude against Montgomery in the first round. He's up there fearless at the plate. He's aggressive with pitches in the zone. He's patient right now, [and] he's doing what he needs to do. He's being patient in big situations. He got us our first hit tonight to give us a little momentum and then hit the big home run."
The 23-year-old second baseman came into the playoffs with a .269/.344/.381 slash line in 83 regular-season games. Though he entered the postseason in a 1-for-11 funk, Leyba turned things around in a hurry, rapping out five hits in the first two semifinal games against the Biscuits and finishing the series with a .364 average.
Gameday box score
After hitting safely in the first two games of the Finals, the native of the Dominican Republic made his presence felt with the bat early on Friday. He singled in the first inning and came to the plate in the third with Jackson already leading, 1-0. Leyba sent Thomas Jankins' 2-1 pitch over the right field wall for a three-run homer and Rudy Flores followed with a dinger to right-center to extend the Generals' lead to 5-0.
Duncan said Leyba's long ball against Jankins -- who induced 1.30 groundouts for every air out this season -- was a breakthrough.
"First and third, one out, it was a bomb to right field. It was special," the manager said. "It was something that gave us a bunch of energy on the bench, and I think we fed off that the rest of the game. ... [Leyba's] a guy we want up in every spot, as weird as it sounds. He's putting together some good at-bats, some really good two-strike at-bats. He's taking what's given to him and not missing the pitches that he usually hits."
Leyba brought in another run one frame later, lacing a single to center off reliever Conor Harber. Against No. 17 Brewers prospectCody Ponce in the ninth, he cracked a single to left.
• Complete postseason coverage »
Each starter in the Jackson lineup -- including pitcher Justin Donatella (1-0) -- collected at least one base knock. On the mound, Donatella allowed two runs on six hits and two walks en route to his second win in as many postseason starts. He struck out four.
After being shut out in Game 1, the Generals have rallied for 19 runs over the last two contests to pull within one win of the title. Their skipper knows that Leyba's hot streak has paid dividends, but he's taken pride in how the entire offense has contributed against a Biloxi staff that posted the circuit's best ERA at 3.47.
"We have a bunch of guys in the lineup that are stepping up, so it's not just Domingo," Duncan said. "Domingo's energy and at-bats, they feed on everybody else. And people see that. When they say in baseball that hitting is contagious, sometimes it starts with a guy like Leyba right now. Who knows, tomorrow it might be a different guy in the lineup -- that's just how this sport is. ... We just need to push this one behind us and focus on the next game."
Top Brewers prospect Keston Hiura finished 3-for-5 with an RBI for the Shuckers, while Max McDowell went deep, doubled and collected four RBIs.
Game 4 is set for Saturday at 7:35 p.m. ET in Biloxi. Trey Supak, Milwaukee's No. 13 prospect, takes the rubber against 14th-ranked Arizona prospect Emilio Vargas.
Andrew Battifarano is a contributor to MiLB.com. Follow him on Twitter, @AndrewAtBatt.