Jenkins' road from Draft project to prospect
Pitcher drafted as high-ceiling risk living up to profile five years later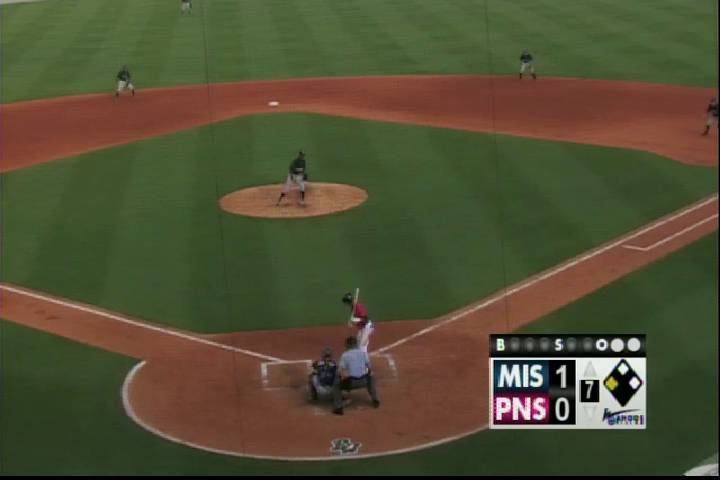 By Sam Dykstra / MiLB.com | June 12, 2015 10:00 AM
This is part of a series of Friday columns we're calling the Toolshed, focusing on some of the more interesting prospect-centered storylines as the 2015 season develops. Have ideas, feedback questions for Sam, email him or tweet him @SamDykstraMiLB.
There are a few buzzwords you hear every Draft season. Potential. Projectability. Signability.
They determine whether a player goes high in the Draft or low. You can't just have two of the three either if you're going to be taken in the first round. For example, you may have heard that Daz Cameron, MLB.com's No. 6 Draft prospect, fell to the Astros at No. 37 because he floated that he wanted a $5 million signing bonus. (He still might get it considering the Astros' Draft pool.) A more extreme case might be that of Justin Hooper, MLB.com's No. 31 Draft prospect and a 6-foot-7 left-hander with a mid-90s fastball who dropped all the way to the 25th round (751st overall) to the Brewers because he announced on Twitter that he was "100% honoring my commitment to UCLA."
If you don't have the tools, you'll get drafted low. If you won't sign, you'll get drafted low. If you have the tools and seem like a good chance to sign, you'll go high.
Five years ago, Tyrell Jenkins ticked two-and-a-half of the three boxes -- he had a committment to Baylor to play football -- but he didn't know those buzzwords.
"You hear a lot of terms and questions," he said. "High ceiling, projectability. When's he going to be here? What does he have to do? I just thought, 'I'm ready to pitch if I sign.' I definitely know a lot more now."
The Cardinals ended up taking Jenkins in the first supplemental round with the 50th pick in the 2010 Draft. Thus began what has been his route as a boom-or-bust Draft selection.
* * *
Before you understand Tyrell Jenkins, the Draft pick, you must understand Tyrell Jenkins, the high school athlete. Emphasis on that last word. From his home in Henderson, Texas -- a town of about 13,000 in the eastern part of the Lone Star State -- Jenkins became a three-sport star at Henderson High School, playing football in the fall, basketball in the winter, baseball in the spring. He was a good enough quarterback to be recruited to Baylor, where he was set to back up Robert Griffin III in the fall of 2010. He threw in the mid 90s with good downhill movement from the mound with the makings of some breaking stuff and a good changeup -- the type of stuff that makes scouts mouths water when it comes from a 17-year-old pitcher. By his own admission, he played basketball to give him something to do in the winters, but with a 6-foot-4, 180-pound frame and his speed, Jenkins handled himself on the court as well.
Actually, make that four sports. He also ran track when the team needed him, and by that, we mean he ran a 49.1 400-meter dash as a fill-in in a district meet before heading back to baseball.
Taken together, that was enough for Jenkins to earn the "athlete" tag on Draft boards across baseball, and scouts began to flock to Henderson to catch the young right-hander, and it was tough for him to hide.
"I would see plenty of them at basketball games because I could see more in the stands," Jenkins said, "and you could always tell a scout because I knew most of the people in my hometown, and if I didn't recoginize someone, they were probably a scout. My adviser then, who's my agent now, could point guys out, too. In those moments, I just wanted to show them I was an intense yet calm person, and they weren't going to get to me."
Building up to the June Draft, Jenkins began to meet more and more with scouts, but he says none tried to pressure him into picking the national pastime over the pigskin. Or they weren't doing it yet anyways.
"They would just go through what I was thinking about, what I wanted to do," he said. "They would tell me that, if my heart wasn't truly in baseball but I still go into it, that the game would eat me up and spit me out pretty easily. They wanted to make sure I was 100 percent sure with whatever I chose."
In those discussions, scouts must have picked up on something -- Jenkins' love for his mother.
Without his father around, Jenkins was raised solely by his mother, who had help from his grandmother and aunt. Through his childhood, Jenkins and his mom developed as close a relationship as one could imagine. She drove him everywhere he needed to go -- every practice, every game and even into his teenage years. (After Jenkins had passed driving age, he didn't mind being driven by his mother, unlike perhaps the average teenager.) He always wanted a chance to help her back. A quarterback gig at a big-time Big 12 school like Baylor could someday result in NFL millions. A high Draft pick could result in seven figures immediately.
Despite being a raw talent, Jenkins was considered pretty signable, even if he did strong leverage in negotiations. And given his stuff and age, he had the potential and projection.
The Cardinals took him 50th overall with the pick they received for losing Joel Pineiro to free agency, and after two months of negotiations, they offered a $1.3 million signing bonus, twice the recommended value for that pick. (Note: this was before bonus pools went into effect in 2012, so organizations could offer as much money as they wanted without risking penalty.)
That turned out to be too big a number to turn down, and Jenkins signed on Aug. 13.
"Once I got that offer, I couldn't turn it down," he said. "I wanted to be able to help my mom because it'd been just the two of us for so long. When I heard how big it was, there was no way I was turning it down. They put the ball in my court and let me decide what I wanted to do. But when they put me in the position with that money, it was only right to take it.
"It's kinda surreal. You don't run into that kind of money as a kid. Most grown-ups don't run into that money. I just wanted to make sure that nothing would change me and not let it get into my head. My mom told me, 'Don't let money change who I raised you to be,' because obviously she did a good job of that. That was her biggest issue."
There was another trump card: If Jenkins chose the gridiron and Waco, he'd also give up the diamond, even if it was publicly said at the time that he'd be a two-sport athlete at Baylor.
"I wasn't going to play baseball if I went to school," he said. "If I went pro, they'd work with me, mechanics-wise, and try to make me a better pitcher for the future. That's as opposed to college where, if you're not good right away, they'll put you in the bullpen and that can mess you up. ... I wanted the best for me, no matter what."
The combination of the money and giving up baseball completely was enough to sway the right-hander to start his pro career but not before he paid off his mother's mortgage and bought himself a Nissan truck. "The first car I'd seen," he says.
* * *
Just 17 on Draft Day, Jenkins was always going take time to become a finished product. So the Cardinals sent him to Rookie-level Johnson City in 2011 and kept him at Class A in 2013 when his first go-round -- in 2012, when he posted a 5.14 ERA in 82 1/3 innings for Quad Cities -- didn't go very well. His career was temporarily derailed by shoulder surgery in August 2013, and it was just last year that it looked his prospect status was finally going to take off after successful stints at Class A Advanced Palm Beach (3.28 ERA in 74 innings) and the Arizona Fall League (2.22 ERA in 24 1/3 innings).
And then the trade happened in November.
It's another common theme of Draft Day discussions. Organizations are drafting players that they hope will become Major Leaguers but also could be potential trade pieces before they make it there. It's why Astros fans shoudn't worry about their club taking shortstop Alex Bregman in the same week Carlos Correa made his Major League debut at the position. This stuff tends to sort itself out, either through trade, position changes or attrition.
Jenkins, still only 22, had worked his way into becoming a trade assets and was dealt along with Major League right-hander Shelby Miller to the Braves for All-Star outfielder and two-time Gold Glover Jason Heyward and reliever Jordan Walden. The Braves added Jenkins to their 40-man roster later in the month.
Although there were any number of ways Jenkins could have taken the news, he chose to view it as being wanted by a club that was looking to stock up on promising arms this offseason (Mike Foltynewicz and Manny Banuelos, to name two others), a club that would allow the still-projectable right-hander to grow at his pace.
"You always read and hear stuff, like it's called the Heyward-Miller deal and that Heyward was really the centerpiece, all that," he said. "But with all due respect to the Cardinals, I think I have a better opportunity here. I won't say it's rebuilding, but they're remolding the farm system here. They're trying to get a lot of pitchers back to where they were. With the Cardinals, I was becoming one of the older guys coming back from injury and kinda got lost in the shuffle.
"There were prospects coming up, prospects going past me, getting a chance before I could prove I was healthy. The trade put me in a position where, now that I am healthy, I'm not lost, and hopefully I can add something before the season is out."
* * *
Jenkins has, for the most part, thrived in his first season as a Brave at Double-A Mississippi. He was named a Southern League All-Star, thanks to a 3.00 ERA through 12 starts. He's not striking guys out at a high rate (5.6 K/9), but given how much the right-hander keeps the ball on the ground (1.44 groundout-to-airout ratio), that's not too disconcerting yet.
There is only one stat Jenkins himself is keeping an eye on, and that's his innings count. With 69 under his belt so far, he's only five away from matching his 2014 total and 13 1/3 away from his career high. For a pitcher who's experienced injury problems, Jenkins is counting down the starts until he can reach triple-digits for the first time.
"Just me being healthy is huge," he said. "It was a boost confidence to go to the Fall League last season and left there with a good taste in my mouth. I wanted to see what I can do with a whole offseason, and so far I've seen my stuff plays here. I'm going up against the best prospects from each team and sticking it out pretty well. I just needed that confidence."
Now five years away from his Draft experience and still out of the Majors, some might question whether Jenkins was worth his high selection and signing bonus.
But it's not that easy. The right-hander was always a project, and by his own admission, he's not the same pitcher now. He studies hitters and runners like never before, information he picked up from Adam Wainwright while at Cardinals Spring Training. He's finally got his health again, and playing in a league with top prospects like Byron Buxton, Kyle Schwarber and Miguel Sano, he's holding his own. He's got his sights on a Major League callup later this season, perhaps when rosters expand in September, which would be the culmination of the five-year process that started with a choice of baseball over football.
Because of that story, Jenkins hears from other young players in his shoes, and after going through a process which is still not fully completed, his advice is simple.
"They reach out to me on social media all the time," he said, "and I always say, 'Look you've got an opportunity. You can't listen to anybody but yourself and what you think is best. Don't be afraid to face the best. If you want to do this, you have to face the best, so don't be afraid. Do it, and let everything take care of itself.'"
Sam Dykstra is a contributor to MiLB.com. Follow and interact with him on Twitter, @SamDykstraMiLB. This story was not subject to the approval of the National Association of Professional Baseball Leagues or its clubs.
View More