Lookouts' Thorpe posts six more zeros
Twins No. 12 prospect gives up three hits over six innings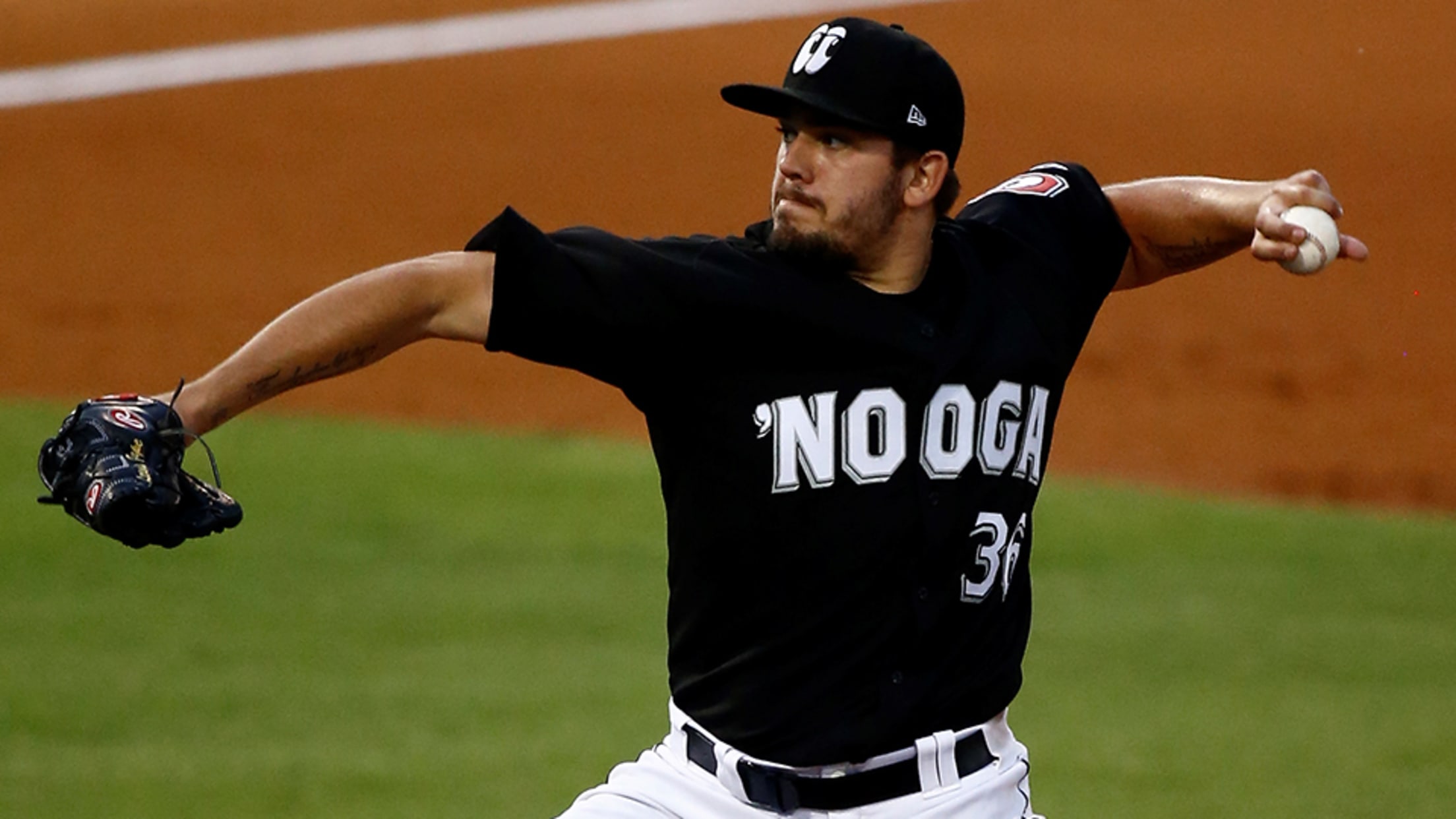 Lewis Thorpe has reduced his Southern League ERA from 5.45 ERA on May 17 to 3.74. (Andy Mitchell/Four Seam Images)
Double-A Lookouts manager Tommy Watkins has noticed something different about Lewis Thorpe lately. The way the Twins' No. 12 prospect walks around the clubhouse and the manner in which he speaks with coaches and teammates exudes a level of confidence the skipper hadn't previously seen.It's Thorpe maturing before his eyes. 
Double-A Lookouts manager Tommy Watkins has noticed something different about Lewis Thorpe lately.
The way the Twins' No. 12 prospect walks around the clubhouse and the manner in which he speaks with coaches and teammates exudes a level of confidence the skipper hadn't previously seen.
It's Thorpe maturing before his eyes.
Gameday box score
The southpaw gave up three hits and struck out six over six scoreless innings Sunday as Chattanooga rolled to a 13-5 victory over Mobile at AT&T Field.
Thorpe (2-3) has blanked the BayBears over 10 innings in two starts this season. And he hasn't given up an earned run to anyone since the third inning of his May 17 outing at Biloxi -- a span of 18 2/3 frames.
"The last two [starts] have been really, really good," Watkins said. "[He's] pounding the zone with his fastball and then relying on the other pitches effectively. ... I feel like he's grown up a lot even in the last couple of weeks."
Lewis also feels like he's matured a lot, not just over the course of a couple of weeks, but years.
The Melbourne, Australia native is in his second full season after injuries sidelined him for all of 2015-16. He underwent Tommy John surgery before the 2015 season and his return from the ligament replacement procedure was delayed due to a case of mononucleosis the following year.
The doctor's visit that diagnosed him with the virus, after toiling through a year-and-a-half of rehab, was heartbreaking.
"Mentally, it [stinks]," Thorpe said of the two years off. "You go through a little bit of depression here and there, you just have to get through it, be tough and have a lot of support from my family, coaches, teammates. ... That two-year stretch changed me a lot as a player and as a person."
Signed as a 16-year-old out in 2012, he never learned the importance of maintaining his body in the training room and the weight room. Two years away from the game opened his eyes to how difficult it is to not be playing.
"I started off young and I didn't really know about all that sort of stuff, so I just never really did it," Thorpe said. "Now I'm in the [weight room] every day, just getting my work in."
After going 3-4 with a 2.69 ERA for Class A Advanced Fort Myers last season, the 22-year-old was added to the Twins' 40-man roster to protect him from the Rule 5 Draft. He earned a non-roster invitation to big league Spring Training and allowed three earned runs over 2 1/3 innings before being optioned to Double-A.
The recent stretch of stellar play is a product of Thorpe switching back to his more natural mechanics after making some tweaks early in the season.
"I wasn't feeling comfortable, but now I'm back to normal where I'm at," he said. "I'm throwing strikes and locating my off-speed pitches and throwing my off-speed pitches early, which has really helped me out a lot."
There are 31 Aussies who have made the Major Leagues and three -- Warwick Saupold, Liam Hendriks and Peter Moylan -- are still active. Thorpe said he was introduced to the sport at an early age by the father of his childhood best friend, Mitch Ellis, who plays Division I baseball at Western Illinois. It's been his passion ever since.
Despite a litany of former Australian-born big leaguers to idolize, he chose a lefty from Benton, Arkansas.
"I really liked Cliff Lee growing up. He was dirty," Thorpe said. "He's a guy that I looked up to and I wanted to be like him."
LaMonte Wade Jr homered and knocked in four runs to lead the Lookouts in his fifth game back from the disabled list. He missed 11 games with a shoulder injury he sustained on May 17 making a catch against the wall at Biloxi.
"It was good to have him back," Watkins said. "[Saturday,] he hit a couple of balls on the nose and he was right back at it today."
Chattanooga totaled seven hits but benefited from a season-high 12 walks. Wade slugged a two-run shot to spark a nine-run fifth inning.
Josh Horton is a contributor to MiLB.com. Follow him on Twitter @joshhortonMiLB