Montas dazzles in return from Windy City
Top White Sox pitching prospect hurls five two-hit frames, fans eight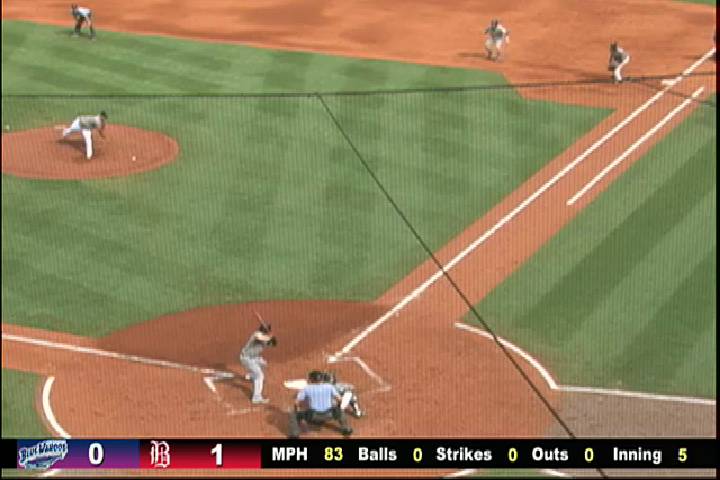 By Kelsie Heneghan / MiLB.com | July 19, 2015 10:53 PM
Frankie Montas got a taste of the big leagues and now he can't wait to go back for more.
Back from the All-Star Futures Game and a one-day callup to Chicago, the top White Sox pitching prospect spun five two-hit frames while striking out eight in Double-A Birmingham's 11-3 rout of Pensacola on Sunday at Regions Field.
"I felt like all the things that happened to me recently, like being called up, even though I didn't get to pitch, has been an amazing experience," he said. "[It's incredible to be] a big leaguer for one day, when you're up there and you see how it works up there and how everything is up there. I feel happy even though I didn't get to pitch."
After his second straight Futures Game selection, Montas (3-1) ran into some trouble in Cincinnati on July 12, but still found a way to electrify fans. The 22-year-old right-hander allowed three runs on four hits while registering two outs in the sixth. But he did light up the radar gun with back-to-back 101-mph pitches.
"It's a lot of travel, but just the experience, even traveling a lot, being able to be in big league stadiums like Cincinnati, I had a good time at the Futures Game," he said. "Then being in Chicago was great, it was amazing."
Three days later, MLB.com's No. 72 overall prospect was informed by manager Julio Vinas that he would be Chicago's 26th player for a doubleheader against Kansas City on Friday.
"I called him into the office and let him know. He couldn't believe it, he got really teary-eyed and had a big grin on his face and he was really excited," the skipper said. "We were extremely excited for him as well, so was the whole team. We announced it to the whole team and everyone was clapping and giving him hugs, so everyone was very happy."
While at U.S. Cellular Field, Montas anxiously awaited the opportunity to make his debut. The Dominican Republic native picked Jose Quintana's brain in the bullpen while soaking in the sights.
"I was just like looking at all the fans that were in the stadium like, 'Oh my God, is that real? Like I can't believe I'm here,'" he remembered. "And any time the [bullpen] phone rings to get a pitcher up, I thought, 'It's going to be me, it's going to be me.'"
Montas did not get into game action during the double dip, and when he returned to Birmingham, his spirits remained high. Vinas said his right-hander was just happy to have experienced the Majors.
"[Sunday,] I was motivated. I was wanted to show people that I can be up there. Every time I go out there, I try to do my best and good things are happening," Montas said. "I was feeling really, really good. I was excited and I just want to go back [to the Majors] and stay there."
The 6-foot-2 hurler held the Blue Wahoos hitless for the first 3 1/3 frames before allowing a double to Reds' No. 23 prospect Seth Mejias-Brean. Montas didn't fret, instead striking out the next two batters to get out of the jam.
In the fifth, the Barons starter yielded a one-out single to Zach Vincej, but struck out the final two Pensacola foes he faced.
"When I got men on base, I just try to [think], 'It's baseball' and 'Try to make sure that run doesn't score,'" he said. "When [there are] men on base, I'm more focused and more concentrated and try to execute my pitches better."
While the White Sox have not told Montas when he will return to the bigs, both the hurler and his manager are confident he will do just fine whenever his debut does happen.
"I think he could go up there and hold his own," Vinas said. "There are still a lot of things he needs to work on, but his stuff and his maturity for his age, I think he can definitely go up there and hold his own."
After having a five-game homer streak halted Saturday, Blue Wahoos catcher Kyle Skipworth belted his ninth long ball of the season off Barons reliever Tyler Barnette in the seventh.
Kelsie Heneghan is a contributor to MiLB.com. Follow her on Twitter @Kelsie_Heneghan. This story was not subject to the approval of the National Association of Professional Baseball Leagues or its clubs.
View More