Siverio adjusting quickly for Generals
Mariners lefty tosses six one-hit innings, earns first win since July 3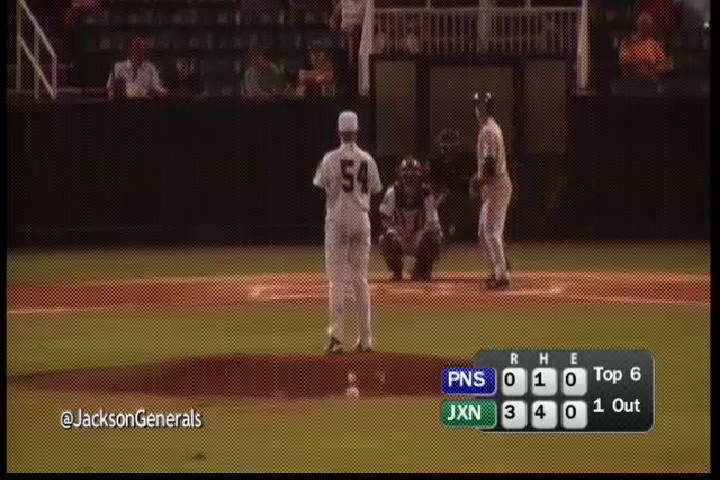 By Robert Emrich / MiLB.com | August 29, 2015 11:44 PM
Misael Siverio has had to learn how to pitch in a new country at one of the most difficult levels of the Minor Leagues. But the hard work he's put in is beginning to pay off.
The Mariners prospect gave up one hit over six innings for his first win in 10 starts as Double-A Jackson blanked visiting Pensacola, 4-0, on Saturday night.
Siverio (5-11) struck out five and walked one in his 25th start for the Generals. The 26-year-old left-hander threw 52 of 88 pitches for strikes and limited the Blue Wahoos to Seth Mejias-Brean's two-out double in the second.
"He did a nice job battling," Jackson pitching coach Lance Painter said. "He struggled throwing his off-speed pitches for strikes early in the game. Made a couple of pitches to get a couple of double plays that were big for him. Got some swings on his fastball that were a little bit elevated. He did a nice job of making a pitch when he needed to."
After going 2-7 with a 4.55 ERA in the first half of the season, Siverio has had a resurgence in the second half, posting a 3-4 record and 3.72 ERA in 12 starts. The Cuban-born hurler has made the necessary adjustments in his game, contributing to his recent Southern League success.
"It's been a learning experience for him," Painter said. "He's needed to learn how to pitch off his fastball. He's always supposedly had a good curveball. He's savvy out there, he has an idea of how to pitch. It's just really trying to figure out how to execute his pitches consistently.
"He's starting to understand that his fastball can be used as an out pitch. That's been the biggest learning experience. His fastball, even though it's in the 86-88 [mph] range, it does have cut to it. It surprises some hitters, it also rides at times."
Signed by the Mariners to a Minor League contract on Nov. 9, 2014, the 5-foot-9 left-hander has a 4.16 ERA and 105 strikeouts over 119 innings in his first season in the United States.
"It was a challenge," Painter said of the Siverio's transition to the Minor Leagues. "When you're used to doing everything a certain way and come over to America, I think there's definitely some hesitation. He has been willing to listen and he has tried to apply the teachings into the game. He's having some better games in the second half."
Kyle Hunter gave up one hit over two innings before Paul Fry struck out two and allowed a hit in the ninth to wrap up Jackson's 11th shutout of the season.
Jabari Henry slugged a two-run homer and Jordy Lara also had a pair of RBIs for the Generals.
Pensacola starter and Reds No. 17 prospect Sal Romano (0-4) gave up three runs on five hits and a walk while striking out two over six innings.
Robert Emrich is a contributor to MiLB.com. Follow him on Twitter @RobertEmrich. This story was not subject to the approval of the National Association of Professional Baseball Leagues or its clubs.
View More