SL All-Star Anderson enjoys birthday
Top White Sox prospect contributes at plate, in field to North victory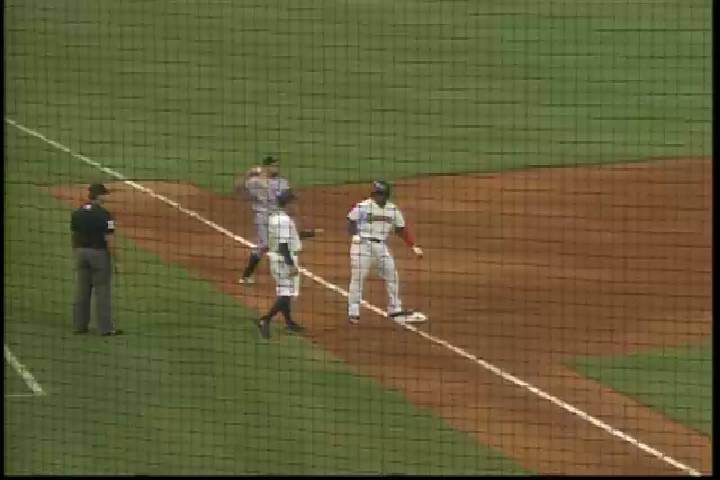 By Eric Wallace / Special to MiLB.com | June 24, 2015 1:29 AM
MONTGOMERY, Ala. -- Talk about a happy birthday.
Birmingham shortstop Tim Anderson put on an all-around performance on his 22nd birthday to earn MVP honors in a 9-0 North victory in the 2015 Southern League All Star Game at Riverwalk Stadium.
Anderson went 2-for-3 with a triple and a double, plating one runner and scoring another.
It was a big night for the top White Sox prospect, who had several family members in town for his MVP performance.
"My family got to come down and see it," Anderson said. "My nieces were able to also. It was really good."
It was the type of performance the Tuscaloosa, Alabama native said he wanted to put on in front of the Southern League's top talent.
"This is real exciting," Anderson said. "It was good to be around all these guys because they're great guys."
The North pitching staff combined for a four-hit shutout of the South, allowing just five runners to reach base. The losing side reached second just twice, once courtesy of a wild pitch by the Biscuits' Jared Mortensen.
"It's really tough for them, especially with all the arms that are out as an All Star," Montgomery's Tyler Goeddel said. "Everyone is throwing 95 [mph] pretty much. It's fun to compete with the best pitchers in the league."
Trouble began for the South in the second inning when Jacksonville third baseman Zack Cox booted a one-out grounder.
Pensacola right-hander Robert Stephenson walked Max Kepler of Charlotte before serving up a fat pitch to Tennessee's Dan Vogelbach, who launched a three-run shot over spectators in right field.
A rattled Stephenson then walked Birmingham's Joey DeMichele, who scored on teammate Anderson's triple off the right-field wall.
Anderson struck again in the fourth, doubling into left. He then scored on a single up the middle by the Biscuits' Johnny Field Jr.
The North's pitching never faltered with the lead, and the South kept adding insurance late.
Chattanooga's Miguel Sano, who doubled in the third, singled in a run before Goeddel cleared the bases with a triple off the left-field wall.
"I was looking for a fastball," he said. "I know a few of the other guys earlier were sitting on some fastballs. [Biloxi's Damien Magnifico] left it up and then I just drove it to left."
Goeddel and Field combined on half the North's eight runs as Montgomery's All-Stars defended home turf in the city's first All-Star Game since 2006.
"When you knew you were getting a louder introduction than a lot of the guys, it was awesome," Goeddel said. "The fans knew us, being the Biscuits. It was just a lot of fun."
Meanwhile, Anderson had a quieter plan than some might expect to celebrate the win and his award.
"I'm just going to spend tonight with my family, man," Anderson said.
Eric Wallace is a contributor to MiLB.com. This story was not subject to the approval of the National Association of Professional Baseball Leagues or its clubs.
View More