Smokies' Bryant soaks in SL Derby win
No. 2 Cubs prospect edges D-backs' Griffin at sprawling Engel Stadium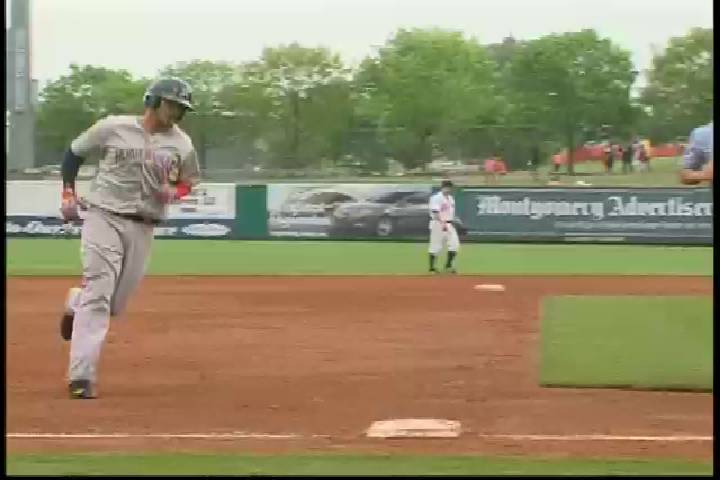 By Guy Curtright / Special to MLB.com | June 16, 2014 11:01 PM
CHATTANOOGA, Tenn. -- With 22 first-half home runs, Tennessee third baseman Kris Bryant has conquered Southern League ballparks like few ever have.
MLB.com's No. 8 prospect had his biggest challenge yet Monday night, though, with the All-Star Game Home Run Derby moved to historic Engel Stadium.
"From home plate, this park looks huge," Bryant said.
That's not an illusion. Center field is 471 feet away and the walls rise 26 feet all around the ballpark that served as the home of Minor League Baseball in Chattanooga from 1930-1999.
After a quick adjustment, however, Bryant made the fences that concurred future Hall of Famer Harmon Killebrew nearly 70 years ago seem not so daunting after all.
The No. 2 overall pick last year by the Chicago Cubs added the Home Run Derby title to his many early accomplishments, beating out Mobile slugger Jon Griffin in the final round before an appreciative crowd on a hot and humid night in Tennessee. The right-handed hitter blasted 16 homers overall, many of them landing on Third Street behind the left-field wall.
"I hope no one got hurt," said Bryant, only half-joking.
The 22-year-old realized after his first blast carried well over 400 feet and didn't even reach the knoll in center field that he had to change his normal approach.
"I usually like the ball away so I can extend my hands," he said.
This time, though, Bryant instructed Southern League North Division manager Razor Shines of Chattanooga to keep pitches inside and balls soon began clearing the high wall in left.
Bryant, who also leads the league with a .355 average and 58 RBIs, blasted eight homers in the first round, then four in the second. Any suspense ended quickly in the final round as he bettered Griffin's total of three by hitting his fourth with three of his five outs not needed.
"You have to be strong to hit it out of this park, and he hit some a long way," said Griffin, who tied a Minor League record this season by homering in five consecutive at-bats in May at Tennessee.
Second in the league with 13 first-half homers, the D-backs prospect hit 12 in the competition and admitted afterward he felt drained.
"I tried to take as many pitches as I could for a break, but I'm exhausted," the 6-foot-7 first baseman said.
Bryant hadn't competed in a Home Run Derby before, but his adjustment period was short, just like it has been to the Minors.
"I tried to hit it to left, hit it as far as I could and put on a show," Bryant said. "I got tired, but it was fun."
Right-handed hitters had an advantage. There was a light wind to left and a shorter fence was just in front of the wall running toward left-center, although Bryant and Griffin rarely needed it.
The top left-handed batter was Huntsville first baseman Nick Ramirez, who blasted eight homers, including four in a row in the first round, to just miss advancing to the finals.
"You knew it would be Bryant and Griffin," Ramirez said. "They can both hit it a long way and they put on a show."
Now the show moves to AT&T Field, the home of the Chattanooga Lookouts since 2000, for the 38th Southern League All-Star Game on Tuesday at 7:15 p.m. ET. The South Division has won the past two games after the North captured seven in a row. Mobile's Andy Green, the South manager, will start right-hander Williams Perez of Mississippi, who ranks second in the league with a 1.93 ERA and has a 3-3 record.
Tyler Cravy of Huntsville will start for the North. The right-hander leads the league with an 8-1 record and an ERA of 1.72.
All eyes will be on Bryant, though. How much longer he will stay in the Southern League remains a question.
"I'm not thinking about that," he said. "I'm excited to be here playing in the All-Star Game. It should be a lot of fun."
Guy Curtright is a contributor to MiLB.com. This story was not subject to the approval of the National Association of Professional Baseball Leagues or its clubs.
View More