Southern notes: Hursh hitting his spots
Braves' right-hander undaunted by jump to Double-A Mississippi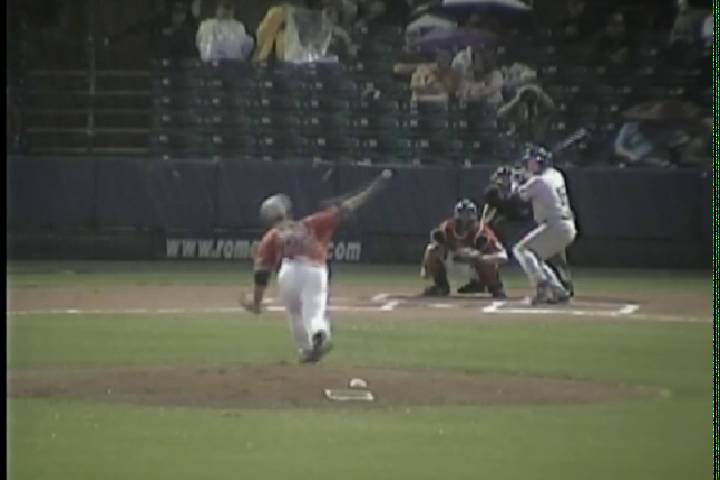 By Guy Curtright / Special to MiLB.com | April 15, 2014 10:00 AM
For Jason Hursh, the transition to the Minor Leagues has been almost seamless.
"I just try to be the pitcher I was in college," the Atlanta Braves' first-round pick in the 2013 Draft said. "It's the same game. If you keep the ball down and hit your spots, you'll have a chance to be successful."
That's exactly what Hursh has been able to do.
The 22-year-old right hander was at his efficient best in his second Double-A start for the Mississippi Braves on April 10, needing just 57 pitches in six innings.
Hursh allowed a run on six hits, walked none and struck out three in the road victory over the Jackson Generals. He missed the strike zone just 16 times and got nine groundball outs.
Hursh's ERA was 1.80 in two starts for the M-Braves after he posted a 0.67 mark in nine games last season for Class A Rome.
"I've had a lot of success with my fastball," Hursh said. "The movement has been good, and I've got a lot of ground balls."
Hursh hits the mid-90s, but it's the sinking action that makes him so hard to square up.
"I try to pound the strike zone," said Hursh, who complements his sinking fastball with a slider and changeup.
It's been a rapid rise for the Texas native, who missed what should have been his sophomore season at Oklahoma State after Tommy John surgery.
Hursh hurt his elbow pitching in the California Collegiate League and was back on the mound before the end of the next summer with his Santa Barbara team.
"It felt like a new, stronger arm," he said.
Hursh put on 15 pounds of muscle while rehabbing and, most importantly, cleaned up his pitching mechanics.
Back on the mound for Oklahoma State, Hursh became the staff ace for the Cowboys and was taken with the 31st overall pick in the 2013 Draft.
Hursh received an invitation to Major League Spring Training as part of his $1.7 million bonus deal with the Braves and pitched in two Grapefruit League games.
"It was an eye-opener," he said. "I was facing college hitters one year and Major Leaguers the next."
For Hursh, the biggest benefit of Spring Training was watching how Major League pitchers go about their work when not pitching in Grapefruit League games.
"There was a purpose to everything," he said. "When they threw a bullpen, it wasn't just getting the ball over the plate, it was painting every pitch."
Hursh, though, also saw what can happen to even the best pitchers. Kris Medlen and Brandon Beachy were hurt in consecutive games and needed Tommy John surgery for the second time.
That is something that Hursh obviously wants to avoid.
"I know it could happen to me, too," he said. "Nothing is guaranteed. You just have to try to keep your mechanics as good as possible and hope for the best."
In brief
Painful start: Tennessee outfielder Jorge Soler, ranked No. 47 among MLB.com Top 100 Prospects, went on the disabled list after he strained his right hamstring running out a double in his first at-bat of the season at Pensacola on April 3. The native of Cuba was limited to 55 games for Class A Advanced Daytona last season because of a stress fracture in his left leg and had hamstring issues with the Chicago Cubs during Spring Training. Soler, 22, is ranked as the Cubs' No. 5 prospect.
Early send-off: The Huntsville Stars, who next season will move to Biloxi, Miss., won their final home opener at Joe W. Davis Stadium, defeating Pensacola, 5-4, on April 9. First baseman Nick Ramirez hit a long home run in the seventh inning to break a tie and delight the announced crowd of 5,297. It was the fifth straight victory for the Stars, who stretched their streak to seven before falling to the Blue Wahoos, 2-1, on Saturday.
Up and down: Pensacola right-hander Robert Stephenson, ranked No. 19 among MLB.com Top 100 Prospects, struggled in his second start after striking out 11 while allowing just one hit over five innings in his season debut on April 5 against Tennessee. At Huntsville on April 11, Cincinnati's No. 1 prospect gave up five hits and three runs in two innings. Stephenson, 21, walked two and didn't record a strikeout.
Guy Curtright is a contributor to MiLB.com. This story was not subject to the approval of the National Association of Professional Baseball Leagues or its clubs.
View More