Southern notes: Mariners move Diaz to 'pen
Double-A Jackson hurler embracing change, showing higher velocity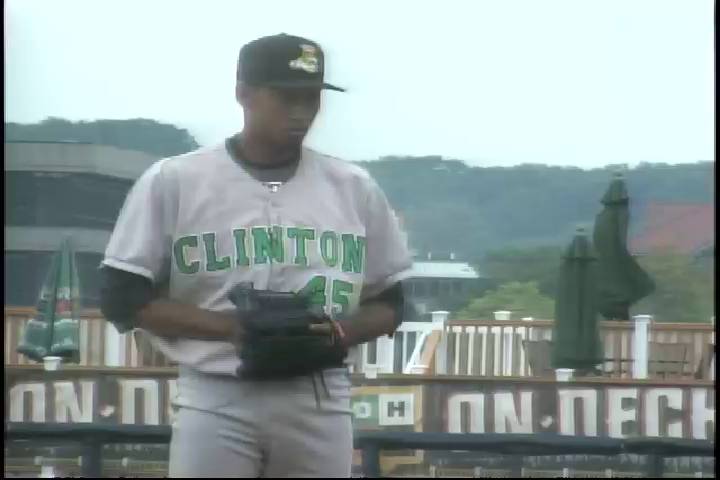 By Guy Curtright / Special to MiLB.com | May 17, 2016 10:00 AM
Jackson right-hander Edwin Diaz was pulled from his start against Jacksonville after two innings on May 6, seemingly signaling potentially bad news.
Seattle's No. 2 prospect wasn't hurt, though.
The abbreviated outing was part of a significant transition for the talented 22-year-old from Puerto Rico. The next time Diaz pitched for the Generals was out of the bullpen May 10. Relieving, the team believes, is now his best route to Seattle.
It could be a quick one if the 2013 third-round pick can adapt as smoothly as the Mariners hope. The early results were good -- Diaz struck out two in a perfect inning at Birmingham during his first relief appearance, then pitched another scoreless inning against the Barons on May 13 while giving up one hit.
"So far, it's good," Diaz said. "I was surprised, because I always thought I'd be a starting pitcher. But they said it was the best for me, so I'm OK with it. If it is the quickest way to get to the Major Leagues, I'm happy with it. That's what I want."
Diaz allowed two hits and struck out nine over six innings on Opening Day for the Double-A Generals and had a 3.10 ERA in five starts when the bullpen decision was made. First-year Seattle general manager Jerry Dipoto had become more convinced that Diaz's highest upside was in the bullpen. Diaz, who pitched in the All-Star Futures Game a year ago, has a fastball that was in the mid-90s as a starter and a good slider.
The righty needed a third pitch to be a Major League starter, though, and he hadn't been able to master an effective changeup. Also, the 6-foot-3 Diaz still has a frail build despite adding more than 25 pounds to the 165 he weighed when he signed with Seattle for a bonus of $300,000 four years ago.
"The guy has a chance to be a pretty good reliever," Dipoto told the Seattle media after Diaz's first bullpen appearance. "Do we have a chance to get that back-end dynamic arm?"
Diaz hit 98 mph in his first relief outing, showing just what the Mariners were coveting.
"As a starter, you have to conserve your velocity and not throw all out," Diaz said. "I was throwing 90-94 mostly [as a starter]. In relief, I can throw harder."
Still, an adjustment period will be needed.
"It only took me 20 pitches in the bullpen the first time, so that was good," Diaz said. "The other pitchers in the bullpen help me with what I need to do to be ready. It is all new for me."
Seattle has a talented starting rotation, but there are some potential openings in the bullpen. Someday, Diaz could be the Mariners' closer.
"As nice as his progression has been as a starter, we felt like his ceiling was probably more back of the rotation because of the third pitch and the general wonder about how he could handle the innings because it's not the largest frame among the pitchers in our system," Dipoto told the Seattle media. "But as a reliever, if he can acclimate himself to the bounce back and show the resiliency to be a bullpen guy, does the stuff tick up?
The Mariners are projecting just that.
In brief
Ellis does it all: The hitting of Mississippi right-hander Chris Ellis has been just as impressive as his pitching. Atlanta's No. 14 prospect not only leads the Southern League with a 6-0 record, but was batting .385 after going 3-for-3 with two doubles in a 4-3 victory at Pensacola on May 15. Ellis, 23, drove in a run and scored another while pitching six innings. Acquired from the Angels in the Andrelton Simmons trade, Ellis has a 2.06 ERA in his first eight starts and has held opposing batters to a .193 average.
Davis goes on DL: Pensacola right-hander Rookie Davis, leading the Southern League with a 0.85 WHIP, went on the disabled list May 12 with a strained right groin. Cincinnati's No. 12 prospect improved to 4-1 the day before when he worked five innings in a victory at Chattanooga. Davis, 23, has a 1.59 ERA with just seven walks over 34 innings in six starts. He was acquired by the Reds from the Yankees in the Aroldis Chapman trade over the winter.
O'Neill stopped: Jackson right fielder Tyler O'Neill had reached base safely in each of his first 28 games before going 0-for-5 at Birmingham on May 11. Seattle's No. 4 prospect also had a 14-game hitting streak stopped in which he was 22-for-58 with four home runs, six doubles and 13 RBIs. The 20-year-old Canadian led the league with seven homers, 42 hits and 73 total bases through May 15 while posting a .316 batting average and driving in 23 runs.
Chargois moves up: J.T. Chargois left Chattanooga for Triple-A Rochester on May 10 still perfect in save conversions for his Minor League career. The right-hander was 7-for-7 for the Lookouts in 11 appearances after going 13-for-13 counting the playoffs last season as Chattanooga won the Southern League title. Minnesota's No. 9 prospect missed two seasons because of an elbow injury that required Tommy John surgery but had converted all 29 of his save chances since being a second-round pick by the Twins in the 2012 Draft.
Guy Curtright is a contributor to MiLB.com. This story was not subject to the approval of the National Association of Professional Baseball Leagues or its clubs.
View More