Bringing Home the Hardware: Spokane Indians Award Winners in MLB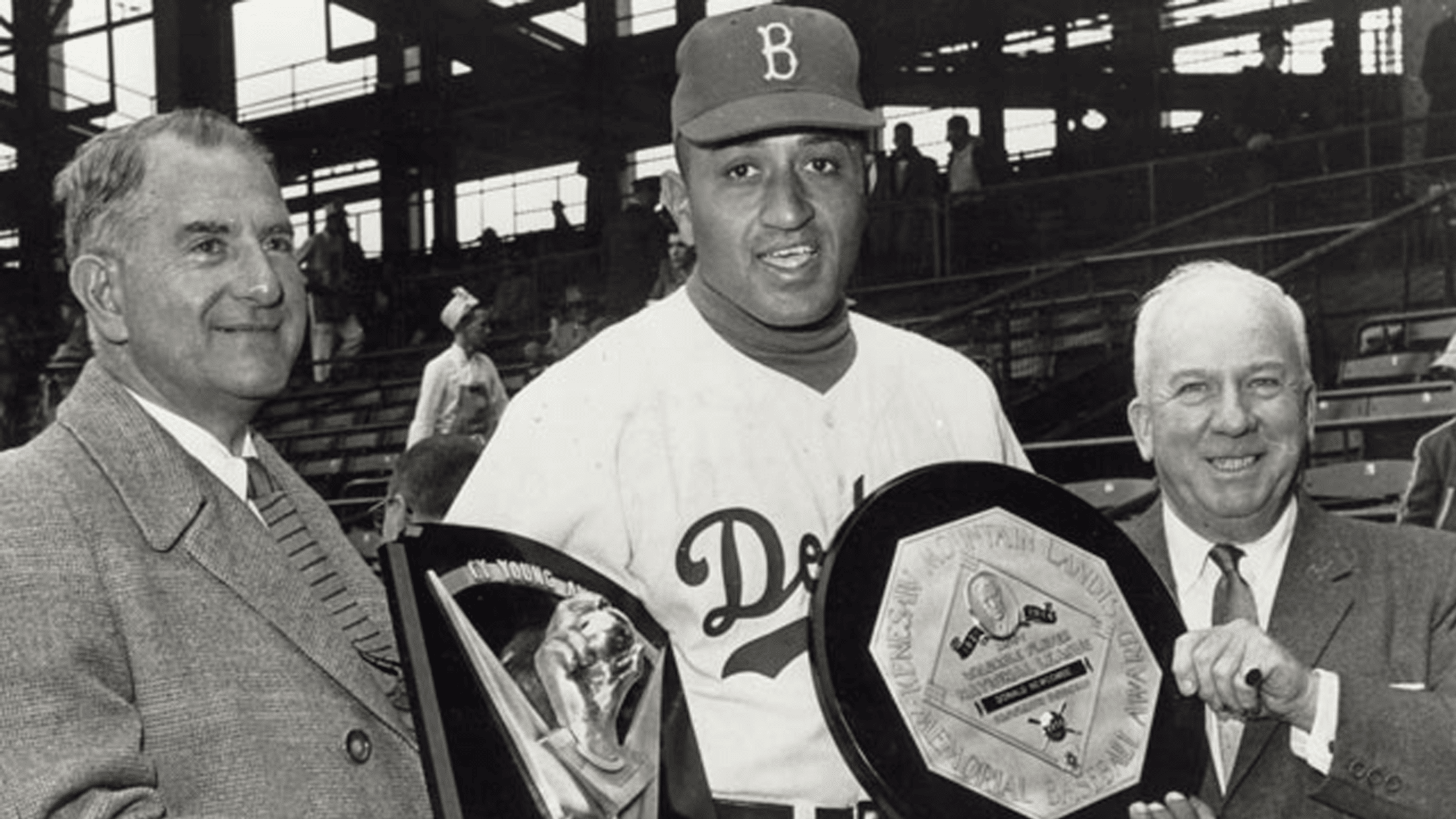 MVP (4) Steve Garvey (1974): Garvey was Mr. Consistent for the Dodgers in the 1970s, hitting over .300 in six of seven seasons after becoming a full-time player in 1973. He led the Dodgers to 102 wins in 1974, and his .312 batting average, 200 hits, 21 home runs, and
MVP (4)
Steve Garvey (1974): Garvey was Mr. Consistent for the Dodgers in the 1970s, hitting over .300 in six of seven seasons after becoming a full-time player in 1973. He led the Dodgers to 102 wins in 1974, and his .312 batting average, 200 hits, 21 home runs, and 111 RBIs were more than enough for him to edge Lou Brock (270-233) for the NL MVP (though the award probably should have gone to Mike Schmidt, who lead the league by a wide margin with a 9.7 WAR). Garvey challenged for the award again in 1978, finishing second in MVP voting to Pittsburgh Pirates slugger Dave Parker.
Maury Wills (1962): The speedy Wills made the stolen base cool again in MLB, and after swiping 85 bases combined in 1960-61, he dashed into the record books with 104 in 1962, breaking Ty Cobb's seemingly untouchable mark of 96. That record-breaking season on the bases, plus his 208 hits, 130 runs, and league-leading 10 triples, was just enough for Wills to squeak past Willy Mays (209-202) for NL MVP. Wills received MVP votes in 8 of his 14 MLB seasons, with his next highest finish - third behind Mays and Sandy Koufax - coming in 1965.
Don Newcombe (1956): After earning All-Star nods his first three years in the league, Newcombe spent 1952-53 serving in the U.S. Army during the Korean War before returning to the majors in 1954. The big right-hander struggled in his year back (4.55 ERA) but won 20 games the next season, setting the table for his historic 1956 campaign. Newcombe was nothing short of sensational for the Dodgers that year, finishing with a league-leading 27 wins and 0.989 WHIP as Brooklyn cruised to an NL Pennant with a 93-61 record. His dominance on the mound helped Newcombe easily outpace teammate Sal Maglie and Hank Aaron for the MVP award.
Dolph Camilli (1941): A solid if unspectacular performer for the Cubs, Phillies, and Dodgers during his first eight seasons in the league, Camilli put it all together at the plate in 1941 as part of a banner regular season for Brooklyn (100-54). The 34-year-old first baseman hit .285 with 104 walks (.407 OBP) and lead the league with 34 home runs and 120 RBIs, topping fellow Dodgers Pete Reiser and Whit Wyatt for the MVP.
Cy Young (2)
Don Newcombe (1956): "Newk" not only took home the NL MVP in 1956 but also the first-ever Cy Young Award (which was awarded to just one pitcher across both leagues until 1967). The right-hander's league-leading 27 wins and 0.989 WHIP convinced voters to select him ahead of Sal Maglie, Whitey Ford, and Warren Spahn.
Zack Greinke (2009): Greinke reached the majors as a 20-year-old in 2004 after being drafted sixth overall by the Kansas City Royals two years prior, but struggled with consistency before everything clicked in 2009. The right-hander led the AL in ERA (2.16) and WHIP (1.073) that season while finishing 16-8 for a dreadful Royals team (65-97). Greinke captured 25 of 28 first-place votes to defeat Felix Hernandez and Justin Verlander for the award, and has since finished second (2015) and fourth (2017) in the NL Cy Young race.
ROY (6)
Neftalí Feliz (2010): Feliz was bona fide freshman phenom for Texas in 2010, setting a rookie-record with 40 saves as the Rangers advanced to their first-ever World Series. The hard-throwing right-hander struck out 71 batters in 69.1 innings with a 2.73 ERA, receiving 20 of 28 first-place votes to best Tigers outfielder Austin Jackson for the award. Feliz continued to pitch well out of the bullpen for Texas, but an ill-fated move to the rotation in 2015 marked the end of his productive days as an MLB pitcher.
Carlos Beltrán (1999): After a brief 14-game cameo with the Royals at the end of 1998, Beltrán announced his presence with authority the following season, becoming the first rookie since Fred Lynn in 1975 to surpass 100 runs and 100 RBI. Beltrán added 22 home runs, 27 stolen bases, and a .293 batting average to finish well ahead of Seattle Mariners pitcher Freddy Garcia in ROY voting. The switch-hitter's rookie season was a sign of things to come, as Beltrán would go on to appear in nine All-Star Games and win two Silver Sluggers, three Gold Glove Awards, and the 2017 World Series.
Sandy Alomar Jr (1990): Sandy Alomar Jr. completed an award trifecta in his freshman campaign, earning an All-Star appearance, Gold Glove, and AL ROY. Cleveland's rookie backstop hit .290 with 37 extra-base hits and 66 RBI, claiming all 28 first-place votes to roll past Kevin Maas and Kevin Appier for the award. Alomar would go on to appear in five more All-Star games and stuck around in the majors until 2007.
Jim Lefebvre (1965): It would be tough top to top Lefebvre's debut campaign in 1965 as the Dodgers infielder captured the NL ROY award and a World Series title. The switch-hitter batted .250 with 12 home runs, 69 RBI, and 71 walks to outpace future Hall of Famer Joe Morgan for ROY honors. Lefebvre made the All-Star team the following season but washed out of the league at age 30 before returning as a manager with the Seattle Mariners (1989-91) and Chicago Cubs (1992-93).
Frank Howard (1960): Howard had two cups of coffee with the Dodgers in 1958 and 1959 before becoming a full-time player in 1960. After opening that season in Spokane, the hulking 6'7" outfielder clubbed 23 home runs (9th in the NL) and drove in 77 across 117 games, which was enough to help Hondo squeak past Philadelphia Phillies infielder Pancho Herrera for ROY. The "Capital Punisher" would go on slug 382 home runs in 16 MLB seasons, with his best years coming as a member of the Washington Senators.
Don Newcombe (1949): Jackie Robinson won baseball's first ROY award in 1947 and Newcombe's debut season in 1949 was the first time it was awarded to a player in each league. The 23-year-old right-hander was good enough to win it in either league though, finishing his rookie season with a 17-8 record, 3.17 ERA, and league-leading 5 shutouts. Newcombe garnered 21 of 24 first-place votes to finish well clear of runner-up Del Crandall, and would later return to the awards podium with his epic MVP/CY Young season of 1956.
Manager of the Year (4)
Bud Black (2010): Black took over in San Diego for fellow Indians alum Bruce Bochy in 2007 and posted a solid 89-74 record in his first year at the helm. The Padres sputtered the next two seasons (63-99, 75-87) before rebounding with a 90-72 ledger in 2010. Even though San Diego finished two games back of the Dodgers in the NL West and one game back of the Phillies for a Wild Card spot, the voters selected Black over Cincinnati's Dusty Baker by the narrowest of margins (104-103). The former Spokane Indians pitcher stuck around with the Padres until 2015 and has spent the last four years as skipper of the Colorado Rockies.
Bruce Bochy (1996): Despite leading the San Francisco Giants to three World Series titles, Bochy's lone Manager of the Year award came with the San Diego Padres in 1996. Led by NL MVP Ken Caminiti, the Padres went 91-71 that season to claim the NL West crown and their first postseason appearance since 1984. Although they were swept by the St. Louis Cardinals in the first round of the playoffs, Bochy's strong regular season was enough for voters to narrowly select him ahead of Montreal's Felipe Alou.
Tommy Lasorda (1983 and 1988): Baseball didn't create the Manager of the Year Award until 1983, so it's quite possible Lasorda would have more than two to his credit after leading the Dodgers to World Series appearances in 1977, 1978, and 1981. He captured the award in its inaugural year with 91 wins and the NL West crown and claimed it a second time with 94 wins a World Series title in 1988. Lasorda would remain with the Dodgers until midway through the 1996 season and was inducted into the Hall of Fame just one year later.