Morrell's late homer give Spikes win in season finale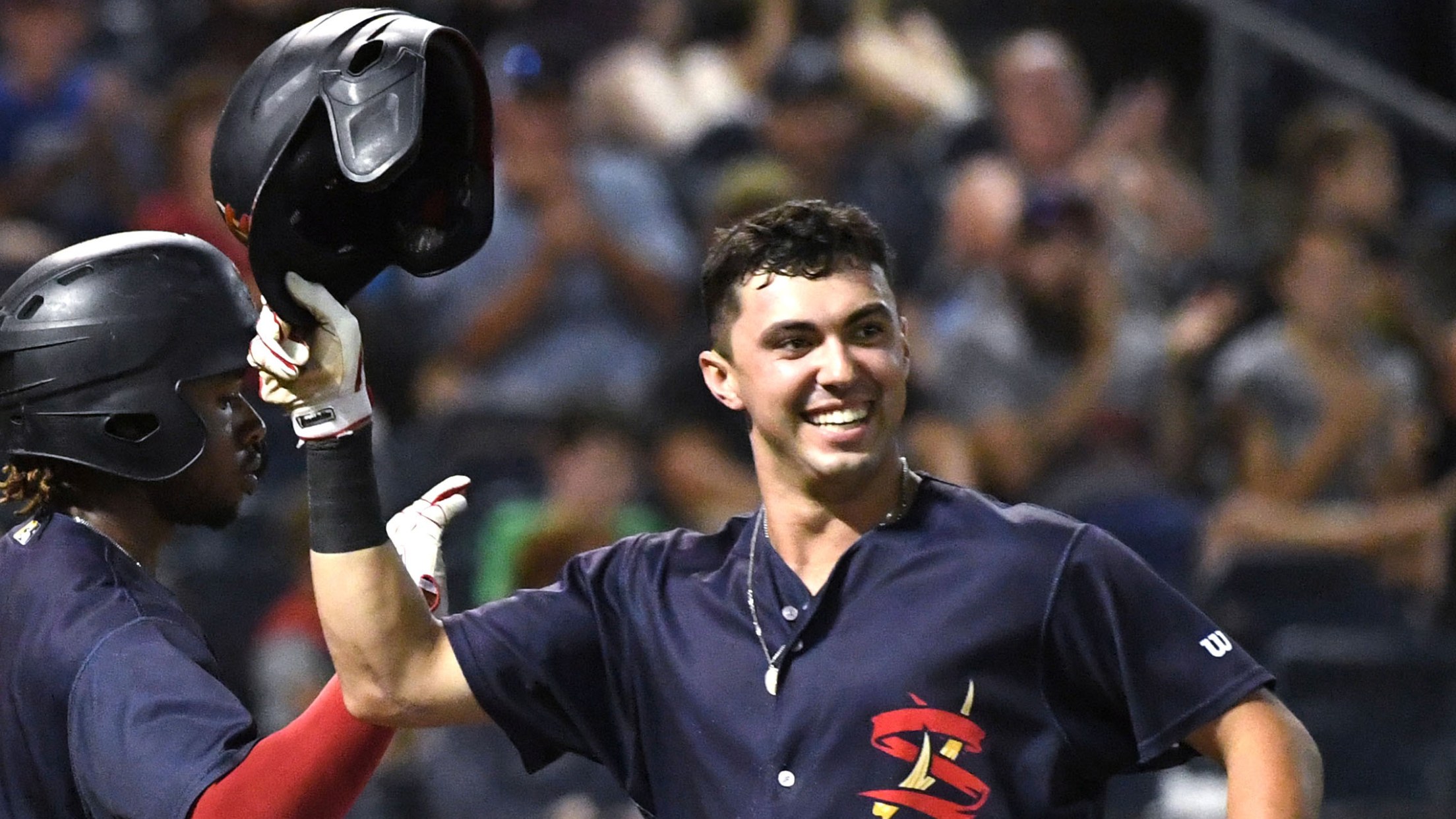 Brian Morrell celebrates after hitting the go-ahead homer in the eighth to give the Spikes a 7-6 win over Williamsport in the season finale on Friday. (Steve Manuel)
BOX SCORE/PLAY-BY-PLAY (via PitchAware) UNIVERSITY PARK, Pa. – Brett Morrell's solo home run in the eighth inning completed the State College Spikes' comeback from a 5-0 deficit to defeat the Williamsport Crosscutters, 7-6, in the club's 2021 season finale at Medlar Field at Lubrano Park. Morell sent a 1-1 pitch
BOX SCORE/PLAY-BY-PLAY (via PitchAware)
UNIVERSITY PARK, Pa. – Brett Morrell's solo home run in the eighth inning completed the State College Spikes' comeback from a 5-0 deficit to defeat the Williamsport Crosscutters, 7-6, in the club's 2021 season finale at Medlar Field at Lubrano Park.
Morell sent a 1-1 pitch from Williamsport (26-32-3) right-hander Will Riley (1-1) over the left field wall for his first homer in the Major League Baseball Draft League to thrill a finale crowd of 5,138 at the ballpark and allow the Spikes (29-31-3) to clinch third place in the 2021 MLB Draft League standings.
The Spikes fell behind 5-0 in the first inning as Williamsport's first seven batters all reached base, with two-run singles for Dakota Kotowski and Jaxon Shirley mixed in with Taj Porter's run-scoring, ground-rule double.
However, State College struck back in the first as Zacchaeus Rasberry scored on a balk. After Shirley's sacrifice fly scored the Crosscutters' last run in the second, the Spikes took advantage of Max Guadalupe's RBI single and a Williamsport error in the same inning to cut the deficit to 6-3.
State College then plated a run on Morrell's groundout in the third and another on a wild pitch in the fourth before tying the game when Spikes pitcher Jared Kengott crossed home as a pinch runner on another wild pitch in the seventh.
Spikes starter Dalton Oates settled down after the Crosscutters' initial explosion to go five innings, a mark he reached in all five of his MLB Draft League starts. State College then received shutdown relief with two one-hit innings from Ryan Linkletter, a scoreless eighth from Blake Seigler, and a perfect ninth from Austin Cheeley (4) for the save.
Riley took the loss for Williamsport after yielding the go-ahead run on the only hit he allowed in an inning of work.
The Spikes finished the year with 167 stolen bases in 63 games, demolishing the previous team record of 90 stolen bases, set in a 76-game season in 2011. In addition, Marques Paige finished fifth in the MLB Draft League with six home runs, and Cameron Lee tied for the league lead in times hit by pitch with nine.
On the pitching side, Seigler's two strikeouts Thursday pushed his season total to an MLB Draft League-leading 56. Other Spikes standouts this season included Louis Davenport III, who logged the second-most innings in the MLB Draft League with 41 2/3, and Kiernan Higgins, who ended the season with a 0.36 ERA over 22 1/3 innings, the best mark for any MLB Draft League pitcher with at least 15 innings on the hill.
Spikes fans can start to make their plans for 2022 Season Ticket memberships and Flex Books. More information on 2022 tickets is available by calling a Spikes ticket representative at 814-272-1711.
Attendance: 5,138
Season Attendance: 92,447
Time of Game: 2:40