Spikes Pride Hat, Kia Lease Giveaway highlight 2019
Plenty of giveaways dot promo schedule during upcoming season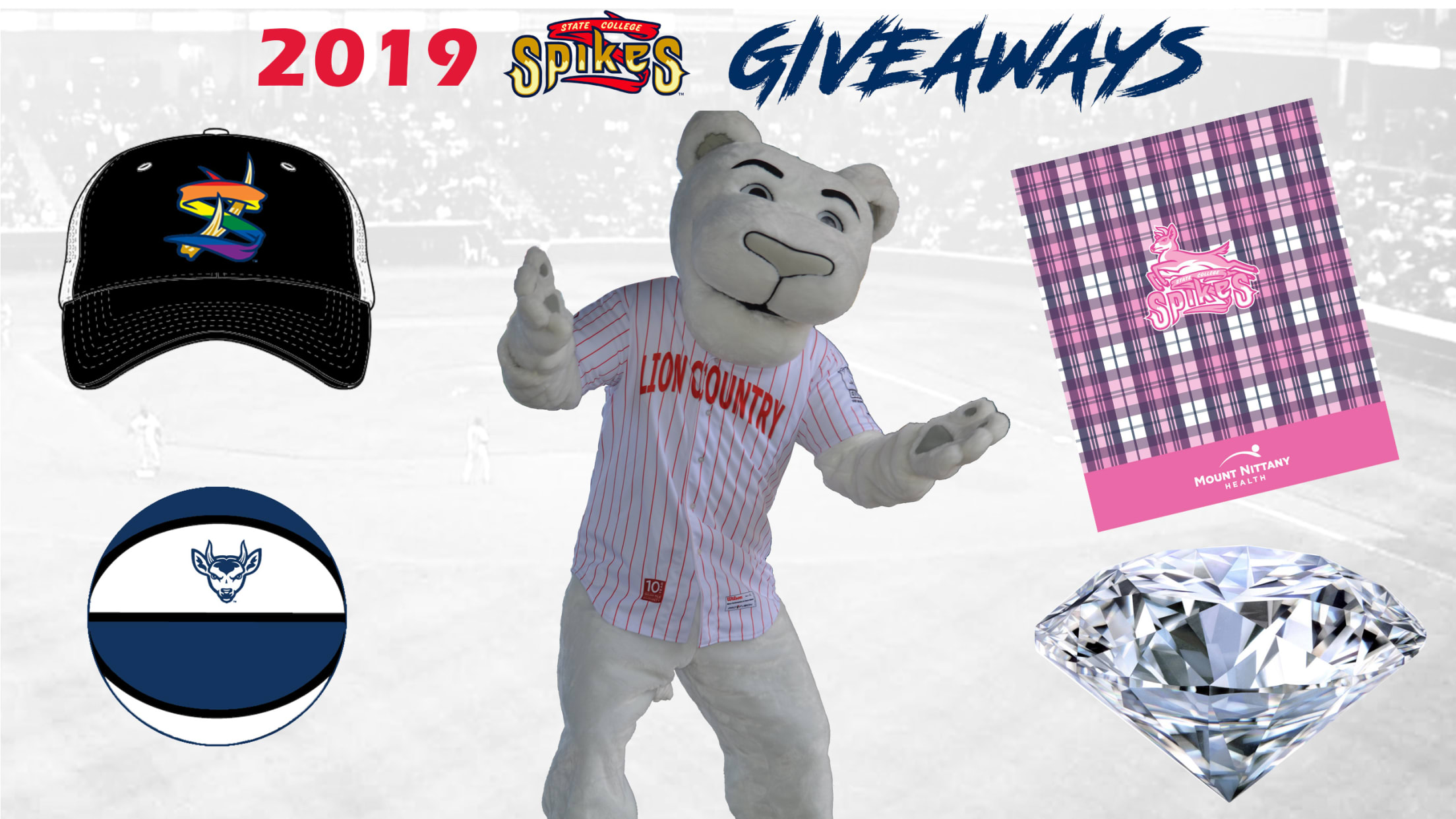 This is the second part of the Spikes' five-part promotional schedule release. Monday's first part detailed the bobblehead roster for the 2019 season. The remainder of the promotional schedule releases will take place as follows:Thursday, May 2: AppearancesTuesday, May 7: FIREWORKS/Theme JerseysThursday, May 9: Daily Fan Value PromotionsThe State College
This is the second part of the Spikes' five-part promotional schedule release. Monday's first part detailed the bobblehead roster for the 2019 season. The remainder of the promotional schedule releases will take place as follows:
Thursday, May 2: Appearances
Tuesday, May 7: FIREWORKS/Theme Jerseys
Thursday, May 9: Daily Fan Value Promotions
The State College Spikes will be giving away Pride Hats on Friday, June 28 as part of the inaugural National Pride Month Celebration, headlining a full slate of giveaways for the 2019 season.
The first 500 fans through the gates for the 7:05 p.m. game on June 28 will get the hats, featuring a rainbow flag pattern inside the Spikes' "Ribbon-S" logo. The National Pride Month Celebration, which will be the first of its kind inside Medlar Field at Lubrano Park, will also take place on the 50th anniversary of the Stonewall Riots in Greenwich Village, New York, which were largely responsible for launching LGBTQ+ movements worldwide.
The Spikes' 2019 giveaway roster also includes two editions of LuCKy's Kia Lease Giveaway, presented by Lion Country Kia, to bookend the summer. One "LuCKy" fan will be guaranteed to drive away from the ballpark with a lease on their own Kia as part of Opening Night, presented by PSECU, on Saturday, June 15, with another opportunity at the regular season home finale on Sunday, September 1 as part of Fan Appreciation Night.
Plus, PSECU will also be giving away Schedule T-Shirts to the first 500 fans of all ages on Opening Night to mark the beginning of a full schedule of fun, affordable family entertainment.
In addition, the Spikes have already announced three bobblehead giveaways this season. The bobblehead schedule begins with the Blair Thomas Bobblehead Giveaway, presented by First National Bank, on Friday, July 26, followed by a pair of giveaways presented by The Nittany Lion Inn and the Penn Stater Conference Center Hotel in the David Taylor "World Champion" Bobblehead Giveaway on Saturday, August 17 and the Trace McSorley Bobblehead Giveaway on Sunday, August 25.
State College's ESPN Radio 1450 will serve as media sponsor for all three bobblehead nights, and the first 1,000 fans will receive this collectibles for each designated game.
More 2019 giveaways include:

A Beanie Cap Giveaway, presented by McClure Company, for the first 500 fans on Saturday, July 13.
A Spikes "Then & Now" Team Poster Giveaway, presented by Boyles Insurance, for the first 1,000 fans to go along with a Pre-Game Team Autograph Session on Saturday, July 27.
A Pink Plaid Blanket Giveaway for the first 1,000 fans of all ages as part of Paint the Park Pink Night, presented by Mount Nittany Health, on Sunday, July 28.
A Confer's Jewelers Gift Card Giveaway Extravaganza as part of Ladies Night on Thursday, August 8.
A Mini-Basketball Giveaway, presented by Penn State Health Medical Group, for the first 1,000 fans as part of Coaches vs. Cancer of Penn State Night, presented by HRI, Inc., on Sunday, August 18.
Individual game tickets for each giveaway night, as well as all 38 games on the Spikes' 2019 home schedule, will go on sale for the first time at
TicketFest
, scheduled for Saturday, May 11 at Medlar Field at Lubrano Park.
Fans will be able to watch former Spikes shine in the big leagues at the event as the St. Louis Cardinals, the Spikes' major league affiliate, take on the Pittsburgh Pirates at 2:15 p.m. Gates for the watch party will open at 1 p.m., with free hot dogs, soda and water available for fans of all ages. Alcoholic beverages will also be available for purchase for fans over 21.
TicketFest will feature more family fun as well, with select inflatable games for the kids, raffle and door prizes, ballpark tours, and a free chance to play catch on the field, weather permitting.
The Spikes' slate of fun, affordable family entertainment and future major league stars begins with Opening Night at Medlar Field at Lubrano Park, presented by
PSECU
, against the rival Williamsport Crosscutters (Philadelphia Phillies) on Saturday, June 15, and runs through September 1.
Season seat memberships, Flex Books, Value Plans and an array of group and hospitality options for the 2019 season are currently on sale by calling the Spikes at (814) 272-1711.
Click here to view additional information on all club ticketing options
, and
click here for the Spikes' 2019 schedule
.