Spikes throttle 'Cutters, 10-1, for fourth straight win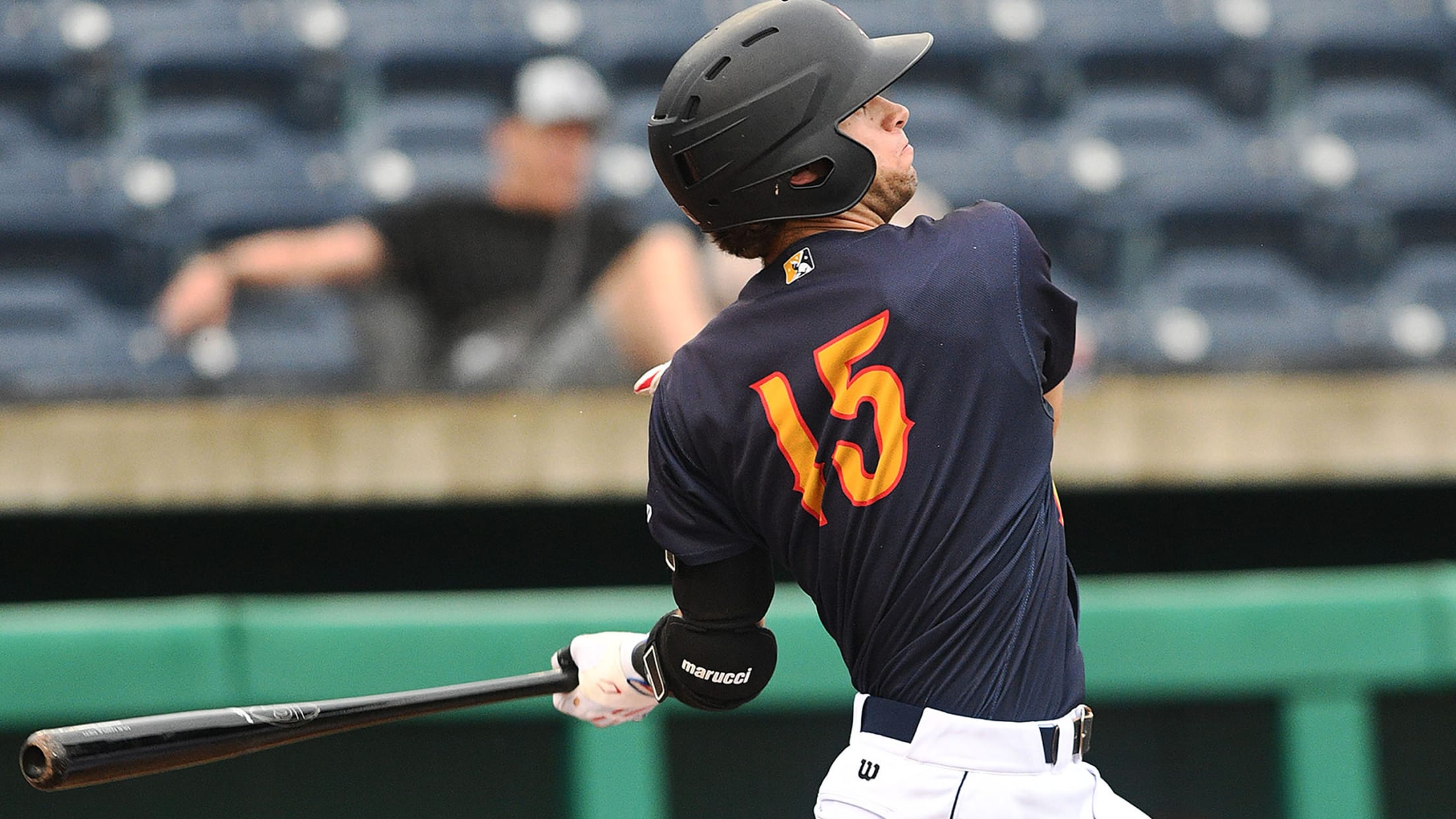 Michael Slaten watches his fourth-inning home run leave the yard at Medlar Field at Lubrano Park during the Spikes' win on Thursday. (Steve Manuel)
BOX SCORE/PLAY-BY-PLAY (via PitchAware) UNIVERSITY PARK, Pa. – Michael Slaten went deep for the State College Spikes' first home run at Medlar Field at Lubrano Park this season, and Jared Kengott allowed just one unearned run over five innings for his first Major League Baseball Draft League win as the
BOX SCORE/PLAY-BY-PLAY (via PitchAware)
UNIVERSITY PARK, Pa. – Michael Slaten went deep for the State College Spikes' first home run at Medlar Field at Lubrano Park this season, and Jared Kengott allowed just one unearned run over five innings for his first Major League Baseball Draft League win as the Spikes topped the Williamsport Crosscutters, 10-1, on Thursday night to run their winning streak to four games.
Slaten, a product of Benedictine College in Kansas, took a 2-1 pitch from Williamsport (6-3) reliever Holden Christian (0-1) 395 feet over the left-field wall for a solo shot to lead off the bottom of the fourth and give State College (4-4) a lead it would not relinquish.
Kengott (1-1), who notched eight strikeouts in his first start of the season the week prior, collected another eight on Thursday night while allowing just four hits and a walk. The right-hander from Emporia State in Kansas became the first Spikes starter to go at least five innings this season.
Williamsport plated its lone run in the second as Isaac Nunez doubled and scored on an error before leaving the game with an apparent leg injury, but it was all Spikes afterwards. James Jett stole home on the front end of a double steal to tie the game in the second before Slaten's home run, and Cameron Lee stole two more bases before scoring on Myles Austin's single up the middle in the fifth.
In the sixth, Jett scored when Crosscutters catcher Rob Marinec erred on Brady Brecklin's sacrifice bunt attempt. Tyler Heckert, who homered in Williamsport on Wednesday, followed with a two-run single to extend the Spikes' lead to 6-1.
In the eighth, State College capped the scoring as Austin singled in another run, followed by a run-scoring balk and a two-run single from Mark Vierling.
The Spikes employed the running game to great effect against Williamsport, stealing six bases against the Crosscutters for the second time this season after a sextet of thefts in the season opener on May 24.
Christian took the loss for Williamsport after giving up two runs, one earned, on two hits and two walks over three innings. The left-hander struck out four batters in the effort.
Friday, the Spikes seek a sweep of the Crosscutters as the three-game set shifts locations back to Muncy Bank Ballpark at Historic Bowman Field in Williamsport. State College's starting pitcher is to be determined, while the Crosscutters are scheduled to send right-hander Chase Costello (0-0) to the bump.
Following a two-game jaunt to Mahoning Valley this weekend, several Spikes players will participate in an MLB Draft Combine at PNC Park in Pittsburgh on Monday. The whole team will then return home Tuesday to take on Williamsport at 6:35 p.m. to start a three-game series that serves as the front half of a six-game homestand at Medlar Field at Lubrano Park.
The stretch of six games through Sunday, June 13 includes $2 Tuesday presented by WOWY, FREE Teachers Night with teachers presenting ID at the Spikes Ticket Office receiving free admission on a Wine Wednesday, Thirsty Thursday, and 4 for $44 Friday presented by 95.3 3WZ.
The weekend presents a pair of big nights, with June 12 featuring FIREWORKS presented by Boyles Insurance on a Super Saturday presented by PA Lottery and B94.5. Fans can also win big at Baseball Bingo, with the first 10 Bingo winners entered into a drawing on August 7 for the Baseball Bingo Ultimate Prize Pack, featuring a 70-inch Ultra HD Smart TV.
It all concludes on June 13 with a Sunday Funday presented by Bigfoot Country Legends featuring a Blair Thomas Bobblehead Giveaway for the first 250 fans.
Tickets for all six games on the upcoming homestand, as well as every game remaining on the 2021 home schedule, are currently on sale through the Spikes Ticket Office. Tickets can be purchased by calling (814) 272-1711 or by visiting the Ticket Office in person from 9 a.m. to the end of the game on gamedays Monday through Friday, 10 a.m. to the end of the game on gamedays Saturday and Sunday, and 9 a.m. to 5 p.m. on non-gamedays Monday through Friday.
Fans can also buy and download single-game tickets by visiting StateCollegeSpikes.com.
Catch all of the action on Tuesday via the Spikes Radio Network, presented by Penn State Sports Medicine, Official Healthcare Provider of Penn State Athletics, starting with Spikes Live, presented by Mount Nittany Health, on the air from Medlar Field at Lubrano Park. The game can be viewed worldwide on the *MLB Draft League *streaming platform at MLBDraftLeague.com/streaming, along with the "Listen Live" link on StateCollegeSpikes.com and the *TuneIn Radio *app.
Time of Game – 2:33
Attendance – 1,660