Late Blast Sends Ports To 5-3 Loss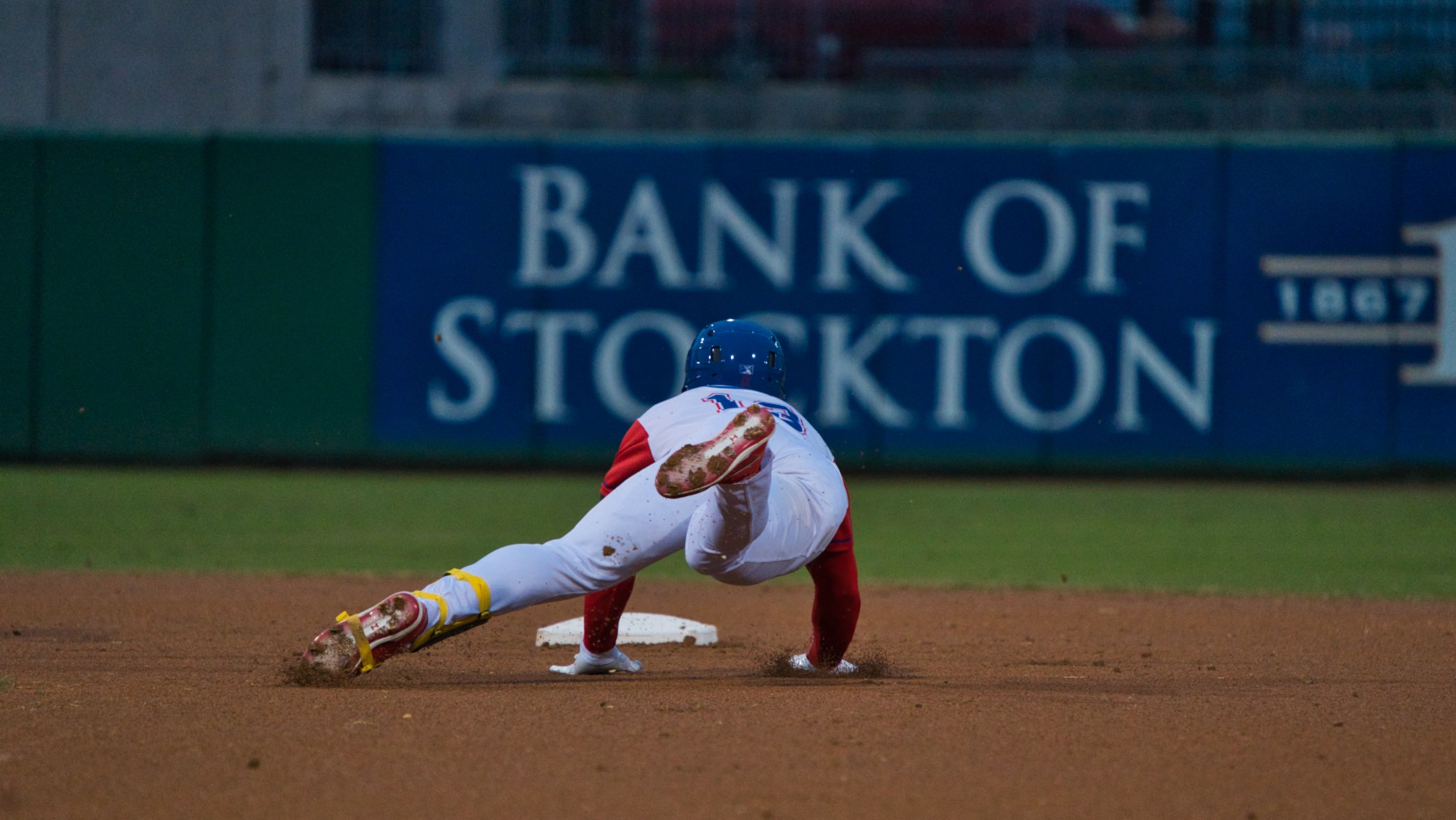 STOCKTON, Calif. - The Stockton Ports were four defensive outs away from a win on Saturday night at Banner Island Ballpark. Heath Quinn intervened late for the San Jose Giants. With one on and two outs in the eighth, Quinn delivered a two-run homer that vaulted the Giants in front
STOCKTON, Calif. - The Stockton Ports were four defensive outs away from a win on Saturday night at Banner Island Ballpark. Heath Quinn intervened late for the San Jose Giants. With one on and two outs in the eighth, Quinn delivered a two-run homer that vaulted the Giants in front 4-3 and ultimately helped San Jose to a 5-3 win and a half-game lead over Stockton and Modesto in the Wild Card standings.
The Ports had the offense going early as there straight one-out singles yielded a run in the bottom of the first, the last single off the bat of Jeremy Eierman and driving in Jonah Bride to give the Ports the early lead.
Stockton starter Hogan Harris would pitch four scoreless innings and allow just one hit while walking two and striking out four, preserving the one-run advantage heading into the fifth.
Jake Bray took over for Harris in the fifth and, with two on and two out, gave up a two-run double to Diego Rincones that gave San Jose a 2-1 lead. Bray worked only the fifth and allowed two runs on two hits.
The Ports got the runs back in the bottom of the fifth as Ryan Gridley led off with a single, stole second and scored on a ground rule double by Bride that tied the game at 2-2. Two batters later, Eierman delivered an RBI single that gave Stockton a 3-2 lead. It was the final run allowed by Giants starter Aaron Phillips, who did not factor into the decision after going 4 1/3 innings and allowing three runs on eight hits while striking out three.
Cole Helvey (1-0) took over for Phillips and went on to work 2 2/3 scoreless innings and pick up the victory.
After two scoreless innings worked by Eric Mariñez, Trey Chochran-Gill (0-1) took over in the eighth and gave up a leadoff walk to Rincones. After getting back-to-back outs, Quinn came up and delivered a two-run homer that put San Jose in front 4-3. Manuel Geraldo followed with a double and scored two batters later on an RBI single by Hamlet Marte that stretched the San Jose lead to 5-3.
Cochran-Gill suffered the loss, allowing three runs on three hits in his lone inning of work.
Patrick Ruotolo (SV, 1) came on to start the eighth and pitched the final two innings, setting down six of the seven batters he faced without allowing a hit to notch his first save of the season.
The Ports and Giants play the third game of their four-game set on Sunday night at Banner Island Ballpark. Brady Feigl (5-10, 4.19 ERA) makes the start for Stockton, opposed by San Jose right-hander Matt Frisbee (8-8, 3.42 ERA). First pitch is set for 6:10 p.m. PDT.