Astros Prospect Primer: Martes at the top
Right-hander leads group of powerful arms in well-stocked system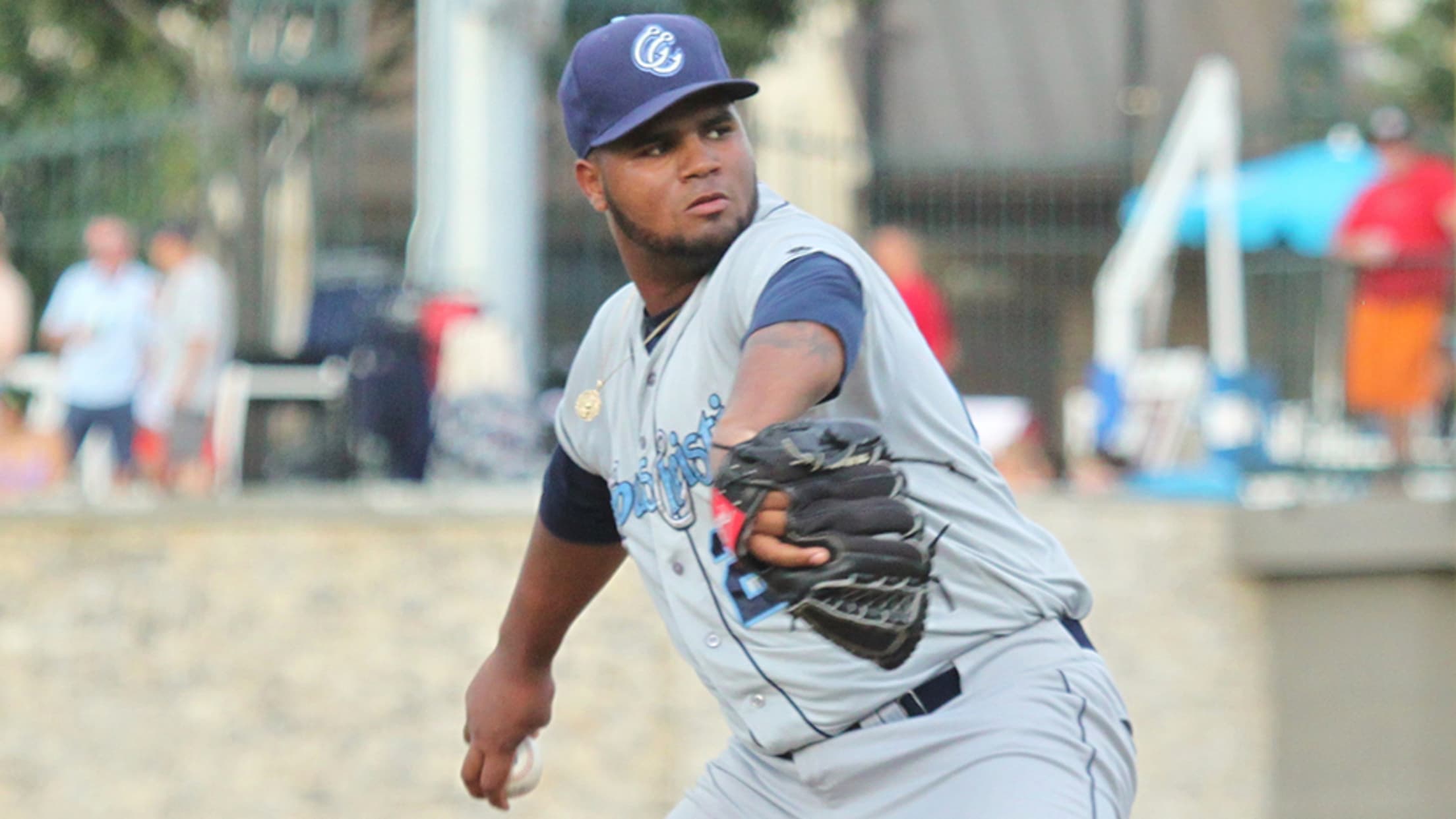 Francis Martes averaged 9.4 strikeouts per nine innings with Double-A Corpus Christi in 2016. (Tammy Tucker)
Some players are on the verge of stardom, others are entering a crucial phase of their development and still others are getting their first tastes of full-season ball. With the 2017 season approaching, MiLB.com takes a look at the most intriguing prospects from each MLB organization.Shining star: Francis Martes, RHPAfter years
Some players are on the verge of stardom, others are entering a crucial phase of their development and still others are getting their first tastes of full-season ball. With the 2017 season approaching, MiLB.com takes a look at the most intriguing prospects from each MLB organization.
Shining star: Francis Martes, RHP
After years of developing potent offensive weapons like George Springer, Alex Bregman and Carlos Correa, a pitcher is stealing the spotlight in the Astros' Minor League system these days.
Martes overcame a rocky April in 2016 and quickly rose to the challenge of his first full season at the Double-A level. The Astros' top prospect posted a 2.52 ERA over his final 19 starts for Corpus Christi and finished the year with 131 strikeouts over 125 1/3 innings. The 21-year-old carried his good form into the Arizona Fall League, where he fanned 25 batters in 22 1/3 frames.
"Francis has been working a lot with our pitching coordinator Doug White," Astros director of player development Pete Putila said. "For him, it's mainly being more consistent with his delivery and staying in the zone. He's got big fastball velocity and a big out-pitch, so for him it will come down to consistency out of both the wind-up and the stretch. I think he's got some good experience now and is learning what it's going to take for the next step."
Martes will most likely open the 2017 season with Triple-A Fresno, and if things go well in the early going, he could find himself in an Astros uniform before the end of the year. Should that happen, it would be another big win for Houston's front office, which targeted and acquired Martes from Miami in exchange for Jarred Cosart in 2014, despite the fact he hadn't pitched above the Gulf Coast League.
"Kudos to our guys, whether it's amateur scouting, pro scouting or international. They're going out and getting some really good players," Putila said. "Our development staff and coaching staff have a lot of good processes in place and a lot of clear goals for the guys. It's a lot of things firing on all cylinders for our organization right now. The players play, but it's great to see the staff do such a good job giving them the support and what they need to come through the system."
Full-season debutant: Forrest Whitley, RHP
Though he's just 19, Whitley is already an imposing figure on the mound at 6-foot-7 and 240 pounds. And he has the power to back it up.
"He's got some really big stuff," Putila said of Houston's 2016 first-round pick. "As long as he's able to stay in the zone and continues takes care of himself physically, we expect really good things out of Forrest. We think he has really polished stuff at this point of his career already -- it's just about being consistent on a day-to-day basis and sticking in the zone."
Whitley's power arm wasn't the only aspect of his game that impressed the Astros during his eight-game stretch in Rookie ball last year. There was the also way the teenager approached each start.
"He is really into mastering his craft, so we're looking forward to seeing what he brings to the table this season," Putila added.
Breakout prospect: Franklin Perez, RHP
One could argue that 2016 was a breakout season for Perez, but an innings limit offered only a glimpse of what the 19-year-old has to offer. In 66 1/3 innings with Quad Cities, Perez struck out 75 and boasted a 2.84 ERA and 1.23 WHIP. Those numbers become even more impressive when one considers that the Venezuelan has only been pitching for two years.
"Franklin is one of the guys who just works hard and has been getting stronger every year," Putila added. "He was a third baseman coming up as an amateur and already has developed a plus changeup into his best pitch besides his fastball. He's got an ever-improving curveball and added a slider last year, so he's now got a really good mix. He's just a really good kid, so I don't expect anything other than seeing him climb the ladder."
If he's able to handle an increased workload and a step up in competition, Perez could find a place among the game's Top 100 prospects in 2018.
Loudest tool: Kyle Tucker, OF
Coming out of high school, many scouts considered Tucker to be the top hitter of the 2015 prep class. Based on how quickly his hit tool has translated to pro ball, that assessment appears to be right on.
Last year, at the age of 19, Tucker was undaunted during his first full season, hitting .276/.348/.402 through 101 games with Class A Quad Cities and earning a promotion to Class A Advanced Lancaster for the final two weeks of the season. There, Tucker took his game to another level. In 16 games with the JetHawks, the 2015 first-rounder posted batted .339/.435/.661 with three homers and 13 RBIs.
Back and healthy: Daz Cameron, OF
Like his father, longtime Major Leaguer Mike, Daz Cameron's game is built around his defensive ability and a solid bat. Unfortunately, he wasn't able to flash those skills in an injury-riddled 2016.
Cameron scuffled through April with Quad Cities and was shut down for a few weeks in early May with a hamstring injury. After rehabbing, Cameron was sent to Class A Short Season Tri-City and seemed to figure things out. In 19 games for the ValleyCats, Cameron batted .278/.352/.418 with a pair of homers and 14 RBIs. Just as it was looking like the 20-year-old had turned the corner, he broke his right index finger when he was hit by a pitch and was shut down for the rest of the season.
When the Astros drafted Cameron 37th overall in 2015, the thought was he and Tucker would rise together. Although that hasn't happened yet, a fresh start for the Georgia native could be just what he needs to get that plan back on track.


Others to keep an eye on: Known for his power and tremendous arm, third baseman J.D. Davis could threaten to lead the PCL in homers this season if he gets enough at-bats. ... After a cup of coffee with Houston last year, right-hander David Paulino seems a good bet to stick in the Majors at some point this season. ... Former 16th-round pick Ramón Laureano became another in a long line of Astros' success stories in 2016, posting a Minor League-best .428 OBP. ... Derek Fisher's combination of speed and power make him a tantalizing option in the outfield for Houston. Should he find a way to make more consistent contact this year, he could force himself in to the Astros' outfield picture sooner rather than later.
Michael Leboff is a contributor to MiLB.com.