Chiefs drop opener to PawSox, 5-0
Kieboom doubles in loss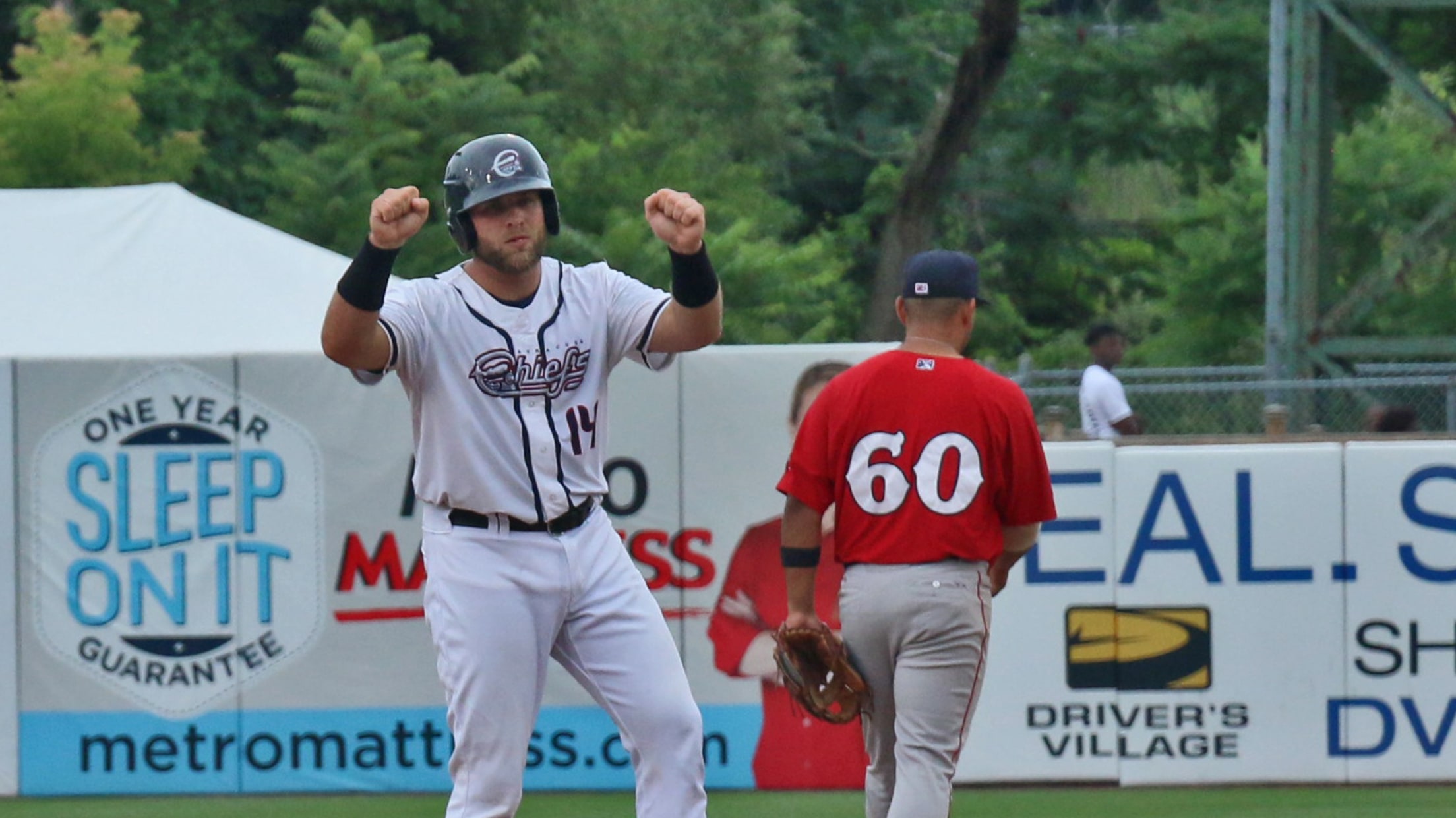 Spencer Kieboom smashed a double on Thursday night. (Danny Tripodi)
The Syracuse Chiefs fell to the Pawtucket Red Sox 5-0 on Thursday night at NBT Bank Stadium in the first game back from the All-Star break. Syracuse (32-56) ran into a strong pitching performance from Brian Johnson. The left-hander tossed seven scoreless innings, allowing just three hits, and striking out
The Syracuse Chiefs fell to the Pawtucket Red Sox 5-0 on Thursday night at NBT Bank Stadium in the first game back from the All-Star break. Syracuse (32-56) ran into a strong pitching performance from Brian Johnson. The left-hander tossed seven scoreless innings, allowing just three hits, and striking out a pair.
Pawtucket (45-44) kicked off the scoring with a trio of runs in the third inning versus Jacob Turner. Heiker Meneses led off the frame with a line-drive double over the head of Stephen Perez in left field. Jantzen Witte followed with a single into left field, allowing Meneses to advance to third on the play. In the next at-bat, former Chief Dan Butler poked a single into center field, scoring Meneses and putting Witte at second. One batter later, Aneury Tavarez lined a single into center to load the bases. Turner then issued a walk to Ryan Court, plating Witte and keeping the bases loaded for Brian Bogusevic. The left-hander responded to the bases-loaded situation by popping a sacrifice fly into left field, allowing Butler to score and putting the PawSox out in front 3-0.
The PawSox tacked on another run to their lead in the fifth. Butler led off the frame with a scalding line drive into left field. After a Tavarez fly out and a Court walk put runners at first and second, Bogusevic lined a single into center field, bringing Butler in to score and increasing the Pawtucket lead to 4-0.
Edwin Jackson finally allowed the first run of his Chiefs career in the top of the seventh. Butler continued his impressive game with a single into left to lead off the inning. Two batters later, Court singled into center to advance Butler to second. Bogusevic followed with a single of his own to load the bases for Steve Selsky. Selsky slapped a ground ball up the box and into center field, scoring Butler and expanding the lead to 5-0. Jackson was able to get out of the bases-loaded jam in the next at-bat inducing a 6-4-3 double play from Matt Dominguez to end the frame. Coming into the inning, Jackson had not allowed a run through his first 18 and one-third innings of baseball with Syracuse.
The Chiefs and PawSox continue a four-game series on Friday night at 7:05 p.m. from NBT Bank Stadium. Erick Fedde, the Nationals' top pitching prospect per Baseball America, takes the mound for the Chiefs opposite a pitcher to be announced for the PawSox.