Chiefs earn sweep with 6-4 win over Sox
Syracuse picks up first sweep since April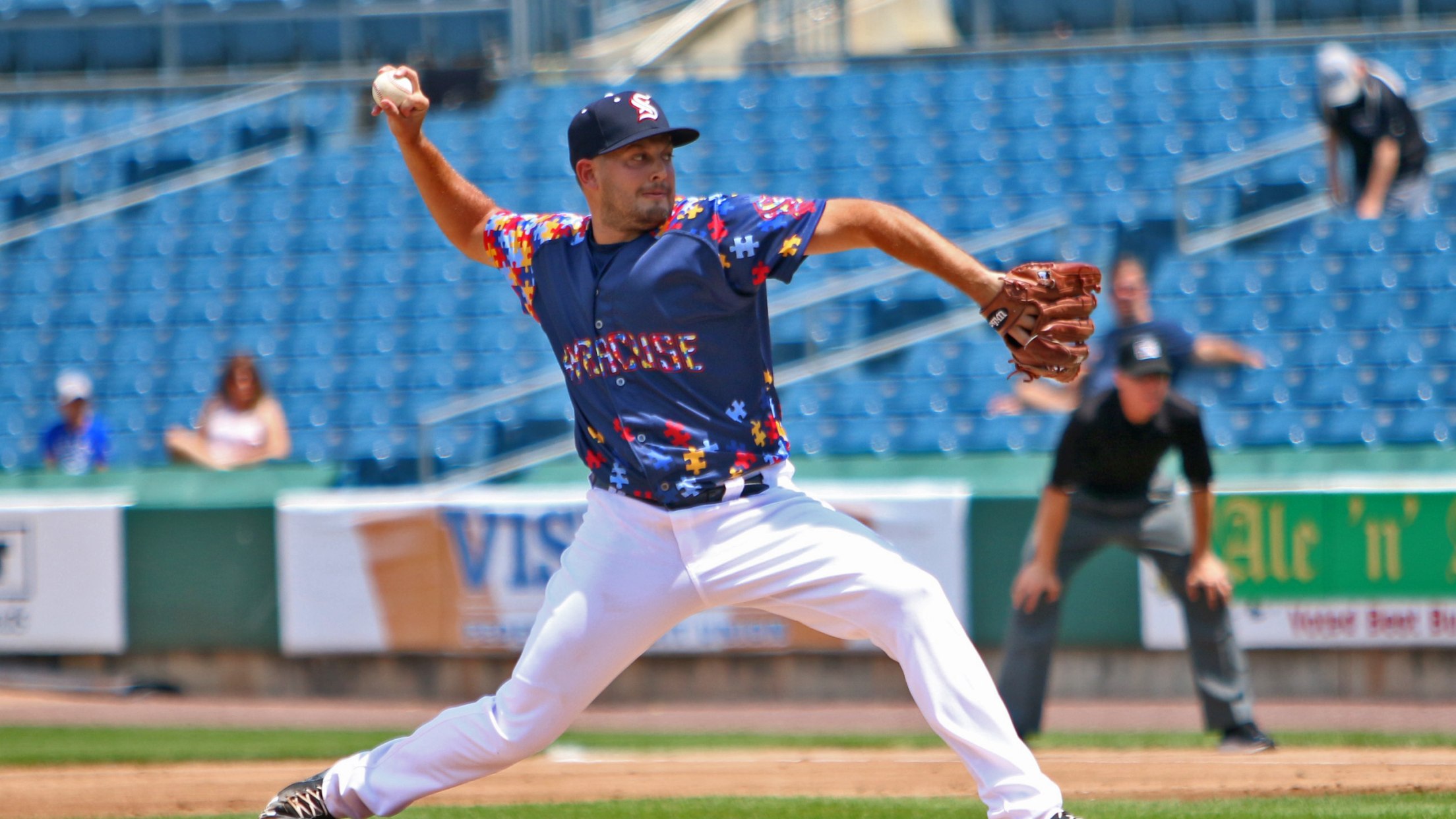 Jaron Long threw seven scoreless innings Thursday night. (Danny Tripodi)
Pawtucket, RI (August 3, 2017) - The Syracuse Chiefs completed a three-game sweep of the Pawtucket Red Sox, winning Thursday's final, 6-4, at McCoy Stadium. Neftali Soto homered for the fourth time in the series, and a four-run fifth inning was enough to lift the Chiefs to a fourth straight
Pawtucket, RI (August 3, 2017) - The Syracuse Chiefs completed a three-game sweep of the Pawtucket Red Sox, winning Thursday's final, 6-4, at McCoy Stadium. Neftali Soto homered for the fourth time in the series, and a four-run fifth inning was enough to lift the Chiefs to a fourth straight win and sixth in their last seven games. Jaron Long threw seven scoreless innings for the Chiefs in the win.
Syracuse (42-67) scored first when Soto hit a solo home run with two outs in the first off Shawn Haviland for a 1-0 lead.
The Chiefs broke the game open in the fifth. Syracuse struck for five straight hits, starting with a Spencer Kieboom double and Michael Almanzar single to bring in Kieboom for a 2-0 lead. Almanzar was thrown out at second on the play. From there, Bengie Gonzalez and Zach Collier doubled back-to-back for a 3-0 Chiefs edge. Irving Falu followed with a two-run home run to right to push the score to 5-0.
Syracuse added a sixth run in the seventh against Marcus Walden. Collier doubled to start the inning, moved to third on a fly out, and scored on Soto's RBI single for a 6-0 lead.
Pawtucket (54-56) finally scratched the scoreboard in the eighth. On Major League rehab, Shawn Kelley allowed a single to Brian Bogusevic and an RBI double to Deven Marrero to bring the score to 6-1. Kelley then walked Mike Miller and Dan Butler to load the bases. Kelley then did strike out Rusney Castillo and Ryan Court for the first two outs of the frame. Syracuse then turned to Neil Ramirez, who allowed a two-run single to Sam Travis to bring Pawtucket within three.
In the ninth, Bogusevic hit a two-out home run to bring the PawSox within two, but Pawtucket would get no closer.
Syracuse returns home to open a four-game, three-day series Friday night against the Rochester Red Wings, starting with a 5:05 p.m. doubleheader. Jacob Turner and Phillips Valdez are scheduled to start for the Chiefs opposite Kyle Gibson and Dietrich Enns for the Red Wings.