De Aza, Chiefs walk off to extend win streak
Alejandro De Aza RBI gives Chiefs second walk-off in three games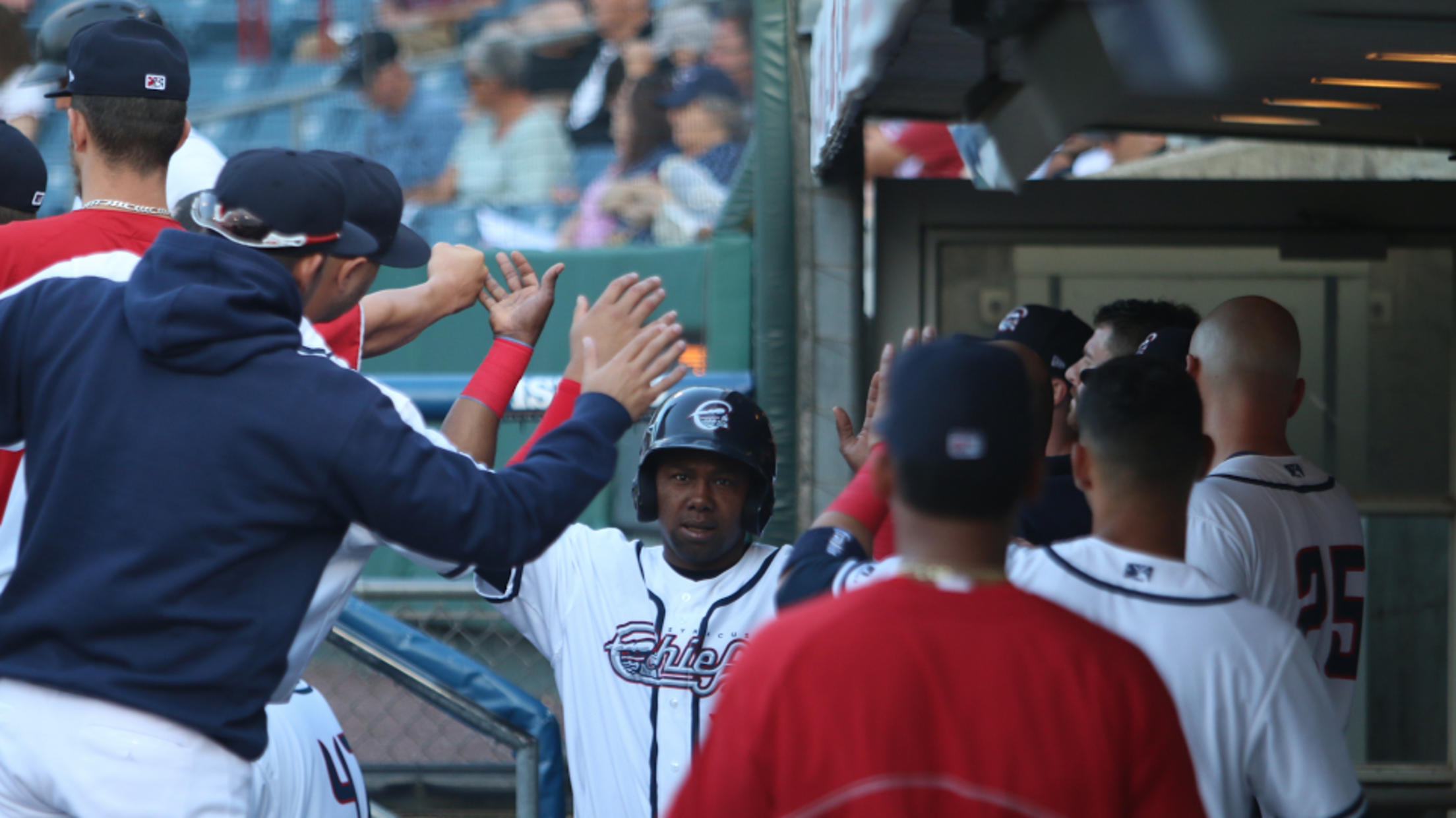 Alejandro De Aza reached base three times and drilled a walk-off single Saturday. (Danny Tripodi)
The Syracuse Chiefs defeated the Buffalo Bisons, 6-5, on another walk-off Saturday night at NBT Bank Stadium. The Chiefs walked off for the third time this year on an Alejandro De Aza RBI single.John Stilson replaced Murphy Smith for Buffalo (34-40) in the bottom of the ninth. Stilson walked Brandon
The Syracuse Chiefs defeated the Buffalo Bisons, 6-5, on another walk-off Saturday night at NBT Bank Stadium. The Chiefs walked off for the third time this year on an Alejandro De Aza RBI single.
John Stilson replaced Murphy Smith for Buffalo (34-40) in the bottom of the ninth. Stilson walked Brandon Snyder. Clint Robinson followed with a single to left, moving Snyder to third. Stilson intentionally walked Neftali Soto. And with the bases loaded, De Aza crushed a liner into right-center to bring in Snyder, giving Syracuse its fourth straight win and Buffalo its tenth straight loss.
Syracuse's (26-46) bats initially exploded in the bottom of the second with five straight singles. De Aza led off with a single off Brett Oberholtzer to left. Irving Falu and Spencer Kieboom singled as well. With the bases loaded, Emmanuel Burriss singled to left, plating De Aza. Falu then scored on an Andrew Stevenson single to center. Adrían Sanchez walked, scoring Kieboom. With the Chiefs up 3-0, Oberholtzer was taken out after just one inning. Chris Rowley replaced him and retired the side with no further damage.
Buffalo struck right back in the top of the third thanks to the bat of Raffy Lopez. With two outs, Christian Lopes singled to left. Greg Ross then walked Jon Berti. And on a 2-2 count, Lopez blasted a home run to right, tying the game.
Lopez hit another home run for the Bisons in the top of the sixth. He hammered the ball to deep center to lead off the inning. It was the catcher's fifth home run and 15th RBI against Syracuse this season. But Buffalo wasn't done yet. Jason Leblebejian followed with a double to right. He moved to third on a Rowdy Tellez groundout. Sammy Solís, on Major League rehab, replaced Ross. Leblebejian then scored on a Jarrod Saltalamacchia sacrifice fly.
The Chiefs tied things up in the bottom of the sixth. Burriss led off with a single off Rowley to left. With Stevenson batting, Burriss stole second, his first steal of the year. Stevenson then walked. Sanchez laid down a sacrifice bunt, moving the runners over. Snyder grounded out to second, but Burriss scored on the play. Robinson then singled to left, plating Stevenson and tying the game at five.
Syracuse will attempt to win its fifth straight game Sunday afternoon at 1:05. A.J. Cole is on the hill for the Chiefs while T.J. House will pitch for Buffalo.