Houston native Simms helps Chiefs beat IronPigs
Right-hander tosses seven scoreless innings in victory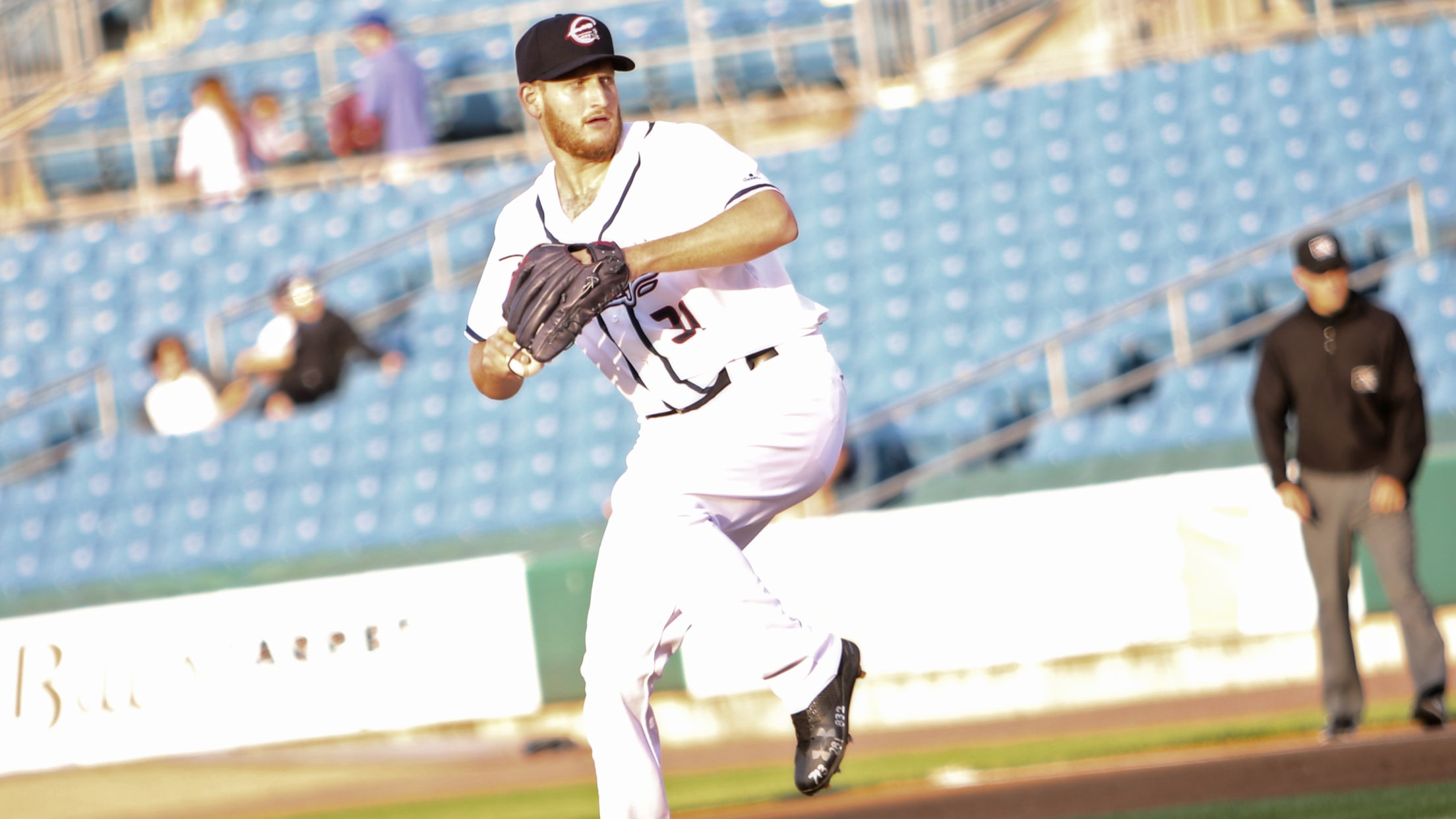 John Simms, with the area codes of Houston on his cleats, threw seven shutout innings Tuesday. (Danny Tripodi)
Syracuse, NY (August 29, 2017) - An outstanding pitching performance from John Simms led the Syracuse Chiefs over the Lehigh Valley IronPigs, 4-1, on Tuesday night at NBT Bank Stadium. With the area codes of Houston, TX written on his cleats, the Houston-born Rice University alum tossed seven innings of
Syracuse, NY (August 29, 2017) - An outstanding pitching performance from John Simms led the Syracuse Chiefs over the Lehigh Valley IronPigs, 4-1, on Tuesday night at NBT Bank Stadium. With the area codes of Houston, TX written on his cleats, the Houston-born Rice University alum tossed seven innings of scoreless baseball. Simms allowed just three hits and struck out a Triple-A-high nine batters in the victory.
Syracuse (53-83) opened the scoring with one swing of the bat in the bottom of the fourth inning versus Jake Thompson. With two outs, Brandon Snyder crushed his team-leading 23rd home run of the season over the left-field fence, putting the Chiefs out in front 1-0.
The Chiefs doubled their lead in the sixth. Stevenson led off the frame with a single into left field. In the next at-bat, Neftali Soto slapped a single of his own into left field to put runners on first and second. Stevenson then moved to third on a double play. One batter later, with Brandon Snyder at the plate, a passed ball charged to catcher Nick Rickles sailed behind home plate, scoring Stevenson and extending the lead to 2-0.
A pair of runs extended the Syracuse lead in the seventh. With one out, Pedro Severino singled into center field and Irving Falu walked. Two batters later, with Rafael Bautista at the plate, Thompson tossed a wild pitch that allowed Falu and Severino to move up to second and third respectively. One pitch later, Bautista roped a single into left, plating both Severino and Falu, and doubling the Chiefs' lead to 4-0.
Lehigh Valley (75-61) finally got on the board in the eighth inning versus Rafael Martín. With one out J.P. Crawford clubbed his 14th home run of the season over the right-field fence, slicing the Syracuse lead to 4-1.
The Chiefs and IronPigs continue with the third game of a four-game series on Wednesday night at 6:35 p.m. at NBT Bank Stadium. A.J. Cole is scheduled to make his first for the Chiefs since being optioned from Washington on Tuesday. Right-hander Henderson Alvarez III is slated to take the hill for Lehigh Valley.