Salt Potatoes mash 14 hits, top Wings 9-4
Syracuse tallies 14 hits in ninth win in last 11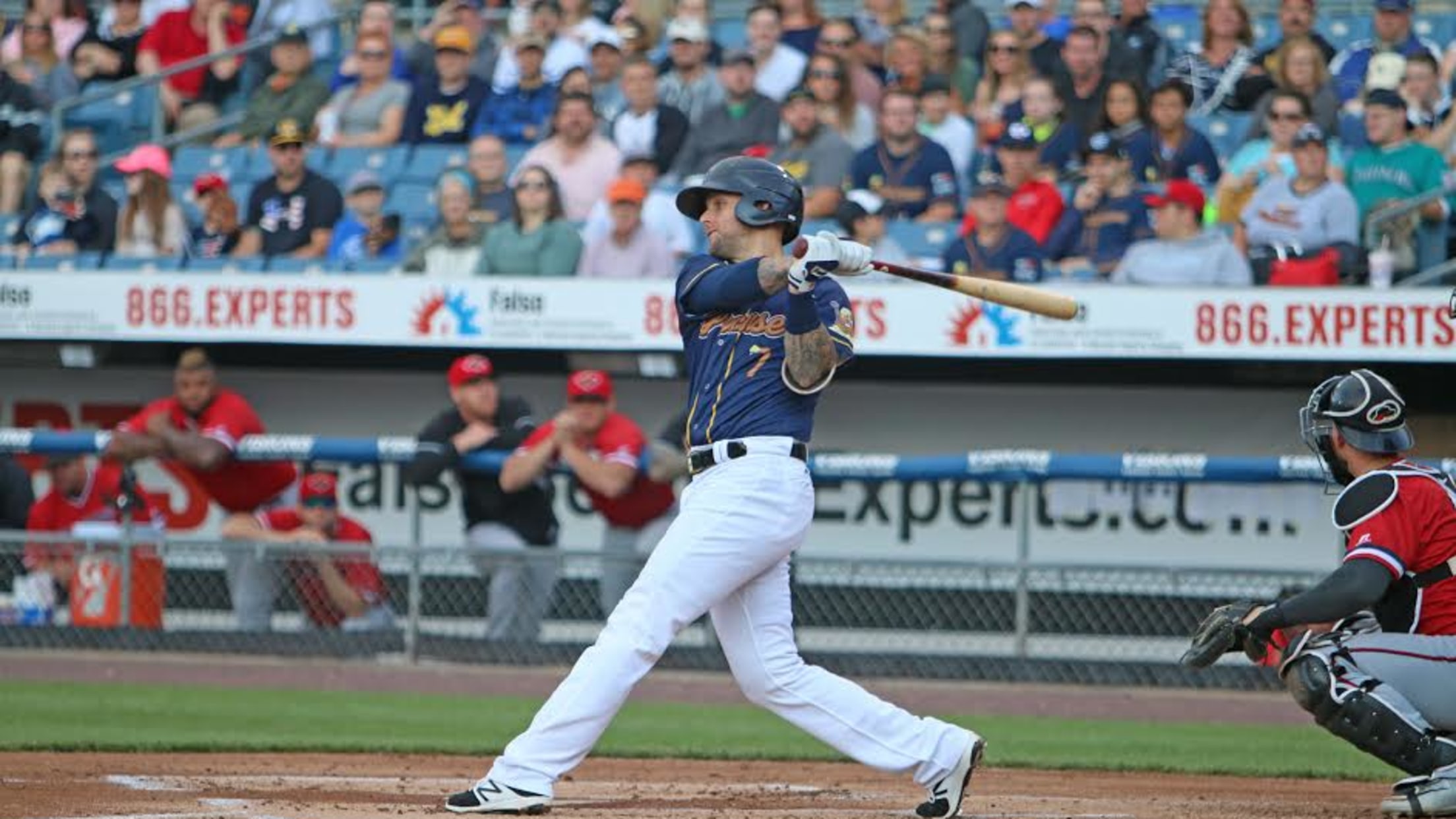 Brandon Snyder had two hits and two RBIs on Salt Potato Day Saturday (Danny Tripodi)
On a special one-night only nickname change, the Syracuse Salt Potatoes knocked off the Rochester Red Wings, 9-4, on Saturday night at NBT Bank Stadium. In front of a crowd of 8,345, the third largest home crowd of the season, the Salt Potatoes ripped 14 hits. Brandon Snyder had two
On a special one-night only nickname change, the Syracuse Salt Potatoes knocked off the Rochester Red Wings, 9-4, on Saturday night at NBT Bank Stadium. In front of a crowd of 8,345, the third largest home crowd of the season, the Salt Potatoes ripped 14 hits. Brandon Snyder had two hits and two RBIs, and Michael Almanzar had three hits. Eight of the nine Chiefs batters recorded hits in the game. Syracuse has now won nine of its last 11 games.
Rochester (64-49) initially jumped in front on the second at-bat of the game. Mitch Garver smacked a sole home run off Cody Satterwhite that cleared the right-center-field fence to put the Red Wings in front. Two batters later, Kennys Vargas slapped a line drive down the left-field line for a double. Vargas scored on the following play when ByungHo Park also hit a double to left for a 2-0 Red Wings lead.
Syracuse (44-68) exploded with a five-run bottom of the first inning. Zach Collier, Brandon Snyder, and Neftali Soto ripped three straight doubles to lead off the frame. Snyder's liner plated Collier and Soto's blast scored Snyder to tie the game at two. Two batters later, Chad Huffman hit a single into left moving Soto to third. After Alejandro De Aza reached on a fielder's choice, Pedro Severino then singled to center, plating Huffman and giving the Salt Potatoes the lead. De Aza moved to third and Severino advanced to second on a throwing error by Zach Granite. Finally, Michael Almanzar singled to center, scoring De Aza and Severino for a 5-2 Salt Potatoes lead.
Mitch Garver continued to provide runs for Rochester as he led off the third with an infield single. After Garver moved to second, two batters later, Vargas came through again with a double to left, plating Garver and putting Rochester within three.
The Salt Potatoes responded with a two-run bottom of the fourth. Almanzar led off the frame with a double to left. Emmanuel Burriss followed with a line-drive single to right, plating Almanzar. Two batters later, Brandon Snyder singled to left, scoring Burriss for a 7-3 Syracuse lead.
The Red Wings retrieved a run in the top of the fifth. Palka ripped a double to center. Three batters later, Niko Goodrum hit a soft liner to left, bringing Palka home to cut the lead to three.
However, the Chiefs grabbed two additional insurance runs in the bottom of the seventh. Snyder led off with a walk. Mason Melotakis replaced D.J. Baxendale, and Soto hammered a single up the middle to move Snyder to third. Melotakis threw a wild pitch, allowing Snyder to jog on home. After Melotakis tossed two strikeouts, De Aza singled to center, scoring Soto and giving Syracuse a 9-4 lead.
The game stayed scoreless from there. The Syracuse relief platoon of Shawn Kelley (on Major League rehab), Rafael Martín, Kevin Jepsen, and Wander Suero allowed just one run and five hits in six strong innings. There were 25 hits total between the two teams, including nine doubles.
The Syracuse Chiefs return to the field Sunday afternoon at 1:05 p.m. at NBT Bank Stadium. Esmil Rogers is scheduled for Syracuse opposite Aaron Slegers for the Red Wings to close out the series.