Rainiers Blank Aces, 3-0, To Collect Series Win
David Rollins, Gordon Beckham both shine in series finale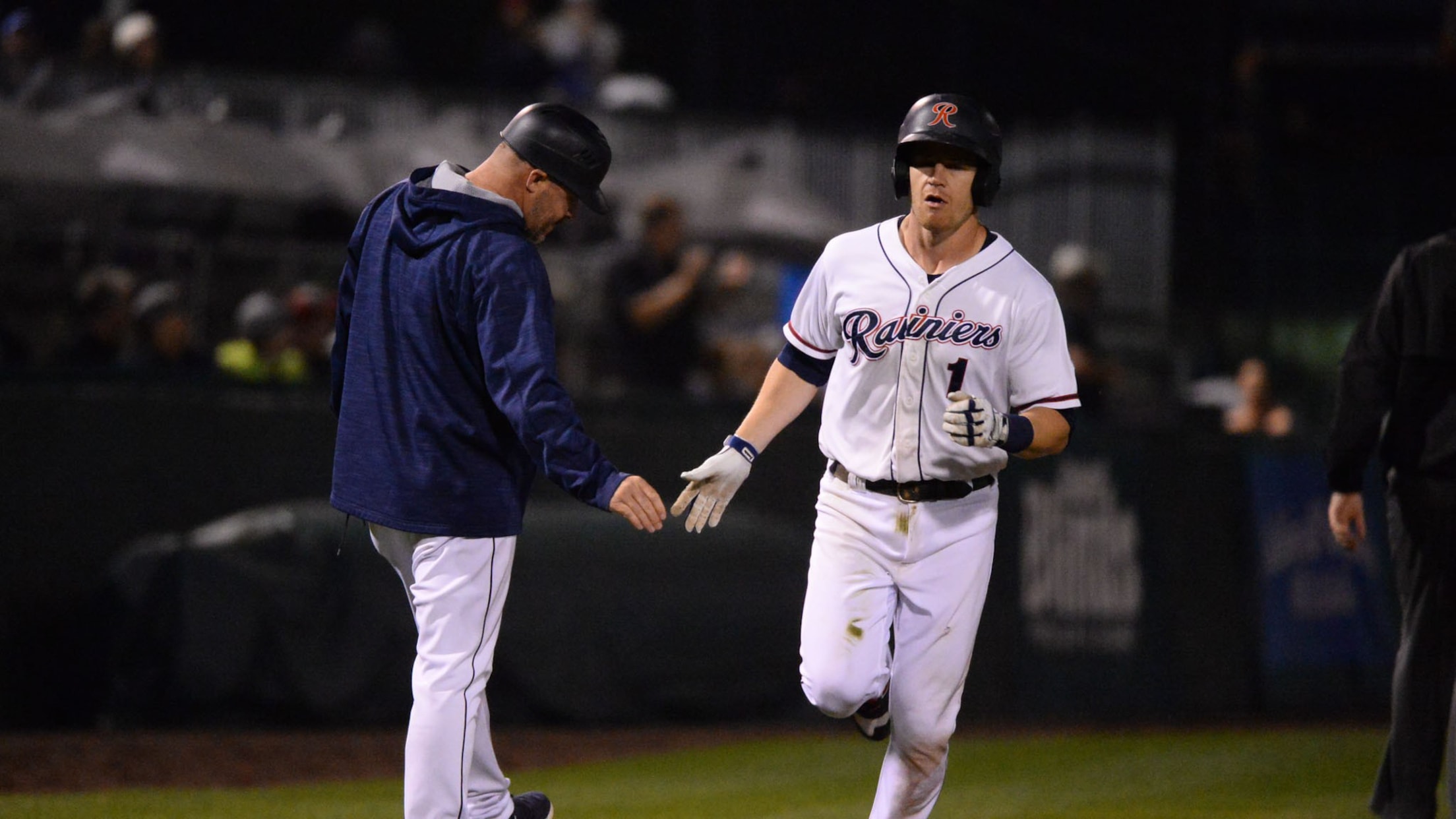 Rainiers infielder Gordon Beckham celebrates hitting his eighth-inning home run with hitting coach David Berg on Thursday, August 23, 2018 at Cheney Stadium. (Jeff Halstead)
TACOMA, Wash. - The Tacoma Rainiers (63-65) collected a series win by shutting out the Reno Aces (66-63) on a score of 3-0 on Thursday night at Cheney Stadium.Shortstop Gordon Beckham led the Rainiers on offense and defense, making an incredible diving stop at shortstop to save a run in
TACOMA, Wash. - The Tacoma Rainiers (63-65) collected a series win by shutting out the Reno Aces (66-63) on a score of 3-0 on Thursday night at Cheney Stadium.
Shortstop Gordon Beckham led the Rainiers on offense and defense, making an incredible diving stop at shortstop to save a run in the top of the eighth inning before hitting a solo home run in the bottom of the frame. He finished the night with Tacoma's only multi-hit performance, going 2-for-4 with two runs scored.
Catcher David Freitas (1x4, 2B) and first baseman Cameron Perkins (1x3) collected the Rainiers only other hits of the night, while third baseman Seth Mejias-Brean (0x1, 2 BB) reached base twice.
Southpaw David Rollins got the nod for Tacoma and turned in a near-quality start - he held Reno off the scoreboard across 5.2 innings of work while allowing just five hits. Rollins issued no walks and struck out four batters on 77 pitches (58 strikes).
Justin Grimm (1.1 IP), Ryan Cook (0.2 IP), and Chasen Bradford (1.1 IP) combined to keep the Aces scoreless throughout the remainder of the night. The trio of Rainiers relief arms limited the Reno lineup to just one hit and struck out six. Grimm (2-1) earned the win, while Bradford notched his first save of the season.
The Rainiers begin their final home series of the 2018 season on Friday night at 7:05 p.m. PT as the El Paso Chihuahuas visit Cheney Stadium. Tacoma right-hander Casey Lawrence (7-3, 2.69) will start along with El Paso southpaw Eric Lauer (2-1, 3.00).
Group outings and suites packages for the remainder of 2018 season are available for purchase in person at the Cheney Stadium Box Office, online at TacomaRainiers.com, or over the phone at (253) 752-7707. The most up-to-date news and notes about the Rainiers throughout the season can be found by following the Rainiers on Twitter (@RainiersLand) or liking the team on Facebook.