Sugar Split on Sunday in Texas
Tacoma is 2-2 against the East Division leaders after doubleheader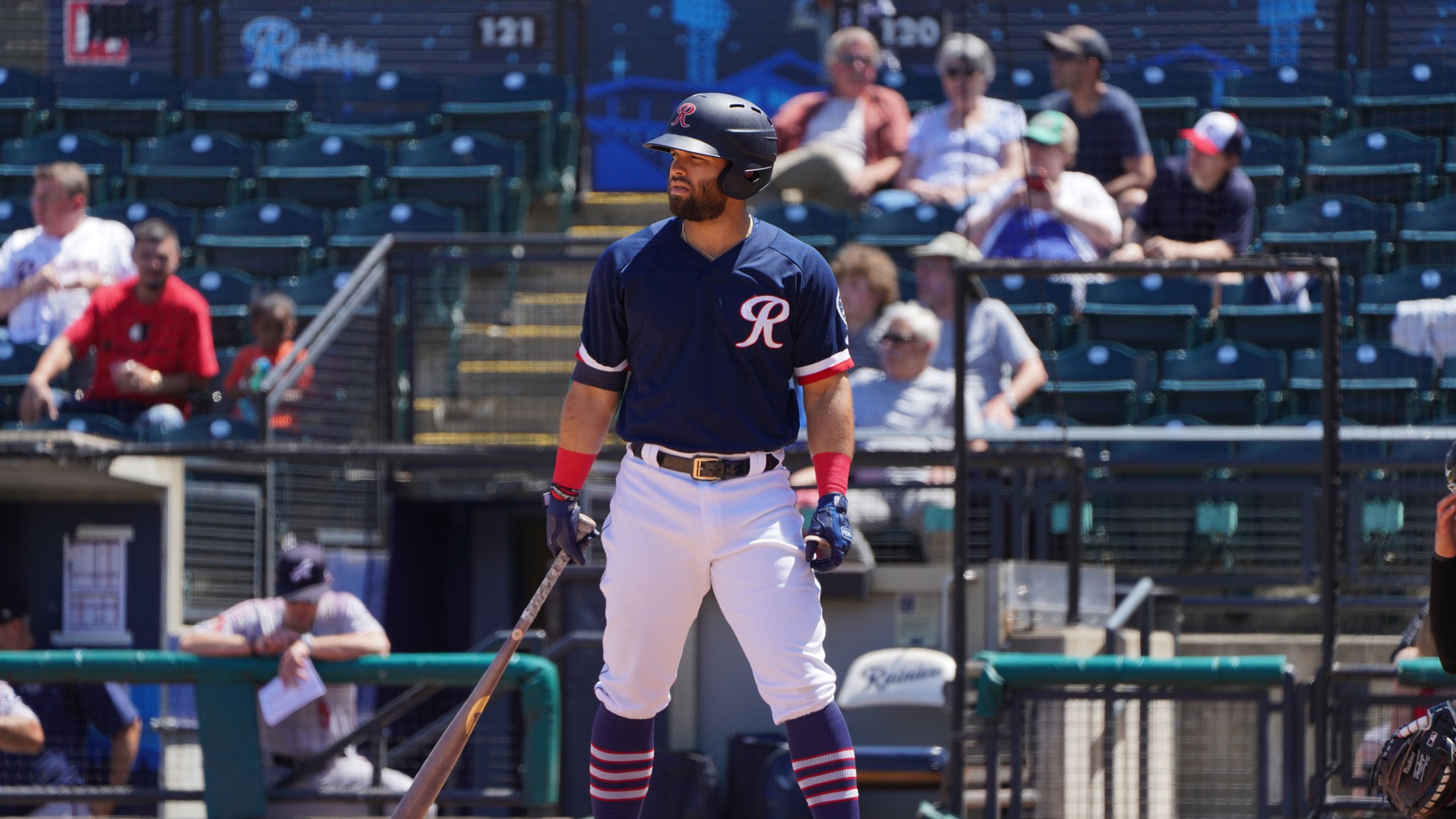 Sugar Land, TX (7/11/21) – Thanks to their second-biggest inning of the season, the Tacoma Rainiers (30-26) swatted the Sugar Land Skeeters 10-2 in the front end of Sunday's doubleheader at Constellation Field, before the home side rebounded with a 3-0 victory to split the twin-bill. GAME 1 The Rainiers
Sugar Land, TX (7/11/21) – Thanks to their second-biggest inning of the season, the Tacoma Rainiers (30-26) swatted the Sugar Land Skeeters 10-2 in the front end of Sunday's doubleheader at Constellation Field, before the home side rebounded with a 3-0 victory to split the twin-bill.
GAME 1
The Rainiers began the opener with three consecutive base hits; Luis Liberato narrowly missed a homer while doubling off the centerfield wall to leadoff the game, and scored on Jose Godoy's RBI single to left. Still leading 1-0 in the fourth, Jantzen Witte stroked a two-run single to right, putting Tacoma up 3-0, scoring Jose Marmolejos (single) and Jake Hager (double) again on three straight hits.
Sugar Land (33-24) fought back in the fifth, breaking up an Ian McKinney shutout. Jake Meyers, who hit a three-run homer and drove in four runs on Saturday, ripped a two-RBI double into left, trimming the Rainiers' lead to 3-2.
McKinney turned in a solid five-inning effort for the winning decision, allowing only two hits and two walks, striking out four. His counterpart Brett Conine went five IP as well, scattering six hits and three earned runs, with a walk and five strikeouts.
In the seventh, Skeeters reliever Francis Martes could not find the strike zone, first walking the bases loaded before a fourth free pass (Eric Campbell) and a HBP (Wyatt Mathisen) to force in two more Tacoma runs. It was 6-3 Rainiers after a Colin McKee wild pitch, following Martes's exit.
Tacoma continued to pour it on against McKee, as Marmolejos became the first Rainiers batters to 10 home runs this season, yanking a two-out, three-run shot to right field. Tacoma made it an even 10 runs when Hager doubled and Witte drove in his third run of the day with a single. The seven-run seventh inning was the Rainiers' second-biggest inning this season; on May 13 at home against Salt Lake, Tacoma scored 10 in the seventh, the difference in a 15-5 win.
The Marmolejos/Hager/Witte trio each enjoyed a two-hit game.
GAME 2
Sugar Land's Jose Siri opened the scoring in the night cap with his 11th homer of the season, a solo shot to left field in the second inning. It was 2-0 Skeeters in the third when Houston Astros top prospect Ronnie Dawson singled home Garrett Stubbs; Stubbs reached on a bunt single.
The Skeeters added a valuable insurance run in the sixth on an error, going up 3-0. In a bullpen game for each side, eight pitchers combined to allow only seven total hits for the evening, just two of which belonged to the Rainiers, a pair of Alen Hanson singles. Each side used four arms, and Sugar Land right-hander Ronel Blanco worked around Hanson's single in the seventh to save it.
After earning their first shutout win of the season Friday night at Sugar Land, Tacoma was shut out for the first time this season in Sunday's second game.
The Rainiers will next be in action at 5:05 p.m. PT / 7:05 p.m. CT on Monday evening at Sugar Land. RHP Logan Verrett will start for Tacoma, opposite Skeeters RHP Peter Solomon.
Rainiers broadcaster Mike Curto will have full coverage on TacomaRainiers.com. All 2021 Rainiers games, home and away, can also be heard for free on the MiLB First Pitch app. HD video broadcasts of every home game can be viewed with an MiLB.TV subscription. (Use code: RAINIERS to save $10 on an annual subscription.
About the Tacoma Rainiers
The Tacoma Rainiers are the Triple-A affiliate of the Seattle Mariners. The Rainiers are a member of Triple-A West. Tacoma has been a Mariners affiliate since establishing the Rainiers moniker in 1995.
Single-game tickets for all remaining 2021 Rainiers home games are now available. Questions regarding season tickets can be directed to [email protected].
The most up-to-date news and notes about the Tacoma Rainiers and Cheney Stadium can be found at WeRTacoma.com, or by following the Rainiers on Twitter (@RainiersLand), Instagram (@tacomarainiers) and liking the team on Facebook.