5-Run 5th Leads Tarpons to 7-2 Win in Dunedin
Rosa Tallies Season-High 8 K's, Picks Up 8th Win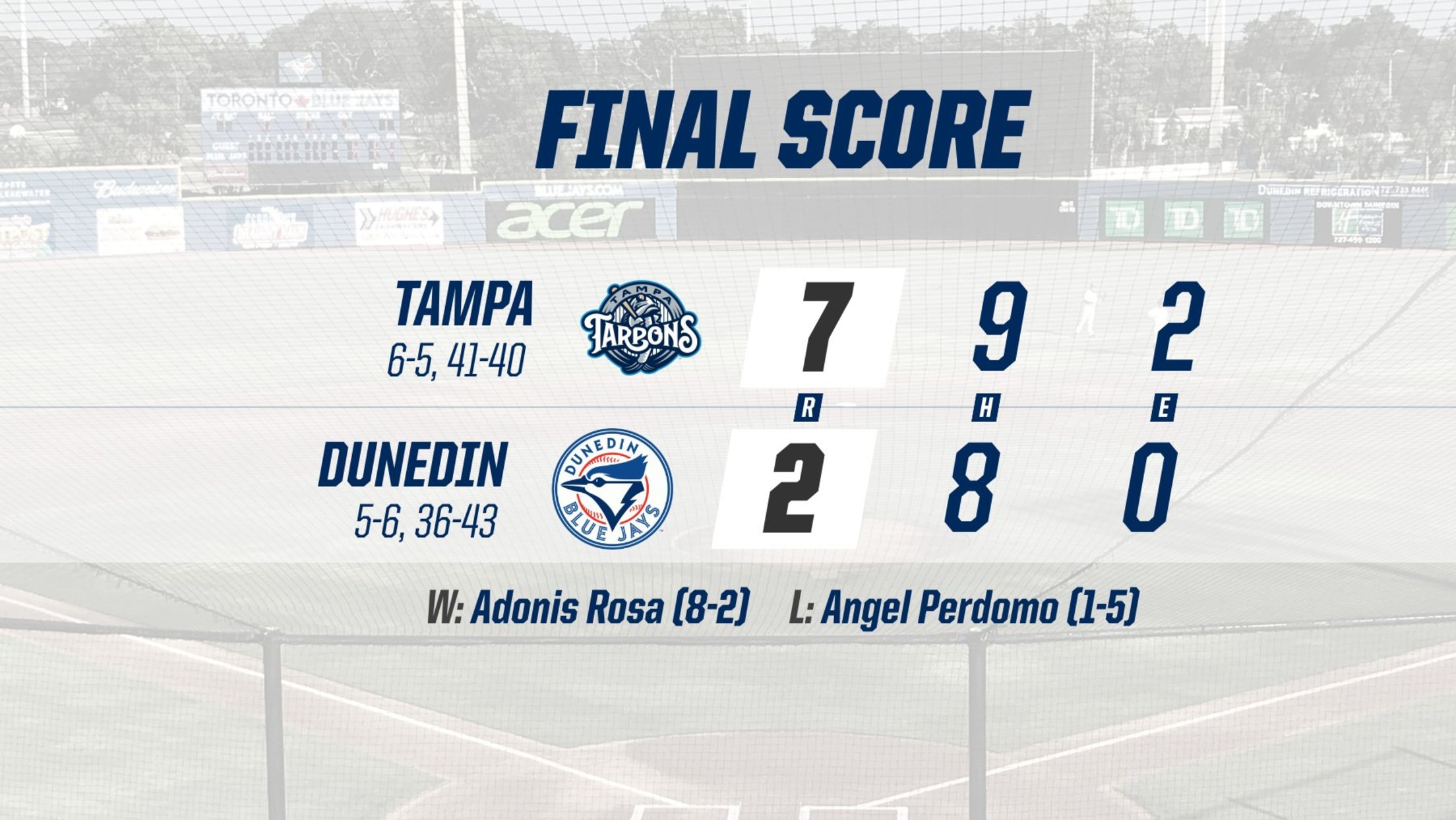 DUNEDIN, Fla. -- All nine batters stepped to the plate as the Tampa Tarpons (6-5, 41-40) scored five runs in the fifth inning en route to a 7-2 victory over the Dunedin Blue Jays (5-6, 36-43) on Monday night at Dunedin Stadium.David Metzgar singled and Kellin Deglan reached on a
DUNEDIN, Fla. -- All nine batters stepped to the plate as the Tampa Tarpons (6-5, 41-40) scored five runs in the fifth inning en route to a 7-2 victory over the Dunedin Blue Jays (5-6, 36-43) on Monday night at Dunedin Stadium.
David Metzgar singled and Kellin Deglan reached on a hit-by-pitch to open the third against LHP Angel Perdomo. A wild pitch advanced the runners and, one out later, Metzgar scored on a sacrifice fly by Diego Castillo .
RHP Adonis Rosa struck out five batters in his first three innings of work and added two more in the fourth, but also surrendered a game-tying home run by Ivan Castillo in that frame.
The Tarpons responded by rallying for five runs in the fifth. Metzgar and Deglan both walked and scored, one out later, on a two-run double by Castillo. One out later, Castillo scored on a two-out single by Brandon Wagner .
RHP Jonny Cheshire entered in relief of Perdomo and was greeted by a double by Isiah Gilliam . Both Wagner and Gilliam then scored on the ensuing two-run single by Dom Thompson-Williams , giving Tampa a 6-1 lead.
The Blue Jays got a pair of hits and a walk to load the bases with one out in the bottom of the fifth. Rosa then got a pop out by Santiago Espinal before striking out Kevin Smith to strand all three runners.
Perdomo (L, 1-5) fell to 0-3 in three starts against the Tarpons. The southpaw tied a season-high by allowing five earned runs on six hits in four and two-third innings, yielding two walks and one hit-batter while striking out five on 88 pitches (56 strikes).
Rosa (W, 8-2) tallied a season-high eight strikeouts and moved into a three-way tie for the league-lead in wins. The 23-year-old held Dunedin to one earned run on four hits and two walks in five innings, throwing 55 of 87 pitches for strikes, improving to 2-0 in two starts against the Blue Jays.
Dunedin got a run back off LHP Trevor Lane in the sixth. Two-straight singles by Castillo and Kacy Clemens put two on with one out. Lane then fielded a comebacker by Rodrigo Orozco and forced Clemens out at second. Metzgar then threw to first to complete the double play, but a missed catch by first-baseman Steven Sensley allowed Castillo to score.
The game featured a 27-minute delay in the top of the seventh after Castillo and Alexander Palma collided in shallow left-center while pursuing a fly ball hit by Yeltsin Gudino. Castillo remained in the game, but Palma suffered a lower body injury and left the field on an ambulance.
Tampa scored its final run off RHP William Ouellette in the eighth when Thompson-Williams doubled, advanced on a passed ball and scored on a sacrifice fly by Metzgar.
Lane tallied four strikeouts while yielding an unearned run on three hits in the sixth and seventh. RHP Andrew Schwaab retired six of the seven batters he faced, allowing one hit while striking out three batters in the eighth and ninth.
Castillo (1-for-4, 2B, 3RBI, Sac-F) paced the offense with three runs batted in. Wagner (2-for-4, RBI, R), Gilliam (2-for-4, 2B, R) and Thompson-Williams (2-for-4, 2B, 2RBI, R) each logged a multi-hit game.
The two-game set will wrap up on Tuesday at 6:30 p.m. LHP Dalton Lehnen (0-0, -.--) will get the nod in his debut with the Tarpons. Dunedin will send RHP Yennsy Diaz (0-2, 3.66) to the mound. Live play-by-play audio will be available on the Tarpons Radio Network.