Florial's Homer Lifts Tarpons Over Cardinals, 5-1
Cordero Debuts with Three Perfect Relief Innings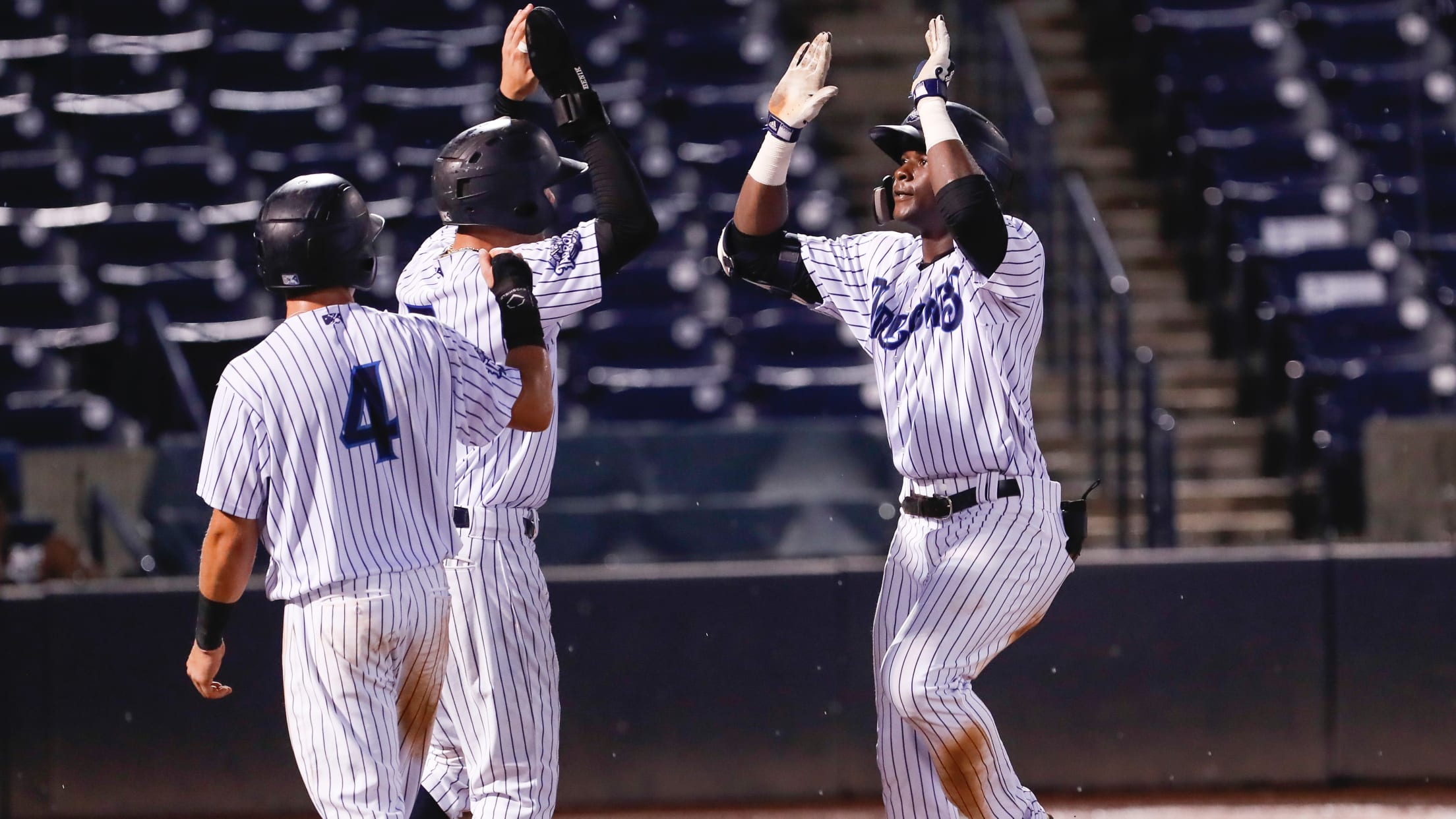 Estevan Florial (right) his greeted by Kyle Gray (#4) and Pablo Olivares after smashing a go-ahead three-run home run in the 6th inning in Tampa's 5-1 win over Palm Beach on Monday night at George M. Steinbrenner Field. (Mark LoMoglio)
TAMPA, Fla. - The Tampa Tarpons snapped a five-game losing streak by defeating the Palm Beach Cardinals, 5-1, in the opener of a four-game series on Monday night at George M. Steinbrenner Field. Estevan Florial delivered a go-ahead three-run homer in the sixth, and Tampa got three perfect relief innings
TAMPA, Fla. - The Tampa Tarpons snapped a five-game losing streak by defeating the Palm Beach Cardinals, 5-1, in the opener of a four-game series on Monday night at George M. Steinbrenner Field. Estevan Florial delivered a go-ahead three-run homer in the sixth, and Tampa got three perfect relief innings by 19-year-old RHP Diego Cordero .
After a 15-minute rain delay, RHP Glenn Otto made his fourth appearance since returning from the injured list and walked the first two batters of the game before getting a strike 'em out, throw 'em out double-play, followed by an inning-ending groundout by Luken Baker.
Otto worked around a one-out walk in the second and finished strong by adding three more strikeouts while stranding a two-out single by Chase Pinder in the third. The 23-year-old left after 63 pitches (36 strikes), scattering three walks and one hit in three scoreless frames.
RHP Edgar Gonzalez started for Palm Beach (18-34, 53-63) and faced the minimum before back-to-back singles by Pablo Olivares and Florial began the fourth. One out later, Gonzalez got Alexander Palma to ground into an inning-ending double-play.
Cordero (W, 1-0) relieved Otto in the fourth, making his Tarpons debut. The 19-year-old retired all nine batters he faced while striking out three over three scoreless innings.
Gonzalez worked a scoreless fifth before walking Kyle Gray and Olivares to begin the sixth. Gray took third on a wild pitch before Florial smashed an opposite-field three-run homer to left, snapping a streak of 19-straight run drought by the Tarpons.
Two outs later, Mickey Gasper reached on a hit-by-pitch and took second on an errant pickoff throw by catcher Ivan Herrera before scoring on a line drive single to right by Wilkerman Garcia , giving Tampa (25-26, 53-64) a 4-0 lead.
RHP Cole Aker relieved Gonzalez and struck out Steven Sensley before the game entered a 40-minute rain delay. Gonzalez (6-14) allowed four runs (three earned) on five hits, two walks and two hit-batters in five and two-third innings, striking out seven on 99 pitches (60 strikes).
After the delay, RHP Matt Wivinis took over on the mound and stranded a leadoff walk in the seventh before working around a walk and a hit in the eighth, keeping the shutout alive.
Jason Lopez greeted RHP Leonardo Taveras in the seventh with a double down the right field line and, one out later, scored when Taveras walked Olivares, Florial and Oswaldo Cabrera , consecutively. The 19-year-old retired the next five batters, including four-straight strikeouts.
Baker blasted a leadoff triple off the centerfield wall in the ninth and scored on a groundout by Nick Dunn. One out later, Wivinis walked Nick Plummer and was replaced by Kyle Zurak , and Zurak got a groundout by Bryce Denton to end the game.
Olivaers (2-for-2, 2BB, R, SB) reached base four times, raising his on-base percentage to .372 - fourth-highest in the Florida State League. Florial (2-for-3, HR, BB, 3RBI, R) clubbed his seventh homer of the season, surpassing his 2018 total. Lopez (1-for-4, 2B, R) extended his season-best on-base streak to 10 games, and his hitting streak to five games.
The series continues on Tuesday at 6:30 p.m., with RHP Janson Junk (3-6, 5.40) scheduled to face RHP Michael Baird (1-1, 0.00). Live play-by-play of the action will be available on the Tampa Tarpons Baseball Network.

On "2-for-1 Tuesday," fans can get buy-one, get-one free deals on lower reserved tickets, hot dogs, burgers, fries and nachos from 5:30-7:30 p.m. (2-for-1 tickets may only be purchased from the George M. Steinbrenner Field Box Office.