Green Goes Seven-Strong in 4th of July Victory
Wagner Provides Fireworks with 16th Homer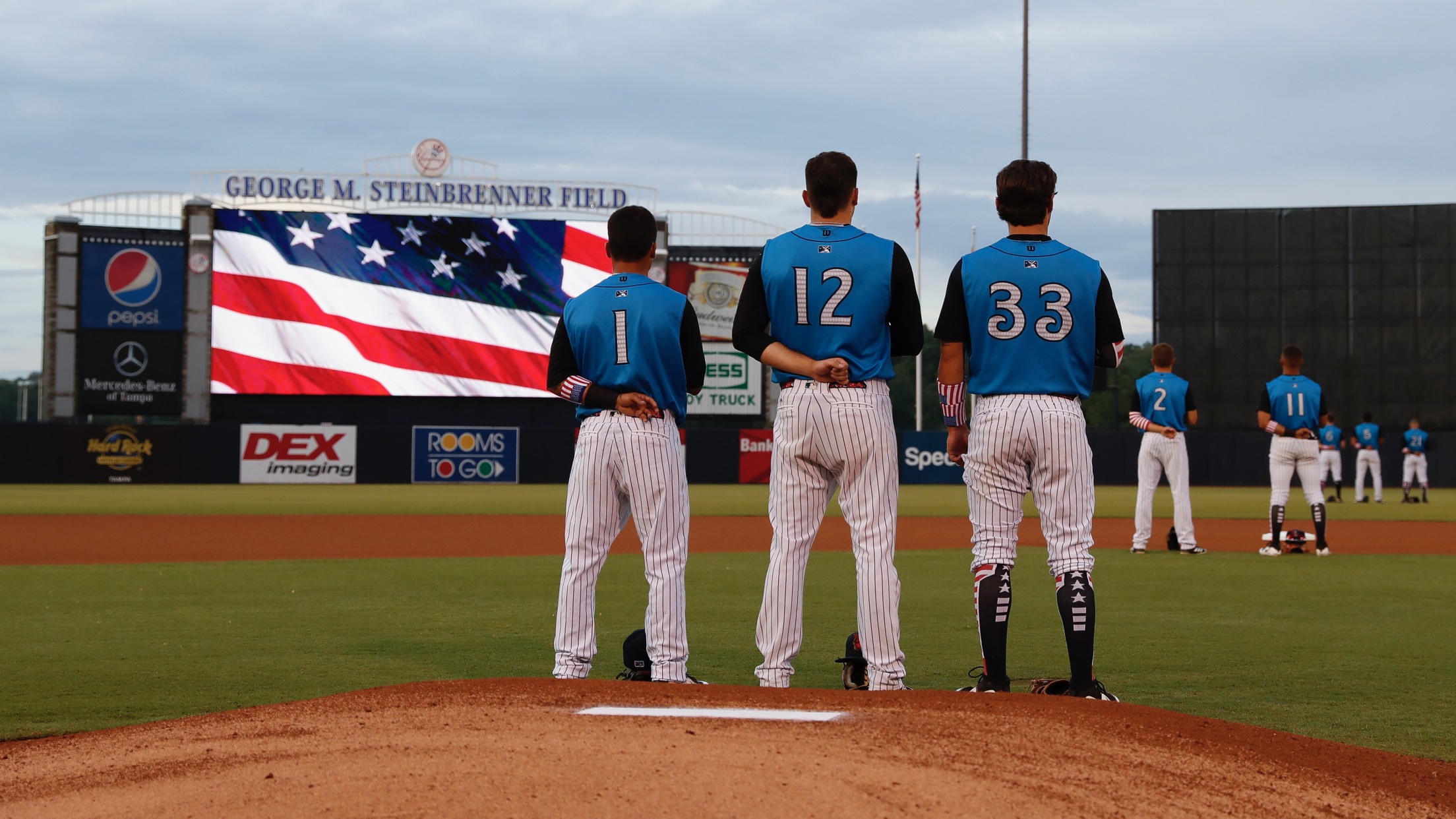 David Metzgar (1), Nick Green (12) and Brandon Wagner (33) stand for the National Anthem prior to Tampa's 5-1 win over Clearwater on Wednesday night at George M. Steinbrenner Field. (Mark LoMoglio)
TAMPA, Fla. -- Nick Green logged a season-high seven innings and was backed by clutch hitting as the Tampa Tarpons (6-5, 42-41) defeated the Clearwater Threshers (9-4, 41-40), 5-1, in front of as Independence Day crowd of 2,395 on Wednesday night at George M. Steinbrenner Field.The Tarpons tallied 10 hits
TAMPA, Fla. -- Nick Green logged a season-high seven innings and was backed by clutch hitting as the Tampa Tarpons (6-5, 42-41) defeated the Clearwater Threshers (9-4, 41-40), 5-1, in front of as Independence Day crowd of 2,395 on Wednesday night at George M. Steinbrenner Field.
The Tarpons tallied 10 hits and scored four of their five runs with two outs. Meanwhile, the Tampa defense pulled off three double plays to limit the Threshers.
After a three-up, three-down first inning by Green, the Tarpons grabbed a quick 1-0 lead in the home half. Diego Castillo singled to right and advanced to third on a hit-and-run base hit to right by Isiah Gilliam . Right-fielder Jose Pujols bobbled the ball, allowing Castillo to score.
Pujols then led off the second with a double to right and advanced on a passed ball by catcher Donny Sands . One out later, a walk by Kyle Martin put runners on the corners. Green then got Grenny Cumana to ground into an inning-ending 5-4-3 double play.
Dom Thompson-Williams opened the bottom of the fourth with a single to center and promptly stole second. Two outs later, David Metzgar hit a single down the right field line, scoring Thompson-Williams to double the Tampa lead.
Clearwater starter Bailey Falter (L, 5-4) posted his shortest outing since April 9th, yielding two earned runs on seven hits in four innings. The southpaw walked one, struck out five and threw 47 of 77 pitches for strikes.
Martin lined a leadoff single in the fifth, but was erased when Cumana bounced into a 6-4-3 twin killing. After yielding a two-out walk, Green got a groundout to end the frame.
Adam Haseley provided the lone Threshers run in the sixth when he pulled a home run over the right field wall, cutting the lead to 2-1.
After two quick outs in the seventh, Cumana extended the inning with a double to left. A walk by Raul Rivas put the go-ahead runs aboard, but Green got Jose Gomez to ground into a fielder's choice to preserve the lead.
Green (W, 6-3) allowed one earned run on five hits in seven innings, walking three while striking out five. The right-hander threw 68 of 102 pitches for strikes in his ninth quality start of the season.
Clearwater right-hander Blake Quinn retired the first seven batters he faced in relief before allowing a one-out single by Ricky Surum in the bottom of the seventh. Surum stole second and later scored on a two-out single by Castillo. Kyle Dohy replaced Quinn and Wagner greeted the southpaw with an opposite field, two-run home run, giving the Tarpons a 5-1 lead.
Haseley singled with one out in the eighth, but was tagged out at second when Henri Lartigue rolled into a 3-6 double play. RHP Matt Frawley tallied two strikeouts while facing the minimum in the eighth and ninth.
Surum (3-for-3, 2B, R, SB) reached base all three times in his debut with the Tarpons. Thompson-Williams (2-for-4, R, SB) extended his hitting streak to eight games. Castillo (2-for-4, RBI, 2R) logged his 20th multi-hit game. Wagner (1-for-4, HR, 2RBI, R) leads all Yankees minor leaguers with 16 home runs.
The two-game set will wrap up on Thursday at 6:30 p.m. RHP Garrett Whitlock (3-1, 2.00) is scheduled to make the start against RHP Mauricio Llovera (2-5, 4.29). Live play-by-play audio will be available on the Tarpons Radio Network. On "Taco Thursday," fans can enjoy the all-you-can-eat Taco and Nacho bar for $18, $5 house Margaritas, and $4 Coronas from 6:00-8:00 p.m.