Pereira Leads Tarpons to 5-4 Triumph in Finale vs. Flying Tigers
20-Year-Old Reaches 4 Times, Including Game-Winning 2-Run Single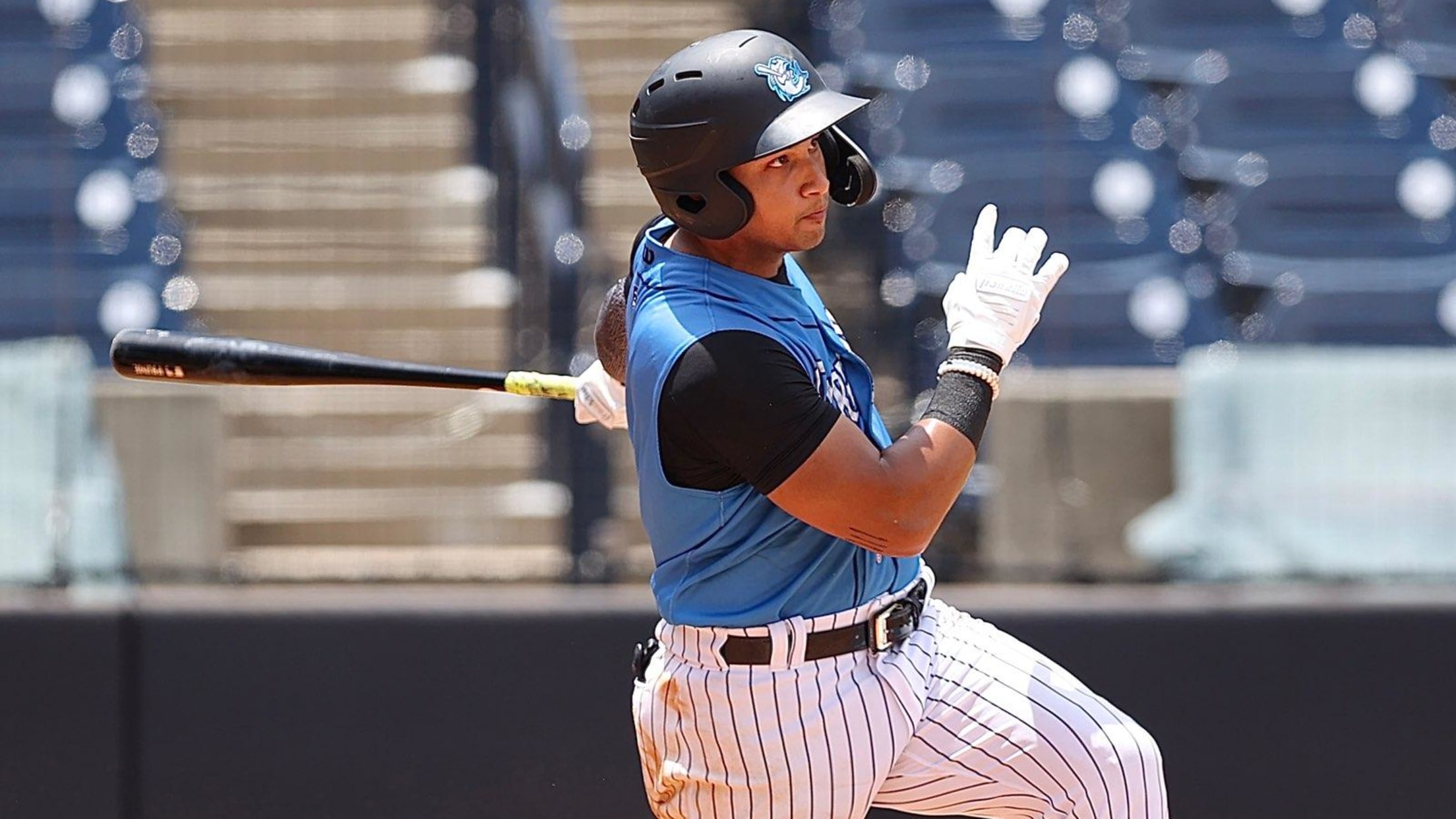 Everson Pereira reached base all four times on Sunday, including a 2-run single to help Tampa defeat Lakeland, 5-4. (Mark LoMoglio)
TAMPA, Fla. – Everson Pereira scored twice and delivered the would-be game-winning hit as the Tampa Tarpons staved off a late surge by the Lakeland Flying Tigers in a 5-4 win on Sunday afternoon at George M. Steinbrenner Field. The season-series is now complete, with Tampa (45-20) going 18-6 against
TAMPA, Fla. – Everson Pereira scored twice and delivered the would-be game-winning hit as the Tampa Tarpons staved off a late surge by the Lakeland Flying Tigers in a 5-4 win on Sunday afternoon at George M. Steinbrenner Field. The season-series is now complete, with Tampa (45-20) going 18-6 against Lakeland (23-41) this season.
Pereira utilized his speed to open the scoring in the first. After legging out an infield single with two outs, Pereira dashed for second on a pitch to Andres Chaparro and came around to score when Chaparro reached on a misplay by second baseman Alvaro Gonzalez.
In the second, Aldenis Sanchez scorched a one-out single off third baseman Nick Quintana and stole second before scoring on a two-out base hit to center by Eduardo Torrealba, giving the Tarpons a 2-0 lead against RHP Nick Davila.
RHP Yoendrys Gomez retired nine of the first 10 batters he faced, yielding only an infield single over three scoreless innings before issuing a leadoff walk in the fourth. Quintana followed with an opposite field home run to right, tying the game at 2-2.
Gomez tossed a season-high 65 pitches (40 strikes) while completing three and two-third innings, allowing two runs on three hits and one walk while striking out four in a no-decision.
Davila faced the minimum over his final three innings of work, pitching through the fifth for the Flying Tigers. The 22-year-old held Tampa to two runs (one earned) on five hits while walking none and striking out four, tossing 56-of-80 pitches for strikes in a no-decision.
Tampa regained the lead in the sixth against RHP Isrrael De La Cruz (L, 1-2). Pereira drew a walk and, with two outs, scored on back-to-back singles by Ryder Green and Carlos Narvaez, giving the Tarpons a 3-2 lead.
RHP Anderson Muñoz relieved Gomez in the fourth and retired the first seven batters he faced, including striking out the side in the sixth. Muñoz (W, 3-0) then worked around a leadoff walk and an infield single in the seventh, stranding a pair to preserve the lead.
In the seventh, Eric Wagaman greeted LHP Gabriel Sequiera with a leadoff double. Later, a walk and a hit-batter loaded the bases with one out, and Pereira hit a two-run single to center, giving Tampa a 5-2 advantage.
Lakeland responded quickly in the eighth against RHP Carson Coleman, with Jose King opening the inning with a bunt single. A base hit by Colt Keith and a double steal put two runners into scoring position, and Quintana followed with a single to center, scoring King.
Keith then scored on a sacrifice fly by Jake Holton, but Coleman (H, 1) got a flyout by Gonzalez and escaped the inning when Narvaez picked off Quintana at first base, holding a 5-4 lead.
LHP Edgar Barclay (SV, 2) took over in the ninth and, after an error put the tying run aboard, struck out the next three batters to secure the victory.
Green (3-for-4) logged his first multi-hit game with Tampa. Pereira (2-for-2, BB, HBP, 2RBI, 2R, CS) reached base in all four plate appearances, improving his batting average to .412/.500/.676 (14-for-34) in nine games since joining the Tarpons.
Following an off day on Monday, the Tarpons remain home to host the Clearwater Threshers for a six-game series beginning on Tuesday at 6:30 p.m. On Tail Waggin' $2 Tuesday, fans can enjoy $2 select concession items through the 2nd inning AND bring your dog to the game with the purchase of a $2 dog ticket.