Rosa Struggles as Fort Myers Evens Series
Crawford Falls Homer Shy of Cycle in 8-5 Loss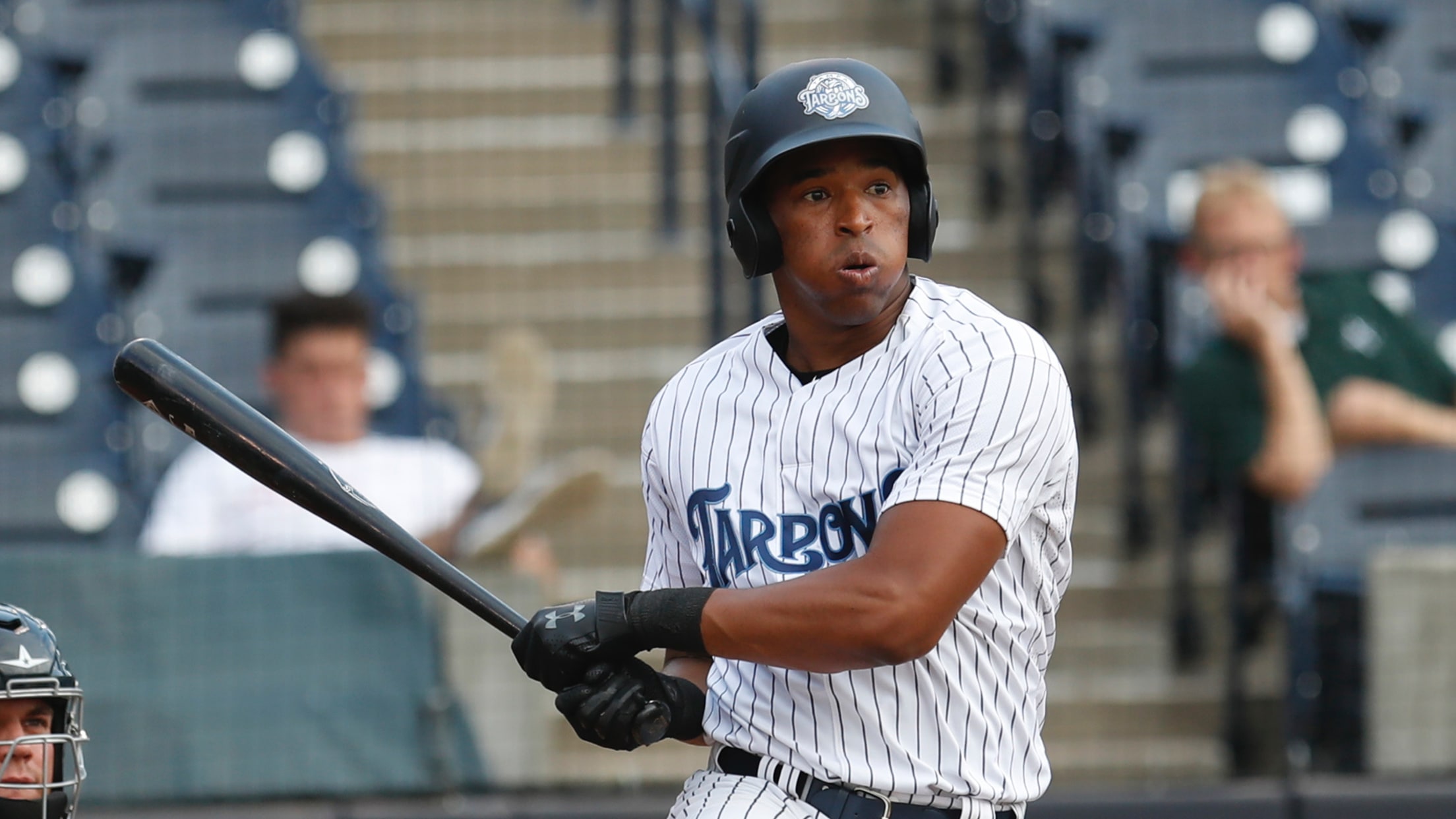 Rashad Crawford (3-for-4, 3B, 2B, 2RBI) finished a home run shy of the cycle in Tampa's 8-5 loss to Fort Myers on Wednesday night at George M. Steinbrenner Field. (Mark LoMoglio)
TAMPA, Fla. -- After Tampa (4-2, 39-37) briefly led in the second inning, Fort Myers (4-2, 32-42) scored seven-straight runs and went on to even the series with an 8-5 win on Wednesday night at George M. Steinbrenner Field.The bats remained hot for the Tarpons, tallying at least 13 hits
TAMPA, Fla. -- After Tampa (4-2, 39-37) briefly led in the second inning, Fort Myers (4-2, 32-42) scored seven-straight runs and went on to even the series with an 8-5 win on Wednesday night at George M. Steinbrenner Field.
The bats remained hot for the Tarpons, tallying at least 13 hits in the third-straight game, including three apiece by Hoy Jun Park and Rashad Crawford .
Isiah Gilliam promptly extended his hitting streak to 19-straight games with a leadoff single in the second. Dom Thompson-Williams followed with an infield hit and, one out later, Gilliam tried to score on a single to right by Park. Right-fielder Alex Kirilloff threw Gilliam out at the plate, but Crawford followed with a two-out, two run triple.
Adonis Rosa made the start fresh off a six scoreless inning performance against the Miracle at Hammond Stadium on Sunday. The right-hander faced the minimum after two innings on Wednesday before Fort Myers batted around in the third.
Back-to-back walks and a single loaded the bases with no outs. Luis Arraez followed with an RBI single and Mark Contreras smashed a grand slam over the wall in right-center, giving the Miracle a 5-2 lead.
Taylor Grzelakowski opened the fourth with a single and scored when Caleb Hamilton hit a high fly ball over the left field wall for a two-run homer.
Rosa (L, 7-2) allowed a season-high seven earned runs on nine hits in three innings, walking two while striking out three. The right-hander threw 40 of 63 pitches for strikes in his shortest start of the season.
Fort Myers' starter Clark Beeker bounced back from facing eight batters in the second by tossing a perfect third. Donny Sands then led off the fourth and scored when Park clubbed a home run to right, cutting the deficit to 7-4.
Justin Kamplain entered with no outs in the fourth after a single by Arraez. The lefty struck out Contreras and got Kirilloff to fly out before Arraez was caught stealing by Sands to end the inning. Kamplain then struck out the side in a perfect fifth.
After getting two quick outs in the sixth, Kamplain walked Hamilton and allowed a single by Arraez. Southpaw Trevor Lane entered and got Contreras to ground out to end the frame.
Tampa cut the lead to 7-5 when Park reached on a fielder's choice, advanced to third on a double by Crawford and scored on a groundout by Ben Ruta . LHP Alex Robinson relieved Beeker and got Kyle Holder to ground out to preserve the Miracle lead.
Beeker (W, 3-5) allowed a season-high five earned runs on 10 hits in five and two-third innings, walking one while striking out five. The righty issued one hit-batter and threw 62 of 89 pitches for strikes.
Fort Myers regained a three-run cushion when Lewin Diaz lined a two-out, solo home run off Lane in the seventh.
The Tarpons got back-to-back two-out singles by Park and Crawford in the eighth, but Robinson struck out Ruta to end the threat. Robinson (H, 1) tallied three strikeouts in two and one-third scoreless innings.
RHP Matt Wivinis held the Miracle to one walk while striking out a pair in a scoreless eighth and ninth innings.
Holder reached on an error to begin the bottom of the ninth before Diego Castillo grounded into a 1-6-3 double play. After a base hit by Brandon Wagner, RHP Ryan Mason (SV, 3) struck out Gilliam to end the game.
Park (3-for-4, HR, 2RBI, 3R) tallied his sixth home run. Crawford (3-for-4, 3B, 2B, 2RBI) logged his first multi-hit game since joining Tampa. Wagner (2-for-5) and Sands (2-for-4, R) also had multi-hit games.
The Tarpons will send RHP Albert Abreu (3-2, 4.04) to the mound against LHP Charlie Barnes (2-4, 3.45) in the rubber game on Thursday 6:30 p.m. On "Taco Thursday," fans can enjoy the all-you-can-eat Taco and Nacho bar for $18, $5 house Margaritas, and $4 Coronas from 6:00-8:00 p.m. Live play-by-play audio will be available on the Tarpons Radio Network.