Sotillo Lifts Blue Jays Over Tarpons, 4-2
Tampa Splits Two-Game Set in Dunedin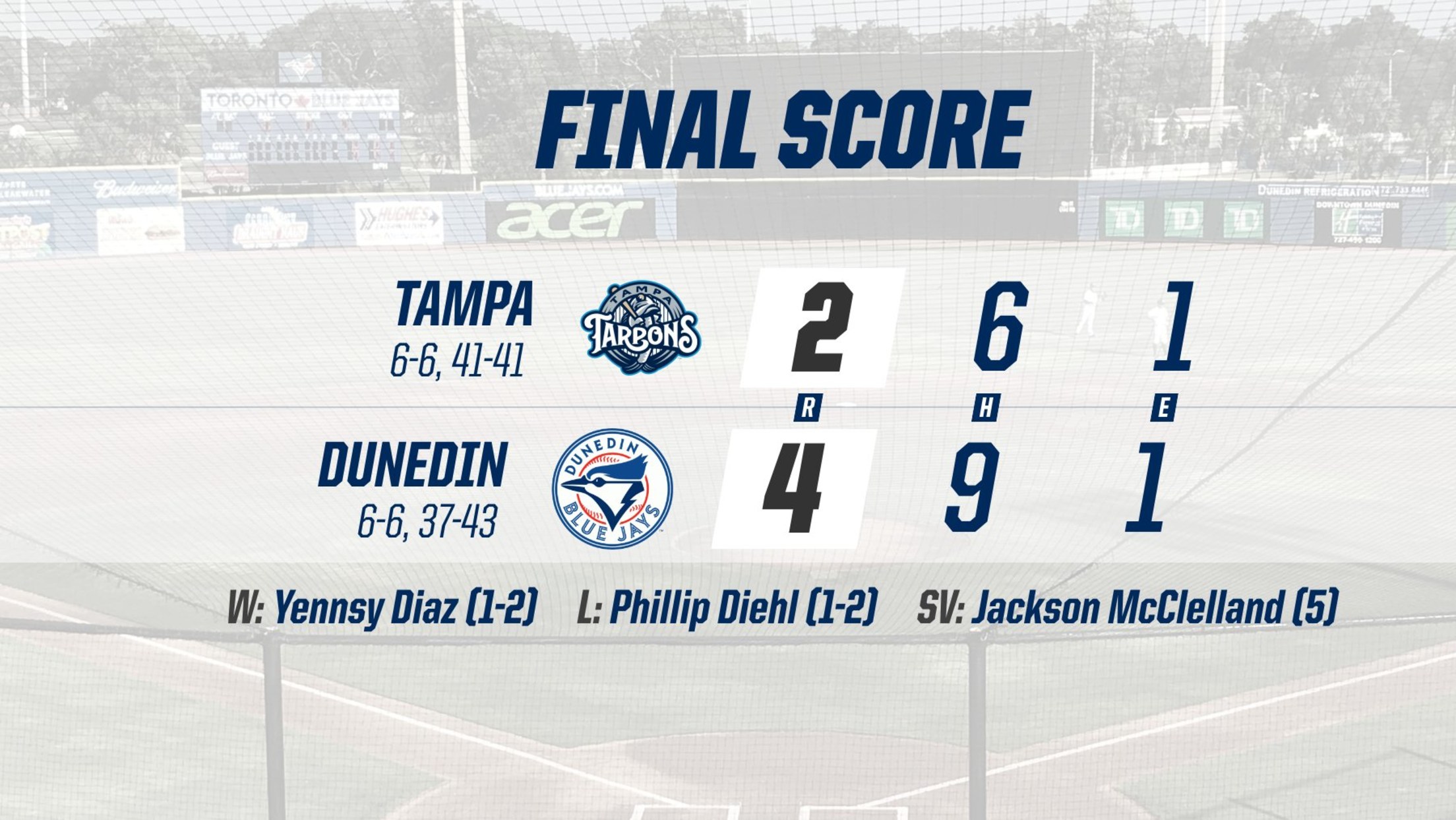 DUNEDIN, Fla. -- The Tampa Tarpons (6-6, 41-41) dropped the second of a two-game series as the Dunedin Blue Jays (6-6, 37-43) salvaged a split with a 4-2 win in front of a crowd of 2,638 on Tuesday night at Dunedin Stadium.Dalton Lehnen got the nod in his debut with
DUNEDIN, Fla. -- The Tampa Tarpons (6-6, 41-41) dropped the second of a two-game series as the Dunedin Blue Jays (6-6, 37-43) salvaged a split with a 4-2 win in front of a crowd of 2,638 on Tuesday night at Dunedin Stadium.
Dalton Lehnen got the nod in his debut with the Tarpons and stranded a leadoff double by Josh Palacios in the opening inning. The southpaw walked a pair in the second, but got a double play ground ball from Rodrigo Orozco to escape. Lehnen then worked around a bunt single by Palacios in a scoreless third.

Meanwhile, Yennsy Diaz retired the first nine batters he faced in his fifth start for the Blue Jays, striking out five batters in his first three innings of work.
Kyle Holder then lined a leadoff single in the fourth and took third on a hit-and-run base hit by Diego Castillo . After a strikeout by Isiah Gilliam , Holder scored on a groundout to second by Dom Thompson-Williams . Diaz struck out Steven Sensley to end the frame, with Tampa leading, 1-0.
Lehnen found more trouble in the fourth, allowing a walk and a single to put two on with one out. The 22-year-old then got back-to-back strikeouts of Brock Lundquist and Orozco to preserve the lead.
Andres Sotillo tied the score with a leadoff home run in the fifth. Lehnen followed by getting two quick outs, but a base hit by Kevin Smith kept the inning alive. After a walk by Riley Adams, Smith scored the go-ahead run on a single by Kacy Clemens. LHP Phillip Diehl replaced Lehnen and got a groundout by Ivan Castillo to end the frame.
Lehnen allowed two earned runs on six hits in four and two-third innings, walking four while striking out four. The Minnesota native threw 49 of 90 pitches for strikes.
Tampa tied the game when Castillo doubled down the left field line and scored on a two-out single by Thompson-Williams in the sixth.
Diaz (W, 1-2) logged a quality start, yielding two earned runs on five hits in six innings. The 21-year-old tallied nine strikeouts and walked one batter on 88 pitches (61 strikes).
Lundquist worked a leadoff walk in the bottom of the sixth and Orozco followed with a single to right. A passed ball by catcher Donny Sands allowed the runners to advance and Lundquist scored the go-ahead run on a sacrifice fly by Sotillo.
Diehl (L, 1-2) surrendered an unearned run on one hit and one walk in one and one-third innings, striking out one.
The Tarpons put the go-ahead runs on base when Rashad Crawford singled and David Metzgar walked with one out in the seventh. RHP Ty Tice stranded them both, striking out Daniel Barrios before getting Kyle Holder ground out.
RHP Greg Weissert struck out the side in a perfect seventh and added two more punch-outs in the eighth while yielding a run on two hits. Castillo tripled and scored on a double by Lundquist as the Blue Jays added insurance.
RHP Jackson McClelland (SV, 5) struck out a pair while retiring all four batters he faced in a four-out save.
Thompson-Williams (1-for-4, 2RBI) drove in both Tampa runs. Castillo (2-for-4, 2B, R, SB) and Crawford (2-for-4, CS) had multi-hit games.
Up next, the Tarpons will open a two-game series with the Clearwater Threshers for the July 4th Celebration at George M. Steinbrenner Field. RHP Nick Green (5-3, 2.77) will get the start against LHP Bailey Falter (5-3, 3.32) on Wednesday at 6:30 p.m. Live play-by-play audio will be available on the Tarpons Radio Network. For tickets, visit www.TarponsBaseball.com or click here.