Homers by Smith (x3), De Leon (x2) Lead Tampa in Doubleheader Sweep
Tarpons Secure Fifth-Straight Winning Series, Improve to 21-8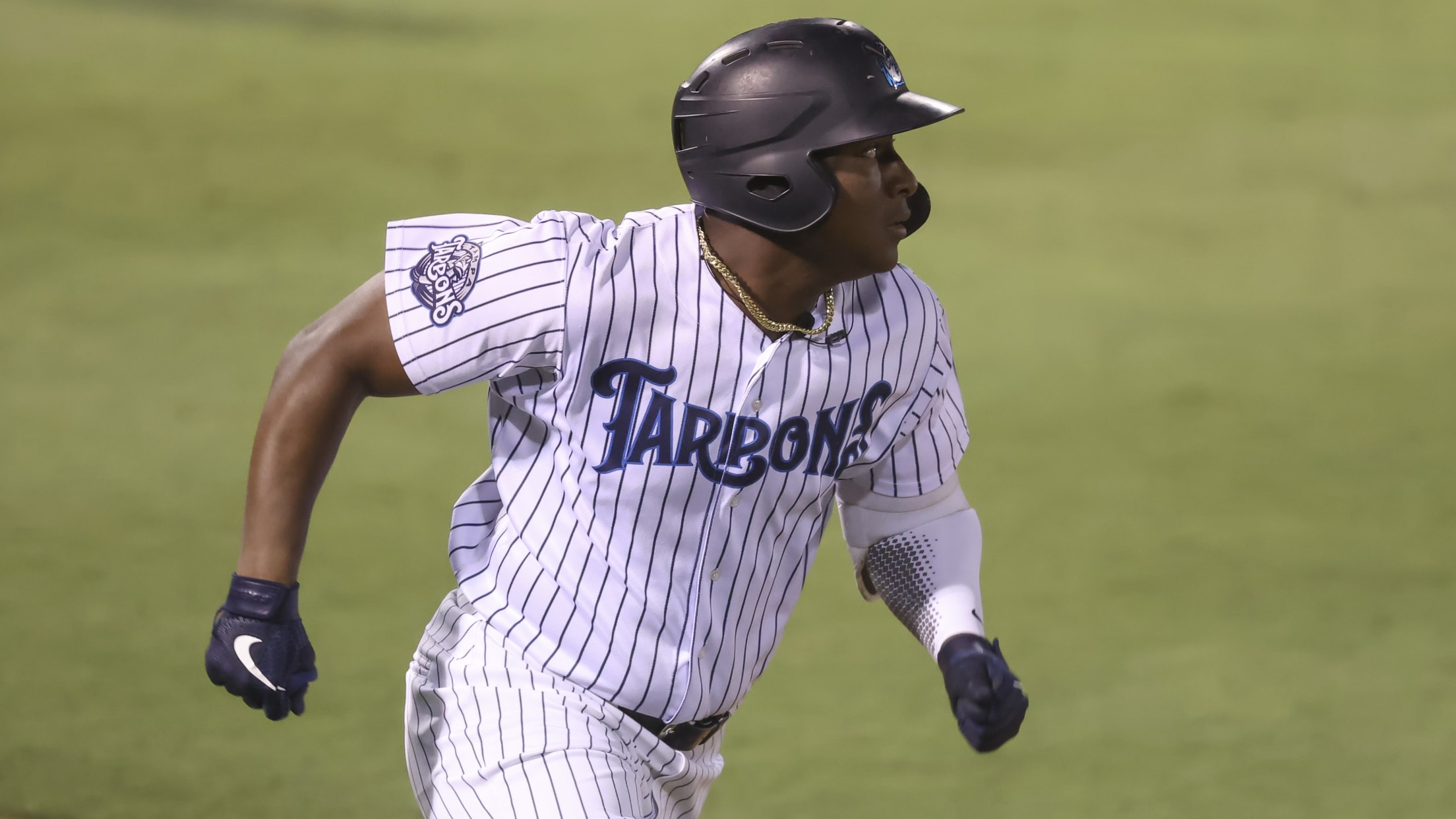 Juan De Leon crushed a grand slam in the first game of Tampa's doubleheaders sweep on Saturday at GMS Field. (Mark LoMoglio)
TAMPA, Fla. – Powered by multi-HR efforts by Josh Smith and Juan De Leon, the Tampa Tarpons (21-8) swept the Lakeland Flying Tigers (13-16) in a doubleheader, 12-3 and 7-4, on Saturday night at George M. Steinbrenner Field, securing a fifth-straight winning series. Smith jumpstarted the offense with a leadoff
TAMPA, Fla. – Powered by multi-HR efforts by Josh Smith and Juan De Leon, the Tampa Tarpons (21-8) swept the Lakeland Flying Tigers (13-16) in a doubleheader, 12-3 and 7-4, on Saturday night at George M. Steinbrenner Field, securing a fifth-straight winning series.
Smith jumpstarted the offense with a leadoff homer to right off LHP Joey Wentz in the bottom of the first. Anthony Volpe then doubled, and Austin Wells walked before Trevor Hauver singled to right, with Volpe getting thrown out at the plate. Jake Sanford drove in a pair with a base hit to right for a 3-0 lead before Andres Chaparro lined into a double play.
RHP Randy Vasquez tossed a 1-2-3 first before an error put Cooper Johnson aboard for Lakeland to begin the second. Johnson took third on a double by Nick Quintana and scored on a sacrifice fly by Jose De La Cruz before Vasquez struck out the next two batters to end the frame.
After issuing a two-out walk and a base hit in the fifth, Vasquez was relieved RHP Jhonatan Muñoz (W, 1-1), who induced a groundout by Gage Workman to strand the pair. Vasquez tied a career-high with eight strikeouts while holding the Flying Tigers to one unearned run on three hits and one walk in four and two-third innings, tossing 69 pitches (49 strikes).
Tampa was held scoreless for the next three innings until Smith singled and Volpe walked to begin the fifth. Both scored on an ensuing triple to center by Wells, who later scored on a balk by RHP Chris Mauloni. Wentz (L, 0-2) allowed six runs (five earned) on nine hits in four innings, walking two while striking out six on 77 pitches (44 strikes).
One out later, Sanford and Chaparro both singled, and Mauloni walked the next two batters, forcing home a run before De Leon crushed a grand slam to left. RHP Andrew Magno then relieved Mauloni and, one out later, Volpe walked, took second on a wild pitch and scored on a base hit by Wells, capping a nine-run inning for a 12-1 lead.
RHP Zach Kohn picked up a punchout while stranding a leadoff double in the sixth and left after being hit by a comebacker infield single by Alvaro Gonzalez to open the seventh. Lakeland then got a two-run homer by Andrew Navigato before RHP Carson Coleman closed the game.
In the nightcap, RHP Carlos Guzman retired seven of the first nine batters he faced, keeping the Tarpons scoreless before Smith clubbed a solo homer with one out in the third.
RHP Matt Sauer held the Flying Tigers scoreless until Sam McMillan singled and scored on a double by Andrew Navigato in the fourth. A catcher's interference allowed Navigato to take second before scoring on a base hit by Kingston Liniak, giving Lakeland a 2-1 lead.
Tampa quickly answered in the home-half when Sanford and Elijah Dunham both walked and scored on a go-ahead double by Carlos Narvaez. De Leon followed with a towering two-run blast to left and, after hitting Pedro Diaz with the next pitch, Guzman was ejected. Smith then greeted RHP Austin Bergner with a two-run shot to right, capping a six-run frame for a 7-2 lead.
Sauer allowed two runs (one earned) on five hits and four walks in three and two-third innings, tallying four strikeouts on 79 pitches (48 strikes) in a no-decision. Guzman (L, 2-2) was tagged for six earned runs on four hits, three walks and a hit-batter, striking out two while throwing 41-of-71 pitches for strikes over three and one-third innings.
RHP Michael Giacone (W, 3-0) relieved Sauer with two outs in the fourth and retired seven-straight batters before an infield single by Liniak in the seventh. One out later, Dustin Garneau drove an RBI triple to the centerfield wall and scored on a groundout before Giacone shut the door on his third win of the season, with four strikeouts over three and one-third frames.
Smith (4-for-8, 3HR, 4RBI, 4R, SB) has six home runs in 10 games and is tied for the Southeast League lead. De Leon (2-for-6, 2HR 6RBI, 2R) hit his first-career grand slam. Wells (3-for-3, 3B, BB, 3RBI, 2R, SB) reached base in all four plate appearances in Game One. Volpe (3-for-5, 2B, 3BB, 2R, SB) hit safely in both games and is batting .571 (8-for-14) over his last four games.
The series concludes with a Sunday matinee at 12:00 p.m. RHP Luis Severino (0-0, -.--) is expected to pitch for Tampa on a rehab assignment, with RHP Ted Stuka (1-0, 4.26) slated to start for Lakeland. On Stay Local Sunday, when fans purchase two (2) Tarpons Sunday game tickets, they receive one (1) FREE pass to a local area attraction.