Tampa Flattened by Fort Myers in Rubber Game, 13-0
Tarpons Shut Out for Sixth Time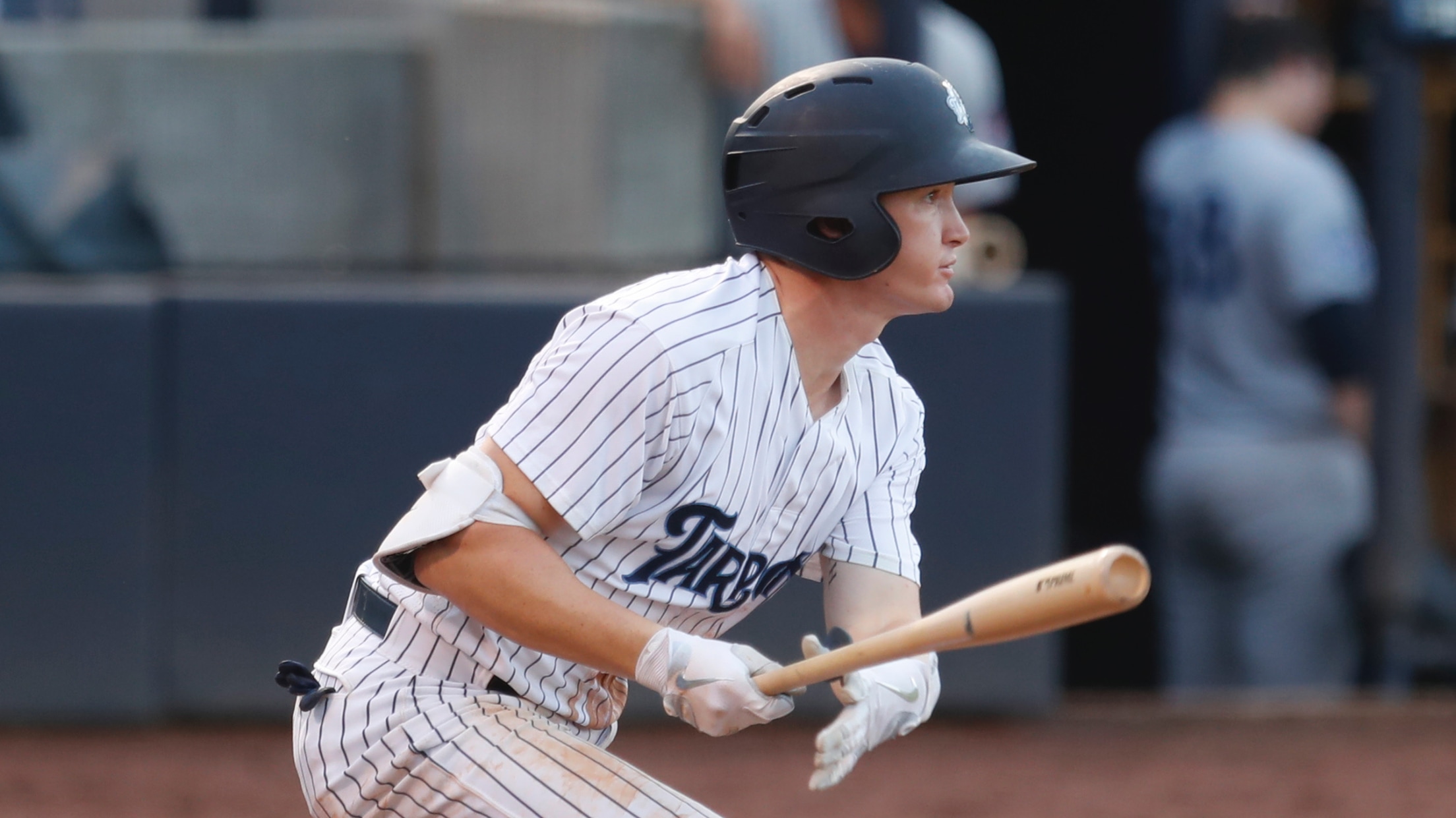 Kyle Holder (1-for-2, BB) reached base twice in Tampa's 13-0 loss to Fort Myers on Thursday night at George M. Steinbrenner Field. (Mark LoMoglio)
TAMPA, Fla. -- The Tampa Tarpons were shut out for the sixth time and allowed a season-high 13 runs as the Fort Myers Miracle cruised to a 13-0 win in the rubber game on Thursday night at George M. Steinbrenner Field.Tampa (4-3, 39-38) suffered its largest deficit in a defeat
TAMPA, Fla. -- The Tampa Tarpons were shut out for the sixth time and allowed a season-high 13 runs as the Fort Myers Miracle cruised to a 13-0 win in the rubber game on Thursday night at George M. Steinbrenner Field.
Tampa (4-3, 39-38) suffered its largest deficit in a defeat all season. Fort Myers (5-2, 33-42) takes two-of- three in the set and salvages a split of the season-series, 6-6. The teams have no more games scheduled against each other in the regular season.
Albert Abreu faced two batters over the minimum entering the fourth, including a strikeout of Brandon Lopez on a 101 mph fastball. Mark Contreras drew a leadoff walk in the fourth and advanced to third on a wild pickoff throw by Abreu before scoring on a groundout by Alex Kirilloff.
Caleb Hamilton paced the Miracle offense with a career-high 5RBI, including his first-career multi-homer game. The 23-year-old blasted a leadoff homer off Abreu to open the fifth, doubling the Fort Myers lead to 2-0.
After stranding a pair of base runners in the fifth, Abreu ran into more trouble in the sixth. Lewin Diaz lined a single and, one out later, Hamilton drew a two-out walk. Shane Carrier followed with a rope over the left field wall for a three-run homer.
Abreu (L, 3-3) allowed five runs (four earned) on seven hits in six innings, walking three while striking out three. The right-hander threw 57 of 96 pitches for strikes and is now tied for the league-lead with nine home runs allowed.
Miracle' LHP Charlie Barnes scattered three singles, two walks and two hit-batters over six shutout frames, extending a scoreless innings streak to 16.2IP. The 22-year-old struck out a pair and threw 52 of 89 pitches for strikes.
All nine batters faced RHP Andrew Schwaab in the seventh. Fort Myers loaded the bases and Kirilloff added a sacrifice fly. Diaz followed with an RBI single. After a hit-batter reloaded the bags, Hamilton pulled a bases clearing double into the left field corner, giving the Miracle a 10-0 lead.
Luis Arraez and Contreras both singled in the eighth and advanced to second and third on a wild pitch by Schwaab. A base hit by Kirilloff scored Arraez before RHP Matt Frawley entered in relief. Contreras scored on a wild pitch before Frawley ended the inning.
Hamilton made it a baker's dozen by leading off the ninth with his second homer of the game, giving him three homers in two days and four on the season.
RHP Hector Lujan (SV, 1) picked up his first save of the season by holding the Tarpons to two hits and a walk over the final three scoreless innings.
Isiah Gilliam (0-for-4) saw his league-best 19-game hitting streak come to an end. Hoy Jun Park (1-for-1) left the game in the first. Kyle Holder (1-for-2, BB) replaced Park at shortstop. Brandon Wagner (0-for-2, BB, HBP), Dom Thompson-Williams (1-for-3, HBP) and Ben Ruta (1-for-3, 2B, BB) reached base twice apiece.
Up next, the Tarpons begin a three-game series at Charlotte Sports Park against the Stone Crabs on Friday at 6:35 p.m. RHP Nick Green (5-2, 2.20) will make the start against LHP Kenny Rosenberg (4-1, 4.53) in the opener. Live audio will be available on the Charlotte Stone Crabs Baseball Network.
Tampa will then play a two-game set in Dunedin before returning home on Wednesday to host the Clearwater Threshers at 6:30 p.m. for the July 4th Celebration. For tickets, visit www.TarponsBaseball.com or click here.