Trio of Tarpons Take Flight as Tampa Salvages Split vs. Threshers
Alexander, Wells, Hauver All Go Deep in 2nd Inning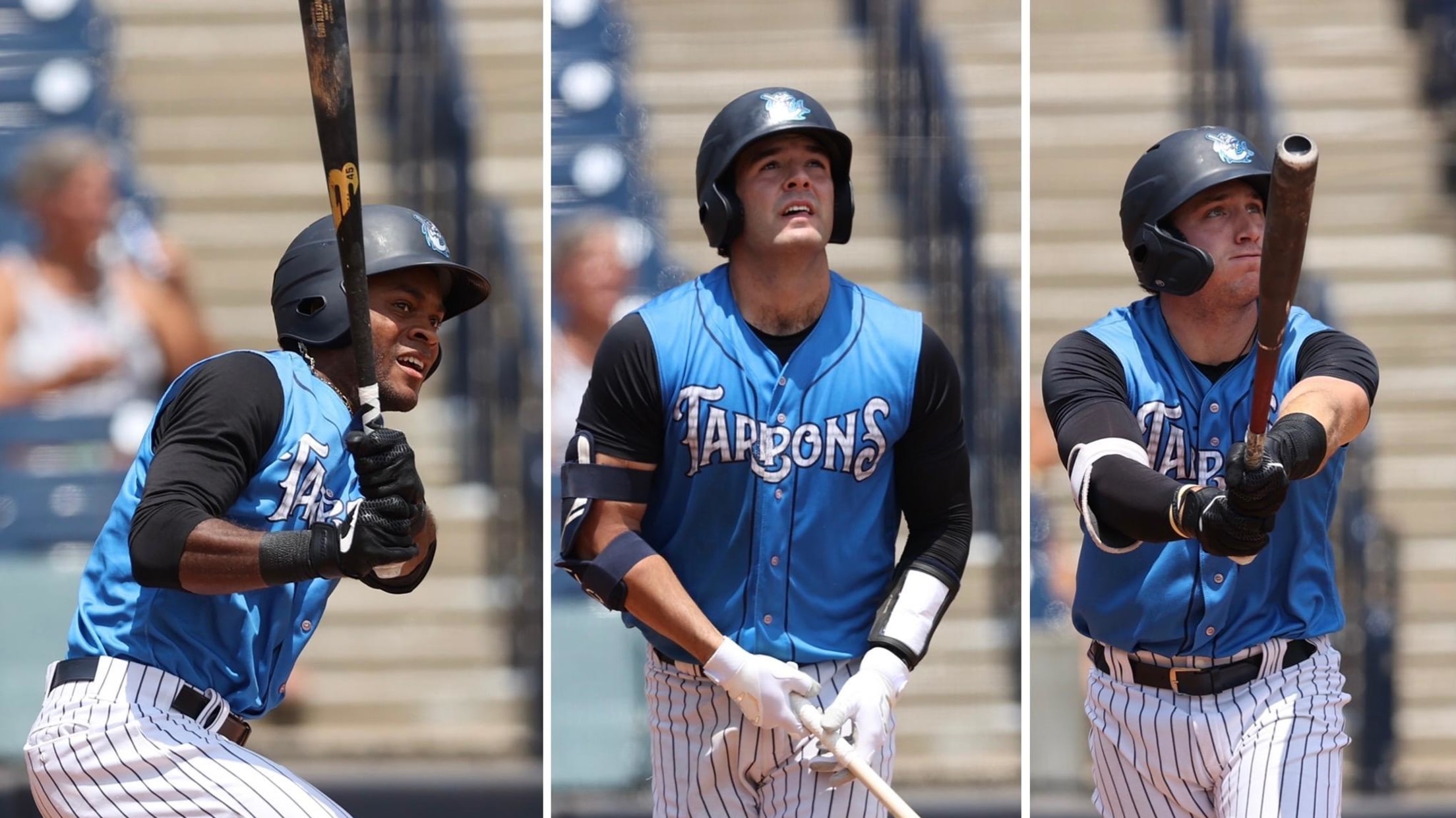 Evan Alexander, Austin Wells and Trevor Hauver each hit home runs in the 2nd inning for Tampa on Sunday afternoon at GMS Field. (Mark LoMoglio)
TAMPA, Fla. – Powered by a three-HR inning in the second, the Tarpons (48-23) salvaged a split of the six-game series against the Threshers (35-36) with an 8-3 victory on Sunday afternoon at George M. Steinbrenner Field. Jasson Dominguez drew a four-pitch walk off RHP DJ Jefferson to open the
TAMPA, Fla. – Powered by a three-HR inning in the second, the Tarpons (48-23) salvaged a split of the six-game series against the Threshers (35-36) with an 8-3 victory on Sunday afternoon at George M. Steinbrenner Field.
Jasson Dominguez drew a four-pitch walk off RHP DJ Jefferson to open the bottom of the first and took third on a double to right by Austin Wells. A walk by Trevor Hauver loaded the bases, and a wild pitch allowed Dominguez to score. Wells then crossed the plate on a groundout by Ryder Green, giving the Tarpons an early 2-0 lead.
Evan Alexander jumped on the first pitch he saw from Jefferson and belted a leadoff home run in the second. One out later, Pedro Diaz singled to right and later scored on a two-out, two-run blast to right by Wells, followed by a solo shot to right-center by Hauver. Tampa's first three-HR inning expanded its lead to 6-0.
RHP Jhonatan Muñoz started for Tampa and retired the first six batters he faced, and nine of the first 10 before yielding a leadoff home run by Jadiel Sanchez in the fourth. Clearwater hit a pair of singles later in the inning, but Muñoz stranded the pair to maintain a 6-1 lead.
Muñoz held the Threshers to one run on four hits in four innings, walking none while striking out two on 55 pitches (42 strikes) in a no-decision.
Following the back-to-back home runs by Wells and Hauver, Jefferson retired the final six batters he faced before departing. The right-hander allowed six runs on five hits and two walks in three and two-third innings, striking out three on 68 pitches (34 strikes).
RHP Nicio Rodriguez made his Tarpons debut in the fifth, stranding a two-out single in a scoreless frame. In the sixth, Abrahan Gutierrez lined a one-out double into the left field corner and later scored on a two-out single by Micah Yonamine, cutting the lead to 6-2.
Kevin Pichardo hit a one-out double to right off Rodriguez in the seventh and, one out later, LHP Edgar Barclay entered in relief. Sanchez cashed in the runner with a double to the wall in left-center before Barclay struck out Rixon Wingrove to keep the Tarpons ahead, 6-3.
Tampa was held hitless by LHP Gabriel Yanez through the sixth, and by RHP Sam Jacobsak in the seventh before Everson Pereira legged out an infield single against RHP Carlos Francisco in the eighth. A walk by Green and an errant pickoff throw by Jacobsak put two in scoring position, and Luis Santos drove in both with a single looped into left-center for an 8-3 lead.
Barclay retired six-straight before issuing a two-out walk to Kevin Pachardo in the ninth. Nicolas Torres followed with a single to right, but Barclay got Sanchez to pop out to end the game.
Wells (2-for-4, HR, 2B, 2RBI, 2R) logged a multi-hit game. Dominguez (0-for-3, BB, R) extended his on-base streak to 10 games but snapped his nine-game hit streak.
Up next, the Tarpons embark on a 12-game road trip, taking on the Palm Beach Cardinals and Jupiter Hammerheads in a pair six-game series at Roger Dean Stadium starting on Tuesday, July 27. RHP Matt Sauer (1-4, 4.62) is expected to start the series-opener for Tampa.
The Tarpons will return home to host the Clearwater Threshers on Tuesday, August 10 at 6:30 p.m. On Tail Waggin' $2 Tuesday, fans can enjoy $2 select concession items through the 2nd inning AND bring your dog to the game with the purchase of a $2 dog ticket.