Tampa Tumbles as Bradenton Sweeps Twin Bill
Volpe Extends Hitting Streak to 14 Games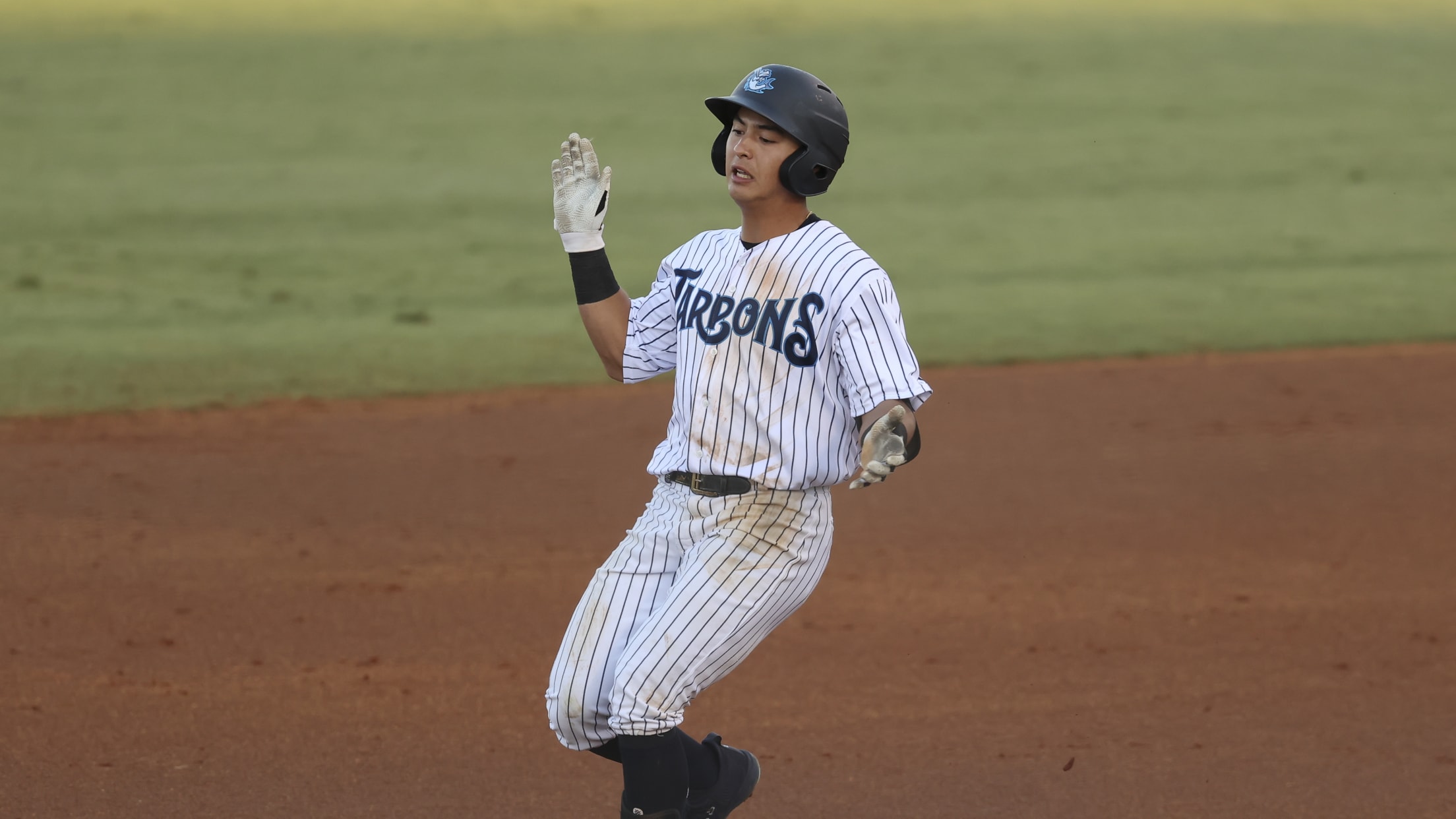 INF Anthony Volpe doubled in both games of Friday night's doubleheader, extending his hitting streak to 14 games. (Mark LoMoglio)
TAMPA, Fla. – The top-scoring offense in Minor League Baseball struggled as the Tarpons (27-13) dropped both ends of a doubleheader, 3-1 and 8-2, to the Bradenton Marauders (26-14) on Friday night at George M. Steinbrenner Field. Game One remained scoreless until Bradenton capitalized on a two-out fielding error allowing
TAMPA, Fla. – The top-scoring offense in Minor League Baseball struggled as the Tarpons (27-13) dropped both ends of a doubleheader, 3-1 and 8-2, to the Bradenton Marauders (26-14) on Friday night at George M. Steinbrenner Field.
Game One remained scoreless until Bradenton capitalized on a two-out fielding error allowing Ernny Ordoñez to reach base, extending the top of the fourth. Eli Wilson followed with a line drive single to left before Maikol Escotto clubbed a three-run homer to center.
RHP Randy Vasquez (L, 1-2) made his longest start of the season, yielding three unearned runs on five hits over five and two-third innings, walking none while striking out seven on 79 pitches (55 strikes).
Tampa was held scoreless by RHP Logan Hofmann until Juan De Leon smashed a solo homer with one out in the bottom of the fifth. One out later, Anthony Volpe doubled, extending his hitting streak to 13 games. Austin Wells followed with a walk and, after a pitching change, RHP Emmanuel Mejia struck out Trevor Hauver to hold a 3-1 lead for the Marauders.
Hofmann allowed one earned run on four hits and three walks in four and two-third innings, tallying four strikeouts on 71 pitches (42 strikes) in a no-decision.
RHP Nelvin Correa kept the game close for the Tarpons, scattering one hit and two walks over an inning and a third, tallying four strikeouts along the way.
In the bottom of the seventh, Tampa brought the winning run to the plate after a one-out double by Evan Alexander and a walk by Volpe, but Mejia (W, 3-0) got a groundout by Wells and a strikeout by Hauver to close the game.
The Tarpons fell behind quickly in Game Two as LHP Ryan Anderson struggled with command, walking three of the first four Bradenton batters. After one run scored on a throwing error by Wells at catcher, Escotto followed with an RBI single. A third run scored as Sergio Campana reached on a fielder's choice and, after a fourth walk, Anderson was relieved.
Dariel Lopez greeted LHP Edgar Barclay with an RBI single before Barclay struck out Norkis Marcos to escape the frame, with the Marauders leading, 4-0. Anderson (L, 0-2) allowed four earned runs on one hit and four walks in two-thirds of an inning, striking out one on 34 pitches (13 strikes).
Volpe led off the home-half of the first with a double ripped into the left field corner, extending his hitting streak to 14 games. Soon after, the 20-year-old was caught trying to steal third base and, in between innings, both he and manager David Adams were ejected by umpire Ken Jackson after arguing the call.
Tampa loaded the bases with no outs in the second against RHP Nick Garcia and scored on an RBI single by Jesus Bastidas before Bradenton made a pitching change. RHP Cameron Junker entered and struck out both Hauver and Wells to preserve a 4-1 lead for the Marauders.
Barclay tossed a perfect second inning before finding trouble in the third. Bradenton loaded the bases on a pair of walks and a single and, with two outs, a walk by Marcos forced home a run before Barclay struck out Sammy Siani to limit the damage.
The Marauders added on with a two-out RBI single by Escotto off Barclay in the fourth and a two-out, two-run single by Endy Rodriguez off RHP Wellington Diaz in the fifth, taking an 8-1 lead.
RHP Eddy Yean (W, 2-1) held the Tarpons scoreless for three innings of relief to earn the win, scattering two hits and two walks while striking out four on 41 pitches (24 strikes).
The Tarpons made a last second push in the bottom of the seventh against RHP Asher Roth, with a leadoff walk by Bastidas and a one-out double by Wells. Jake Sanford followed with an RBI infield single, prompting Bradenton to bring in RHP Sergio Umana. Andres Chaparro walked to load the bases, but Umana got a pop-out and a strikeout to close the game.
Volpe (2-for-4, 2 2Bs, BB, RBI, CS) is batting .429 (21-for-49) over his 14-game hitting streak. Alexander (2-for-4, 2B, 2BB) also hit safely in both ends of the doubleheader. In the seventh, RHP Tanner Myatt struck out a pair while stranding a two-out walk in a scoreless frame.
The series continues Saturday at 6:30 p.m., with RHP Beck Way (1-0, 2.35) slated to make the start opposite RHP Adrian Florencio (1-1, 1.80). On All-You-Can-Eat (& Drink) Saturday, for ONLY $49, fans can enjoy all-you-can-eat ballpark fare and beer/wine/soda/water from 6:00-8:30 p.m. Package includes a ticket to the game and access to the private Spectrum Dugout Club.