Tarpons (again) Shut Out Hammerheads
Holder, Ruta Homer as Tampa Clobbers Jupiter, 10-0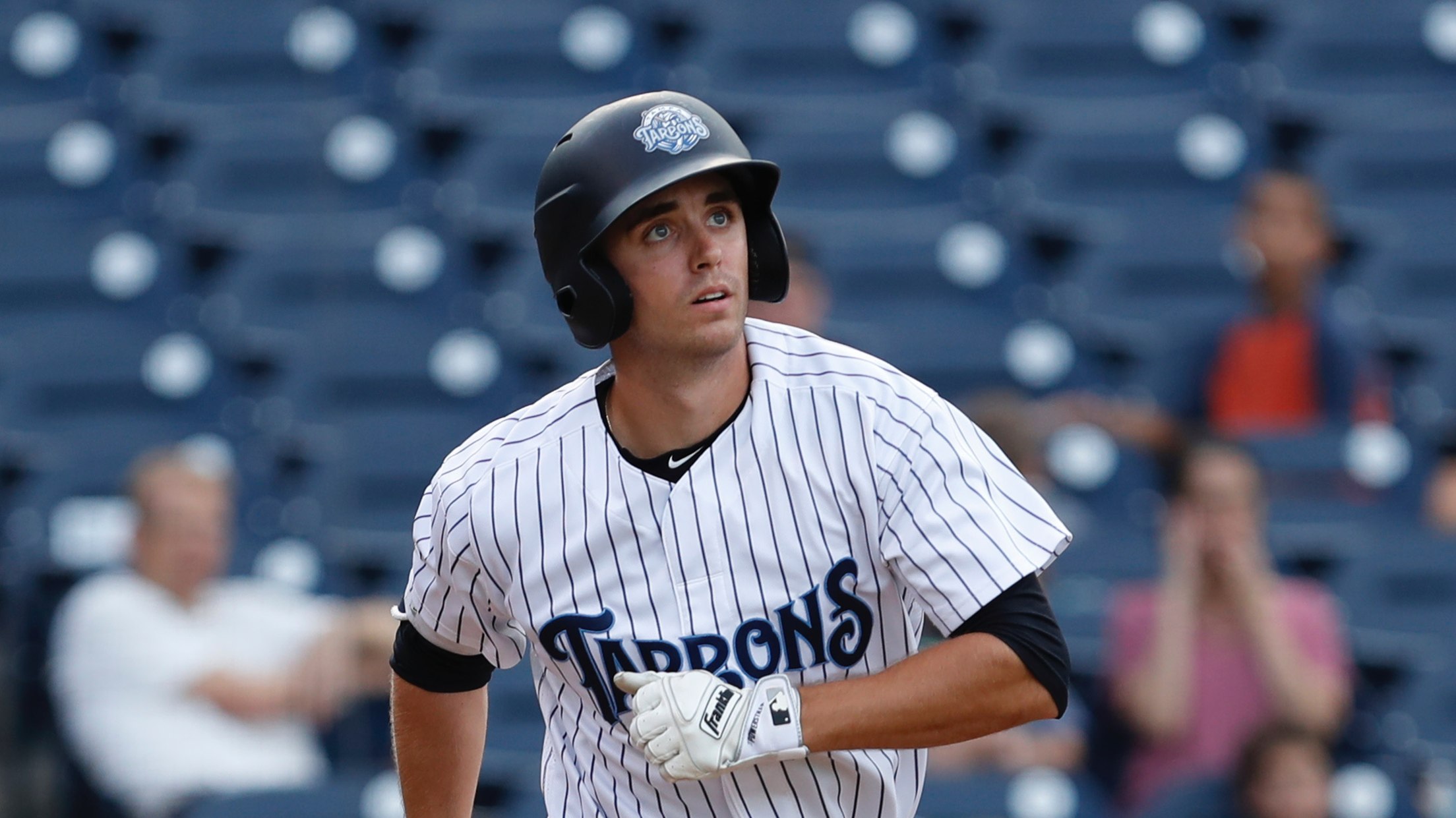 Ben Ruta (2-for-5, HR, 2B, 3RBI, 2R) hit a 3-run home run in Tampa's 10-0 win over Jupiter on Sunday afternoon at George M. Steinbrenner Field. (Mark LoMoglio)
TAMPA, Fla. -- The Tampa Tarpons logged their second-straight shutout win and scored 10 runs on 16 hits along way, defeating the Jupiter Hammerheads, 10-0, on Sunday afternoon at George M. Steinbrenner Field. Tampa wins three-of-four to claim the series.Kyle Holder singled to open the bottom of the first and
TAMPA, Fla. -- The Tampa Tarpons logged their second-straight shutout win and scored 10 runs on 16 hits along way, defeating the Jupiter Hammerheads, 10-0, on Sunday afternoon at George M. Steinbrenner Field. Tampa wins three-of-four to claim the series.
Kyle Holder singled to open the bottom of the first and later scored on a sacrifice fly by Dom Thompson-Williams . Tampa (3-1, 38-36) would put the leadoff man aboard in each of the first four innings against Jupiter (1-3, 42-31) starter Ethan Clark.
Donny Sands singled and Hoy Jun Park walked to open the home half of the fourth and both later scored on at two-out, two-run single by Holder.
Meanwhile, Nick Nelson retired the first 13 batters he faced until Roy Morales hit a one-out single in the fifth. Nelson allowed two more singles in the sixth, but stranded runners at second and third when Ben Ruta made a sliding catch in right field of a sinking line drive off the bat of James Nelson.
Nelson (W, 3-1) fired six scoreless innings, holding the Hammerheads to three hits and no walks. The 22-year-old tallied eight strikeouts and threw 55 of 80 pitches for strikes. Nelson is 3-0 with a 0.66 ERA in five home starts since joining Tampa.
Sands and Park both singled to begin the bottom of the sixth. A throwing error by shortstop Luis Pintor allowed Sands to score as Ruta reached on a fielder's choice, with Park forced out at second. After walking Kellin Deglan , Clark left the game.
LHP Scott Squier entered in relief and got Holder to fly out before Diego Castillo delivered a two-out RBI single, scoring Ruta for a 5-0 lead.
Clark (L, 0-2) allowed a season-high five earned runs on eight hits in five and a third innings. The right-hander walked four, struck out four and threw 46 of 80 pitches for strikes.
Tampa erupted for five more runs in the seventh inning off RHP Parker Bugg. Thompson-Williams reached on a catcher's interference and Sands walked before both scored on a two-out, three run homer by Ruta. Deglan kept the inning going with a single and Holder followed with a two-run home run to right.
Brandon Wagner , Isiah Gilliam and Sands each singled off RHP Zech Lemond in the ninth, but the Tarpons left the bases loaded.
LHP Justin Kamplain stranded a single and a walk while striking out two in a scoreless seventh and eighth. RHP Andrew Schwaab allowed a leadoff single in the ninth, but got a strikeout and a double play groundout to end the ball game.
Gilliam (2-for-5) singled in the first inning, extending his hitting streak to a league-best 17-straight games.
Holder (3-for-5, HR, 4RBI, 2R) and Ruta (2-for-5, HR, 2B, 3RBI, 2R) both homered for the second time in three games. Sands (4-for-5, 3R) logged his first-career four-hit game. Wagner (1-for-3, 2BB) and Park (2-for-4, BB, R) reached base three times.
The Tarpons will take a day off on Monday before opening a three-game series at home against the Fort Myers Miracle. The pitching matchup is to be announced. Live play-by-play audio will be available on the Tarpons Radio Network.
On "Tasty Tuesday," fans can enjoy a $24 all-you-can-eat menu from 6:00-8:00 p.m., including: hot dogs, chicken tenders, nachos, fries, popcorn, and fountain soda.