Tarpons drop heartbreaker to Flying Tigers, 5-4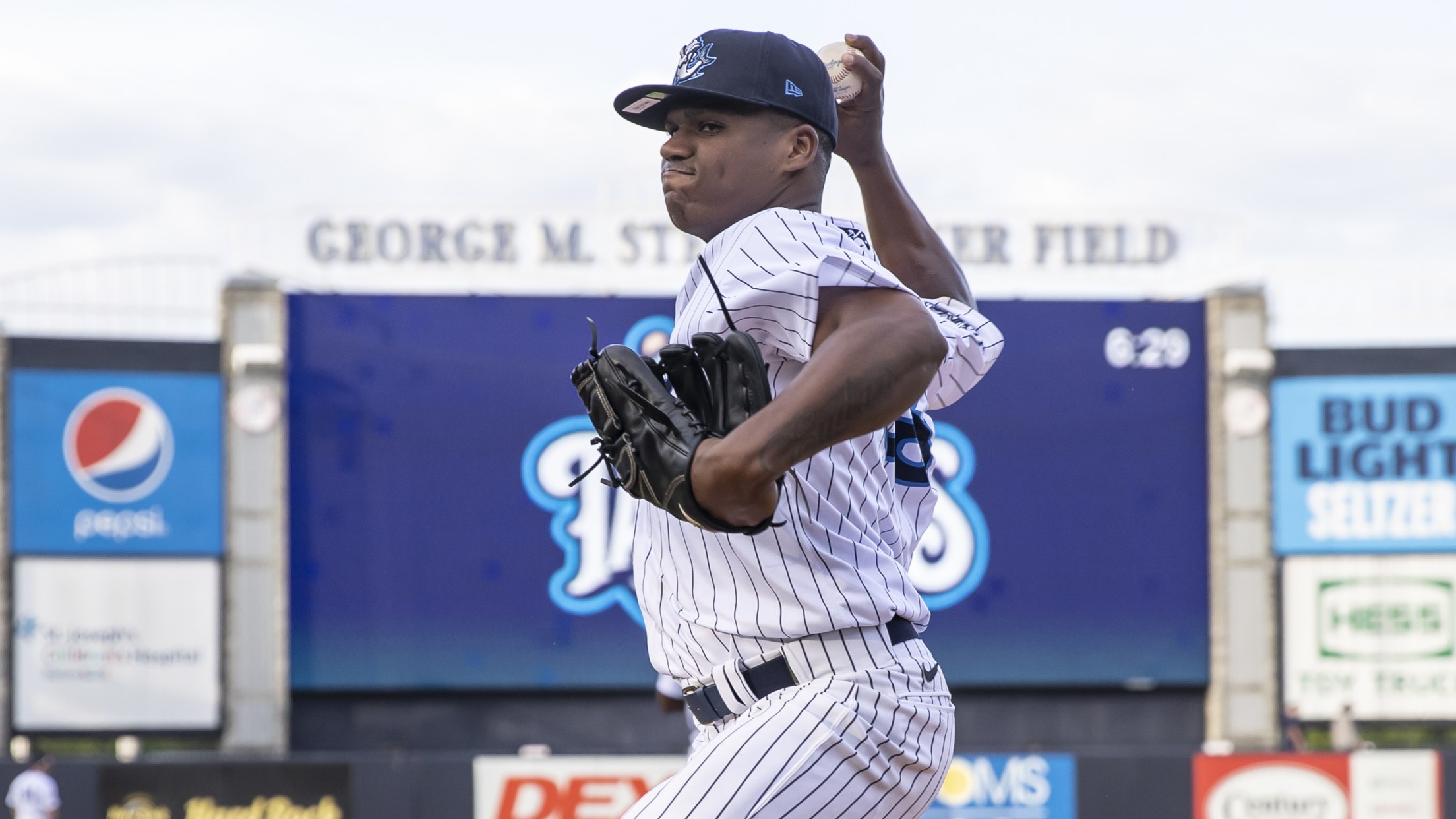 RHP Yon Castro. (Mark LoMoglio)
TAMPA, Fla. – The Tampa Tarpons dropped the series opener to the Lakeland Flying Tigers, 5-4. The Tarpons came into Tuesday night's tilt against the Flying Tigers in dire need of a victory. After dropping six straight in Clearwater, the Tarpons returned to George M. Steinbrenner Field determined to get
TAMPA, Fla. – The Tampa Tarpons dropped the series opener to the Lakeland Flying Tigers, 5-4. The Tarpons came into Tuesday night's tilt against the Flying Tigers in dire need of a victory. After dropping six straight in Clearwater, the Tarpons returned to George M. Steinbrenner Field determined to get back on track. Tampa looked well on their way to snapping their losing streak until the wheels fell off in ninth inning, and their rally came up short.
RHP Yon Castro (0-0) received the starting nod for the Tarpons and took the mound for his third start of the season. Castro was extremely sharp over three plus innings, allowing only one hit while striking out five batters. The young right-hander continued his impressive early season run, with tonight's performance marking his third straight start in a row without surrendering an earned run.
The Tarpons struck first and jumped out to an early lead in the bottom of the second inning. SS Ben Cowles led off the inning and blasted the very first pitch he saw into the right field seats for his first home run of the season. C Anthony Seigler drew a full-count walk, and RF Grant Richardson hit a sharp line drive double to right field to put runners on second and third with no outs. Unfortunately, the Tarpons were unable to capitalize and stranded both men on base.
With a 1-0 lead in the top of the fourth inning, manager Rachel Balkovec turned to the bullpen and called upon LHP Ryan Anderson to pick up where Castro left off. Anderson immediately issued a free pass to Roberto Campos, who moved to second on a single by Josh Crouch. After a wild pitch shifted both runners into scoring position, Anderson quickly found himself in a jam. Jose De La Cruz stepped up to the plate for the Flying Tigers in a familiar situation with RISP - his 13 RBIs rank second for Lakeland. Anderson showed some grit, fighting back from a 3-0 count to strike out De La Cruz. Cristian Santana also went down swinging to end the frame. The southpaw finished the night allowing just three hits and one walk over 2.2IP.
RHP Harold Cortijo tossed a scoreless seventh inning and some change before he was relieved by fellow RHP Danny Watson (0-1) in the top of the eighth. Watson has been excellent out of the back end of the Tarpons' bullpen but was unable to keep Lakeland off the board. Campos immediately greeted Watson with a triple just out of the reach of Richardson in right field, and Crouch followed that with a SAC Fly to even the score, 1-1.
Balkovec sent Watson back out in the top of the ninth, where Lakeland jumped all over him. Santana drew a lead-off walk, followed by a single off the bat of Justice Bigbie. Carlos Mendoza broke the tie with a line-drive double to left field, and Manuel Sequera also found an open patch of grass in left for an RBI single. Izaac Pacheco walked on four balls, and Chris Meyers also watched four straight pitches to walk in a run. Campos put on the finishing touches with a SAC Fly to center field, and the Flying Tigers held a 5-1 lead.
The Tarpons would not go down without a fight. 1B Anthony Garcia drew a leadoff walk to get things going, and Seigler sliced a ground ball up the middle to put runners on first and second. With two outs, 2B Robinson Chirinos doubled on a deep fly ball to right which drove in both Garcia and Seigler. DH Alexander Vargas reached on a fielding error by Sequera at third, and Dominguez walked to load the bases. Cabrera was walked on five pitches to limit the deficit to 5-4.
Bases loaded, two outs, down one… LF Madison Santos stepped up to the plate and was outmatched by Lakeland righty Erick Pinales to end the game.
The Tarpons and Flying Tigers return to action tomorrow night for game two of a five game series. RHP Richard Fitts is scheduled to make the start, with the first pitch thrown at 6:30 PM EST.