Volpe Lifts Tarpons to Victory with Game-Tying & Walk-Off Homers
Tampa Beats Bradenton, 7-6, to Snap Season-Long Three-Game Skid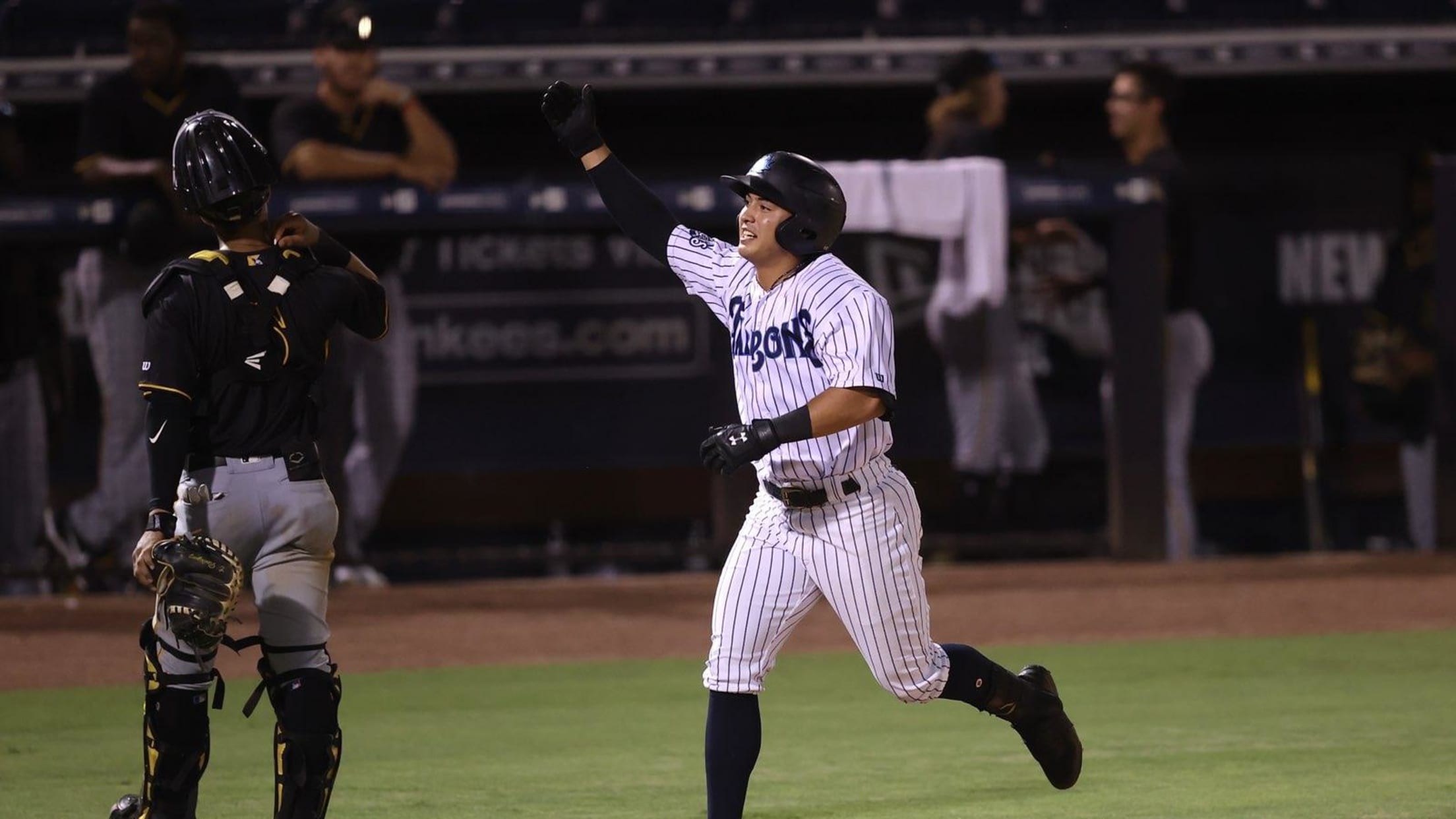 Anthony Volpe heads for home after smashing a walk-off home run in Tampa's 7-6 win over Bradenton on Saturday night. (Mark LoMoglio)
TAMPA, Fla. – Anthony Volpe lifted the Tampa Tarpons (28-13) to victory with a game-tying home run in the seventh and a walk-off blast in the ninth in a come-from-behind win, 7-6, over the Bradenton Marauders (26-15) on Saturday night at George M. Steinbrenner Field. The Tarpons promptly took an
TAMPA, Fla. – Anthony Volpe lifted the Tampa Tarpons (28-13) to victory with a game-tying home run in the seventh and a walk-off blast in the ninth in a come-from-behind win, 7-6, over the Bradenton Marauders (26-15) on Saturday night at George M. Steinbrenner Field.
The Tarpons promptly took an early lead when Volpe tripled off the centerfield wall and scored on a two-run home run to center by Austin Wells in the bottom of the first off RHP Adrian Florencio. The triple extended Volpe's hitting streak to 15 games.
RHP Beck Way started for Tampa and stranded a walk in each of the first two frames, keeping the Marauders scoreless. Way allowed a third walk in the third inning, and, with two outs, Blake Sabol lined an RBI double down the right field line, prompting a pitching change.
Endy Rodriguez greeted RHP Matt Sauer with his own RBI double, driving home Sabol to tie the game. Alexander Mojica followed with a bloop single into shallow left-center, scoring Rodriguez for a 3-2 Bradenton lead.
Way allowed two earned runs on one hit and three walks in two and two-third innings, striking out one on 43 pitches (20 strikes) in a no-decision.
After yielding the home run by Wells in the first, Florencio struck out seven of the next eleven batters faced, keeping Tampa hitless until a one-out single by Andres Chaparro in the fourth. Florencio followed by inducing five-straight groundouts to complete five innings.
Sauer worked a scoreless fourth before allowing Sabol to reach on a hit-by-pitch with one out in the fifth. A wild pitch sent Sabol to second before Rodriguez drove in the run with a base hit to center, giving Bradenton a 4-2 lead before Sauer retired the next two batters.
Back-to-back singles and a groundout put two runners into scoring position to begin the sixth for the Marauders. Sammy Siani legged out an infield single to drive in a run before Sauer got Maikol Escotto to ground into a 4-3 double-play to limit the damage.
A walk and a hit-batter allowed Tampa to put two on with two out in the sixth, but Florencio struck out Eric Wagaman to escape the jam. The 22-year-old logged his first quality start, yielding two earned runs on three hits, two walks and a hit-batter in six innings, striking out eight on 87 pitches (54 strikes).
RHP Oliver Mateo took over for Bradenton in the seventh and issued two walks to the first three batters faced, bring up Volpe as the tying run. On a 2-1 pitch, Volpe blast a 98-mph fastball off the facing of the Seminole Hard Rock Cabanas in right-center to tie the game.
After a pitching change, the inning continued with Wells surprising LHP Brayan Roman with a bunt single. Trevor Hauver followed with a single to right, and an error allowed both runners to enter scoring position. Jake Sanford then walked to load the bases, and Chaparro put Tampa ahead with a sacrifice fly to deep left-center before Roman escaped the inning.
Sauer ran into trouble in the eighth after Jake Snider reached on a two-base fielding error to begin the frame. One out later, back-to-back walks loaded the bases, leading the Tarpons to bring in RHP Trevor Holloway. Holloway struck out Escotto for the second out, but a run scored on a walk by Sabol before a flyout by Rodriguez ended the inning, with the game tied at 6-6.
RHP Luis Ortiz entered for Bradenton in the eighth and, after a leadoff single by DeMarco, got a double-play and a strikeout to face the minimum. Holloway (W, 7-1) returned for the ninth and retired the side in order, giving the Tarpons a chance to walk off in the home-half.
RHP Parker Brahms (L, 1-1) relieved Ortiz to try and send the game to extras, but Volpe belted an 0-2 curveball over the wall in left, electrifying the crowd of 1,017 fans.
Volpe (3-for-5, 2HR, 3B, 4RBI, 3R) now leads the Southeast League with 8HR. Statcast measured the game-tying blast to have an exit velocity of 107 mph. Wells (2-for-4, HR, 2RBI, 2R) now has 4HR over his last eight games and is now tied with Volpe for the league-lead in RBI at 36RBI.
The series concludes with a Sunday matinee at 12:00 p.m. LHP Clay Aguilar (0-0, 3.00) is set to make his first start of the season, with RHP Jared Jones (1-0, 3.38) slated to start for Bradenton. On Stay Local Sunday, when fans purchase two (2) Tarpons Sunday game tickets, they receive one (1) FREE pass to a local area attraction.