Borenstein hits for cycle as Travs roll
Angels' No. 11 prospect caps feat with double in eighth, plates four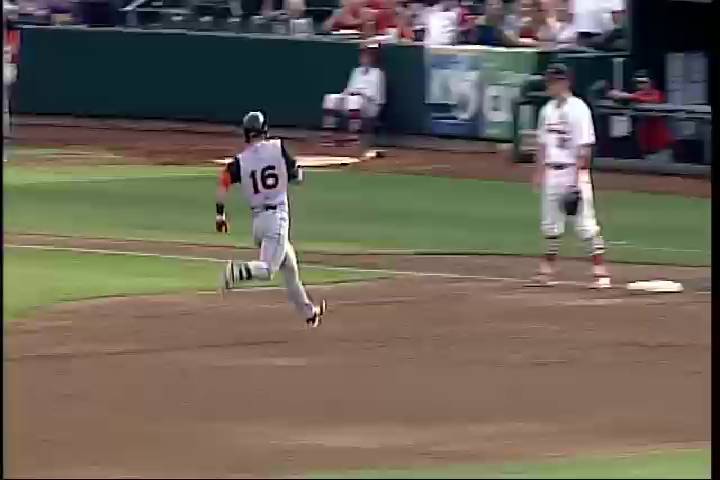 By Tyler Maun / MiLB.com | April 20, 2014 11:39 PM
Zach Borenstein knew it was a matter of time before he and the Arkansas Travelers broke out. He did it in historic fashion on Sunday.
The Angels' No. 11 prospect became the first Traveler to hit for the cycle in nearly seven years as Double-A Arkansas snapped a seven-game losing streak with an 11-3 romp at Springfield.
Borenstein got going with a single that loaded the bases in the top of the first, but Michael Snyder bounced into an inning-ending double play. In the third, the 2013 California League MVP got the toughest component of the cycle out of the way with a two-out triple.
With Springfield leading, 3-1, Adam Melker led off the seventh with a homer against his former team. Two outs later, Borenstein slugged a two-run shot, his second in as many games, to put the Travelers in front for good. Both homers came against left-handed pitchers, matching his total from a year ago.
Arkansas had scored twice in the eighth when Borenstein came up with two outs and runners at first and second. He ripped a double over the head of center fielder Rafael Ortega to plate Melker and top Angels prospect Kaleb Cowart.
"I mean, I knew I needed a double for [the cycle]," Borenstein said, "but you don't really control that in the at-bat. I realized it, I guess, when I was going to second and kind of coasting."
The cycle was the first for the Travelers since Aaron Peel registered one in a 15-11 loss to Corpus Christi on May 22, 2007. The 4-for-5, four-RBI performance provided a breakout day for Borenstein, who had two hits in his previous 23 at-bats.
"It's so early in the season, I don't really worry about few-game stretches like that," the 23-year-old outfielder said. "There are so many at-bats left in the season that mentally, I think I was OK even when I was struggling. I just knew it was just a matter of time. I started feeling a little bit better a few days ago, and today it just kind of happened on the field for me."
Borenstein also walked in a four-run ninth as Arkansas totaled 16 hits, half of them for extra bases and went 5-for-13 with runners in scoring position.
"We've been struggling at the plate for like a week now," the 2011 23rd-round Draft pick said. "We haven't really been able to get anything going, scoring one or two or three runs, maybe, on like four hits. We kind of changed our pregame around a little bit, maybe that had something to do with it.
"We were kind of in a funk and a lot of us in the lineup were frustrated. We've had our chances with guys on base. It seems like we just never got any big hits the last week or so, kind of swinging at everything, pressing at the plate and being a little overaggressive. Today, we just focused on getting our pitch, looking one spot, and that helped us out a lot."
Melker also finished with four hits and drove in three runs, while Alex Yarbrough went 3-for-5 with three RBIs for the Travelers. It was their most productive game since a 20-3 Opening Day rout of Midland on April 3.
"The opportunities were definitely there," Borenstein said. "A week or so prior to today's game, if a few of us were clicking, it was only two or three of us in the lineup, so we were never able to string anything together. Today, everybody put together pretty good at-bats, and it was definitely a good team contribution."
Arkansas starter Mark Sappington -- the Angels' fourth-ranked prospect -- allowed a run on two hits over five innings, but the win went to Ryan Chaffee (2-0), who gave up two runs in the sixth.
Springfield's Anthony Ferrara (0-1) retired only two batters and was charged with three runs on three hits. Starter Kurt Heyer left with a 3-1 lead after yielding a run on seven hits over six innings.
Tyler Maun is a contributor to MiLB.com. Follow him on Twitter @TylerMaun. This story was not subject to the approval of the National Association of Professional Baseball Leagues or its clubs.
View More