Cards' Baker spins complete-game gem
St. Louis righty retires 17 straight en route to first career shutout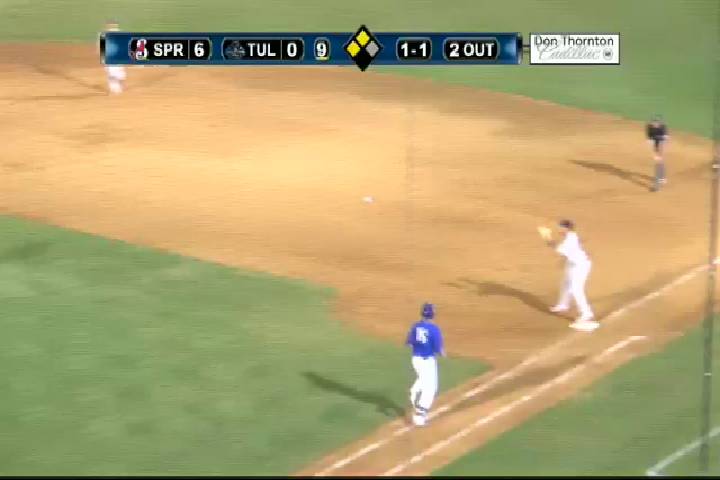 By Alex Kraft / MiLB.com | September 1, 2015 1:51 AM
Corey Baker was hoping to at least get through the first inning unscathed. Instead, he got through all nine.
The Cardinals right-hander pitched his first career complete game, scattering three hits and a walk while striking out four in Double-A Springfield's 6-0 blanking of Tulsa on Monday night at ONEOK Field.
Slow starts had hurt Baker in his previous three outings, in which he gave up a combined five first-inning runs.
"Settling in is something that I've kind of struggled with," the 25-year-old said. "The first inning of most of my starts has kind of been my roughest, so once I got through that, I just tried to settle in, get in a good rhythm."
Baker attacked the Drillers lineup with his changeup and sinker. The latter helped him induce 13 ground-ball outs, two of which were double plays that ended the second and third innings.
"Those were huge," Baker said. "I mean, any time you can erase baserunners with double plays, it's awesome. They were both great turns. The second one was a great play by Jonathan [Rodriguez] over there at first base to get back to the bag, so that was a huge help."
The New York City native retired the next 17 Tulsa batters in a row. Tulsa didn't put another man on base until Daniel Mayora reached on a fielding error by Springfield third baseman Patrick Wisdom with one out in the ninth.
Things got a little dicey for Baker after that. He cut down Mayora at second on a grounder by Brandon Trinkwon for the second out, but gave up a left-field double to Jeremy Rathjen to put runners on second and third with two outs and Lars Anderson stepping to the plate.
"Once that happened, I was kind of thinking [Anderson] was going to be my last hitter whether I got him or not, so I really wanted to make that happen and finish it off," Baker said. "The thought definitely crossed my mind that this might be it, so I really need to finish it here."
Baker went after Anderson with a low fastball and got the Drillers first baseman to tap a comebacker to the mound for the final out.
"Just wanted to go after him and finish the game being aggressive," Baker said.
It was the first complete game for Baker, who had been used in a relief role in 27 of his 36 appearances entering Monday's game and had never gone more than six innings in a start in his professional career.
None of those details mattered to the 2011 49th-round pick in his fourth straight start.
"I've gone back and forth between the bullpen and starting my whole career," Baker said. "It's something that I think increases my value. Sometimes I fill in for one start, or sometimes it's four or five in a row like it is now.
"I just go out in my outings, whatever they need me to do, I'm happy to do it and get the opportunity to pitch. Right now, it's starting and that's great, but whenever I pitch, I'm just happy to be out there."
Dodgers' No. 22 prospect Ross Stripling (3-6) surrendered four runs on seven hits and a walk while fanning five over 5 2/3 innings.
Alex Kraft is a contributor to MiLB.com. This story was not subject to the approval of the National Association of Professional Baseball Leagues or its clubs.
View More