Jackson paces Drillers in Texas Finals opener
Dodgers No. 18 prospect produces key hits, team-high three RBIs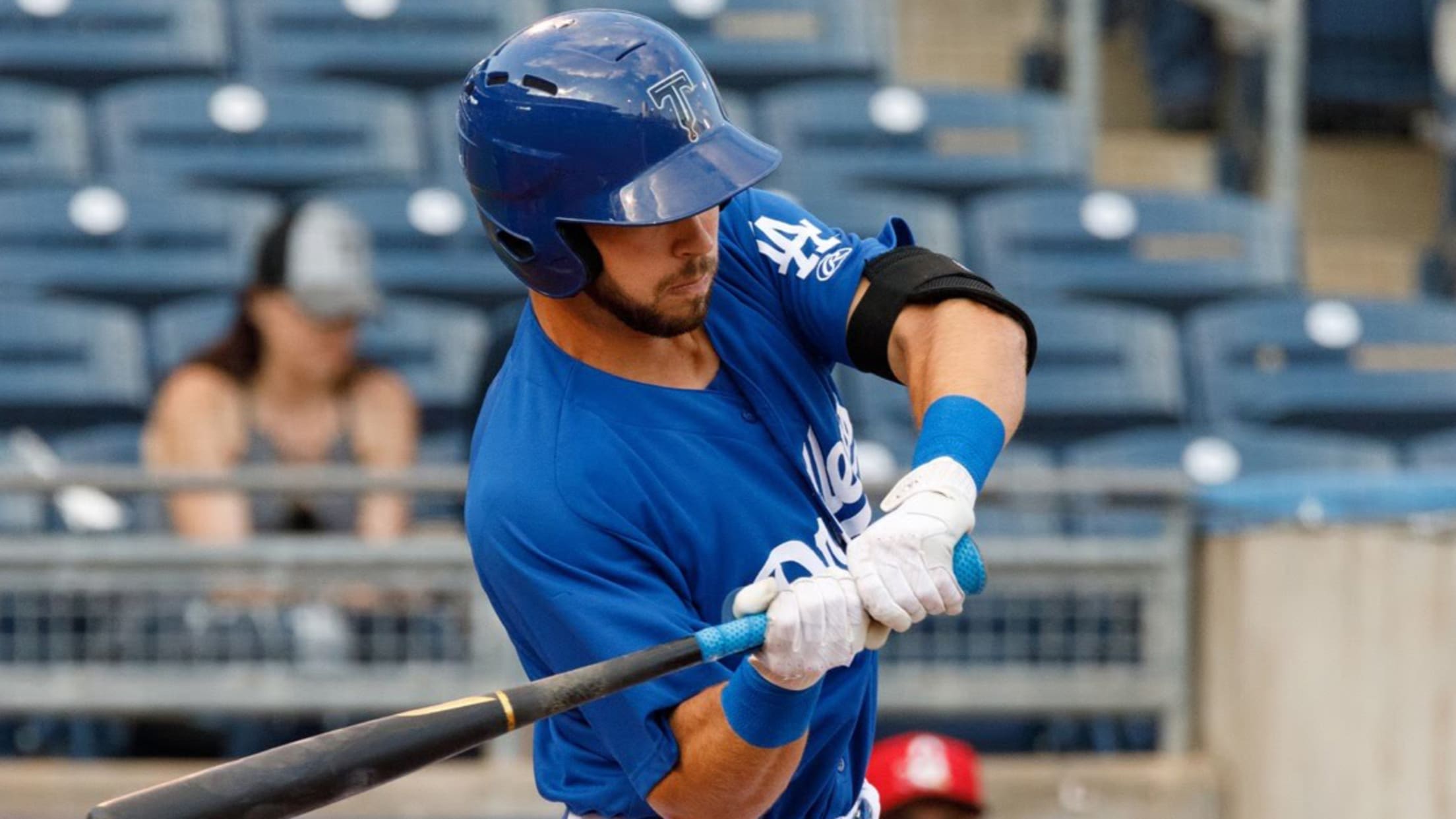 Drew Jackson is batting .300/.417/.600 for Tulsa in six games during the Texas League playoffs. (Rich Crimi/Tulsa Drillers)
Fresh off an eight-hour bus trip and in the midst of a stellar postseason, Drew Jackson helped Double-A Tulsa claim the early advantage in the Texas League Championship Series on Tuesday.The Dodgers No. 18 prospect plated a team-high three runs to lead the Drillers over the RockHounds, 5-3, in Game
Fresh off an eight-hour bus trip and in the midst of a stellar postseason, Drew Jackson helped Double-A Tulsa claim the early advantage in the Texas League Championship Series on Tuesday.
The Dodgers No. 18 prospect plated a team-high three runs to lead the Drillers over the RockHounds, 5-3, in Game 1 of the best-of-5 series at Security Bank Ballpark.
Jackson came through with a two-RBI triple to right field off Midland starter James Naile in the second inning to start a four-run frame for Tulsa.
After the RockHounds closed the gap to 4-3 on a two-run homer by J.P. Sportman in the third, Jackson added an insurance run for the Drillers with an RBI fielders' choice in the sixth. The 24-year-old has driven in 10 in six games in the playoffs, as many as he had in 29 games with Tulsa down the stretch in the regular season.
Gameday box score
"This whole year I've been working to find a swing that I'm comfortable with and find confidence when I'm at the plate," Jackson said. "That's the beauty of making the playoffs, you can keep working on stuff. I'm glad I feel good right now because it's a good time to feel good."
The RockHounds nearly tied the game in the seventh when Viosergy Rosa drove a ball toward the gap in left-center with runners on first and second and two outs. But Kyle Garlick hustled to make the catch and preserve the lead.
"When Rosa hit the ball, I thought it was going to split the gap for sure," Jackson said. "At the last second, Garlick threw his glove up and caught it. It was amazing. You could feel the energy in our dugout after that catch."
Complete playoff coverage
Sixth-ranked Dodgers prospect Mitchell White (1-0) gave up three runs on six hits and two walks with three strikeouts over five innings to get the win. Daniel Corcino recorded the final four outs, walking one and fanning three without allowing a hit to pick up his first save of the playoffs.
Los Angeles' No. 5 prospect Yusniel Díaz tripled, singled and drove in one while Errol Robinson added three hits and one RBI.
"Overall, it was a really great team win," Jackson said. "The pitching staff was money. We had some clutch hits. The defense was money. It was really just a well-played game by everyone."
Fourth-ranked Oakland prospectJorge Mateo reached base three times, scored a run and stole a base while Jermaine Curtis finished 2-for-4 and plated one for Midland.
Naile yielded five runs on 10 hits and two walks while striking out five over six innings.
Game 2 will take place at 7:30 p.m. ET Wednesday at Security Bank Ballpark.