Frisco's Sadzeck wrangles six hitless frames
Rangers right-hander has best outing since 2014 Tommy John surgery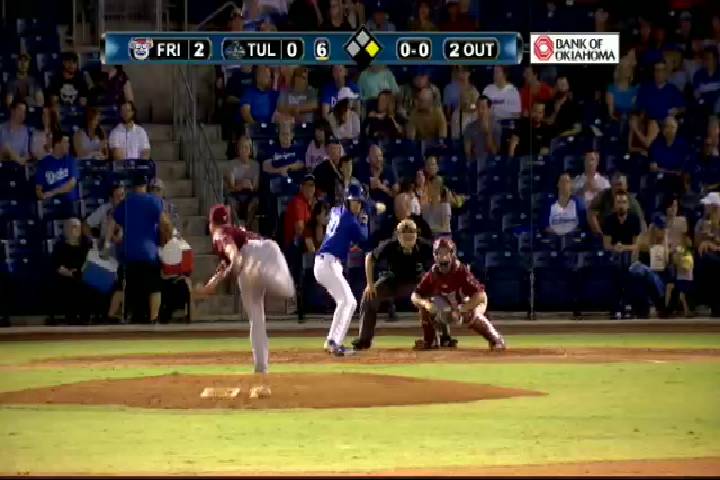 By Josh Jackson / MiLB.com | August 21, 2015 1:57 AM
From what Connor Sadzeck's first three Double-A appearances, Frisco manager Joe Mikulik knew the 23-year-old righty is completely capable of succeeding at the level.
"No doubt, he's got a plus fastball with great movement, lots of action with the ball," Mikulik said. "He has the ability to pitch. Getting ahead is always going to be big, in any league, and you've got to have something to put them away with too."
The Rangers right-hander put them away and then some Thursday night, not allowing a hit over six innings in the RoughRiders' 2-1 win over the Drillers at Tulsa. He struck out two and walked two in his first Texas League decision.
"[He showed] ability to throw strikes when he really needed to. When he fell behind in the count, he got right back in with his fastball," said Mikulik. "His secondary stuff probably wasn't where he wanted it. He's still working on the breaking ball and changeup. But for the most part, he attacked the zone much better. He got ahead of a few hitters and kept them off balance."
Sadzeck underwent Tommy John surgery last April and missed the whole season. After being drafted out of Texas' Howard County Junior College in the 11th round of 2011, he had a breakout first full season in 2013, going 12-4 with a 2.25 ERA over 24 starts. This year, he posted a 3.98 ERA with 48 strikeouts over 40 2/3 California League innings before being promoted to Frisco.
Thursday's game, in which Sadzeck's line was almost identical to an Aug. 24, 2012 start, was his longest appearance in Double-A, and it lowered his ERA on the circuit from 14.40 to 6.55.
"[Pitching coach] Jeff Andrews is working with him right now on attacking the zone and on developing a secondary pitch," Mikulik said. "He spins the ball well, but commanding it is where he could keep hitters off balance much better."
It didn't hurt him in the hitless gem. He faced the minimum his first time through the lineup. Erisbel Arruebarrena started the third inning by reaching on third baseman Luis Mendez's fielding error, but Frisco turned two on Jeremy Rathjen's ground ball. Sadzeck also shrugged off a two-out walk to 24th-ranked Dodgers prospect Kyle Farmer in the fourth.
"There were a couple times when he was behind, 3-0, and he got back in the strike zone and made them hit the ball, made them swing the bats," Mikulik said. "Obviously, from his first start until now, he's been much better with his fastball command."
With one out in the sixth, the Drillers' Yadir Drake hit a line drive to RoughRiders right fielder Lewis Brinson, the Rangers' No. 4 prospect.
"That was the only ball hit well," Mikulik said. "It was a fastball up in the zone, and [Drake] squared it up. Lewis made a nice play going back, not too far -- it was right at him, but he had to backtrack. There was no other ball hit hard."
The Crystal Lake, Illinois native then walked Ronald Torreyes, but got Peter Lavin to fly out to left fielder Zach Cone. At the end of the inning, he'd thrown 54 of 88 pitches for strikes.
"I think he had an understanding where he was at and what he needed to do," Mikulik said. "Jeff Andrews does a good job monitoring and communicating about that. Eighty-eight pitches was enough. That's the most he's thrown [since surgery].
"When you're able to throw six innings and no hits and have success ... he was excited. But he understood there was no sense in pushing him farther. There was no way he was going to be able to go a complete game, pitch nine innings. So after six was a good time."
Brandon Trinkwon broke up the no-hit bid with a two-out single off reliever Jose Valdespina in the seventh.
Preston Beck and Kellin Deglan hit solo homers to account for the Frisco offense.
Josh Jackson is a contributor to MiLB.com. This story was not subject to the approval of the National Association of Professional Baseball Leagues or its clubs.
View More