Fuenmayor making most of second chance
Royals farmhand ranks among Texas League leaders in homers, RBIs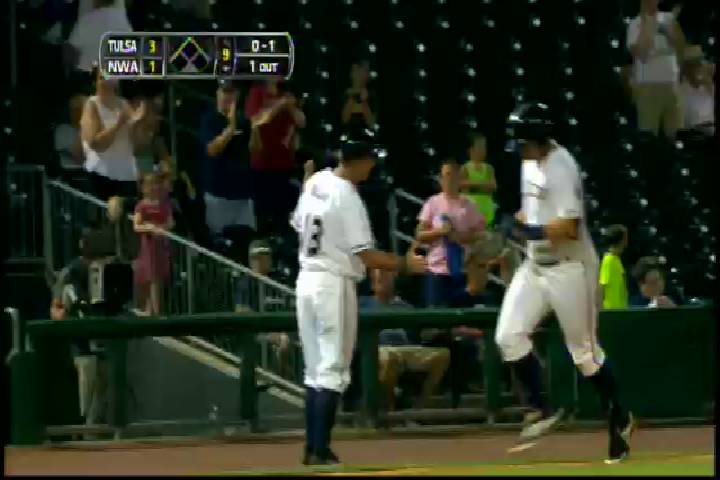 By Matt Young / Special to MiLB.com | June 30, 2015 10:09 PM
CORPUS CHRISTI, Texas -- Razor Shines gathered his players before Tuesday's Texas League All-Star Game and gave them the standard "Go out there and have fun" speech, but he also sent a message about perseverance and never giving up. Most of the North Division All-Stars were busy making last-minute uniform adjustments during the Shines' brief talk, but Balbino Fuenmayor sat in his locker stall with his complete attention on the Tulsa Drillers manager.
It was a message that struck a chord for the 25-year-old Venezuelan, who is making the most of his second chance in affiliated baseball after being released by the Blue Jays in 2012, only to return with a vengeance when given a chance by the Royals three years later.
In his debut in the Kansas City system and his first season at Double-A, the Northwest Arkansas Naturals first baseman leads the Texas League with 15 homers and a .966 OPS while batting .348 with 50 RBIs in 71 games.
"I'm feeling good," said Fuenmayor (pronounced FWEN-my-OR). "This is my second opportunity to play affiliated baseball, and I'm making the most of it, so that feels great."
Nearly a decade ago, the Blue Jays signed the 16-year-old Fuenmayor to a $725,000 contract. Almost immediately, he started appearing on lists of Toronto's top prospects. He spent parts of seven seasons in the Blue Jays system, never advancing past Class A. After a slow start at Lansing in 2013, the Blue Jays released him.
Fuenmayor spent the rest of that season and all of 2014 beating the bushes in independent ball, with stops with the Frontier League Greys, the Laredo Lemurs of the American Association and the Capitales de Quebec in the Can-Am League.
He showed some perseverance by crushing independent league pitching to the tune of a .347 average, 23 homers and 99 RBIs with Quebec last year. That was enough to get a call from the Royals, whose faith Fuenmayor is hoping to reward.
The biggest difference in the new version of the first baseman is his two-strike approach. The 6-foot-3, 230-pound slugger has struck out 46 times in 282 at-bats this season for a strikeout percentage of 16.3 -- the lowest of his professional career.
"I have a new plan to hitting with two strikes," said Fuenmayor, who doubled and singled in Tuesday's Texas League All-Star Game. "I know I don't have to try to hit a home run when I have two strikes on me. I shorten up my swing and look for solid contact instead of the big swings I probably took when I was younger."
Besides the change in philosophy, Fuenmayor also credits his family for a mental change. Before he was released, his wife gave birth to a daughter. With family obligations added to his plate, Fuenmayor considered giving up the sport and looking for a new career. Instead, his family insisted he continue pursuing his dreams, which is exactly what Shines preached before Tuesday's midseason classic.
"I almost didn't play anymore, but my family insisted," Fuenmayor said. "That gave me extra motivation. Having a wife telling you to keep working hard and having a daughter that you loves so much, it made a big difference in my approach to the game."
Even with his eye-popping numbers, Fuenmayor knows he's no sure thing to make his way through the Royals organization, especially with Eric Hosmer and Kendrys Morales entrenched at first base and designated hitter in Kansas City.
"Everyone wants to play Major League Baseball, so of course I think about it," Fuenmayor said. "Obviously, it's tough because Kansas City is a really good team and they have Hosmer and Morales, but I just stay focused. You never know what might happen, so all I can do is just keep playing as hard as I can."
Matt Young is a contributor to MiLB.com. This story was not subject to the approval of the National Association of Professional Baseball Leagues or its clubs.
View More