Texas notes: Beaty busting out with Drillers
Dodgers No. 30 prospect among leaders in numerous categories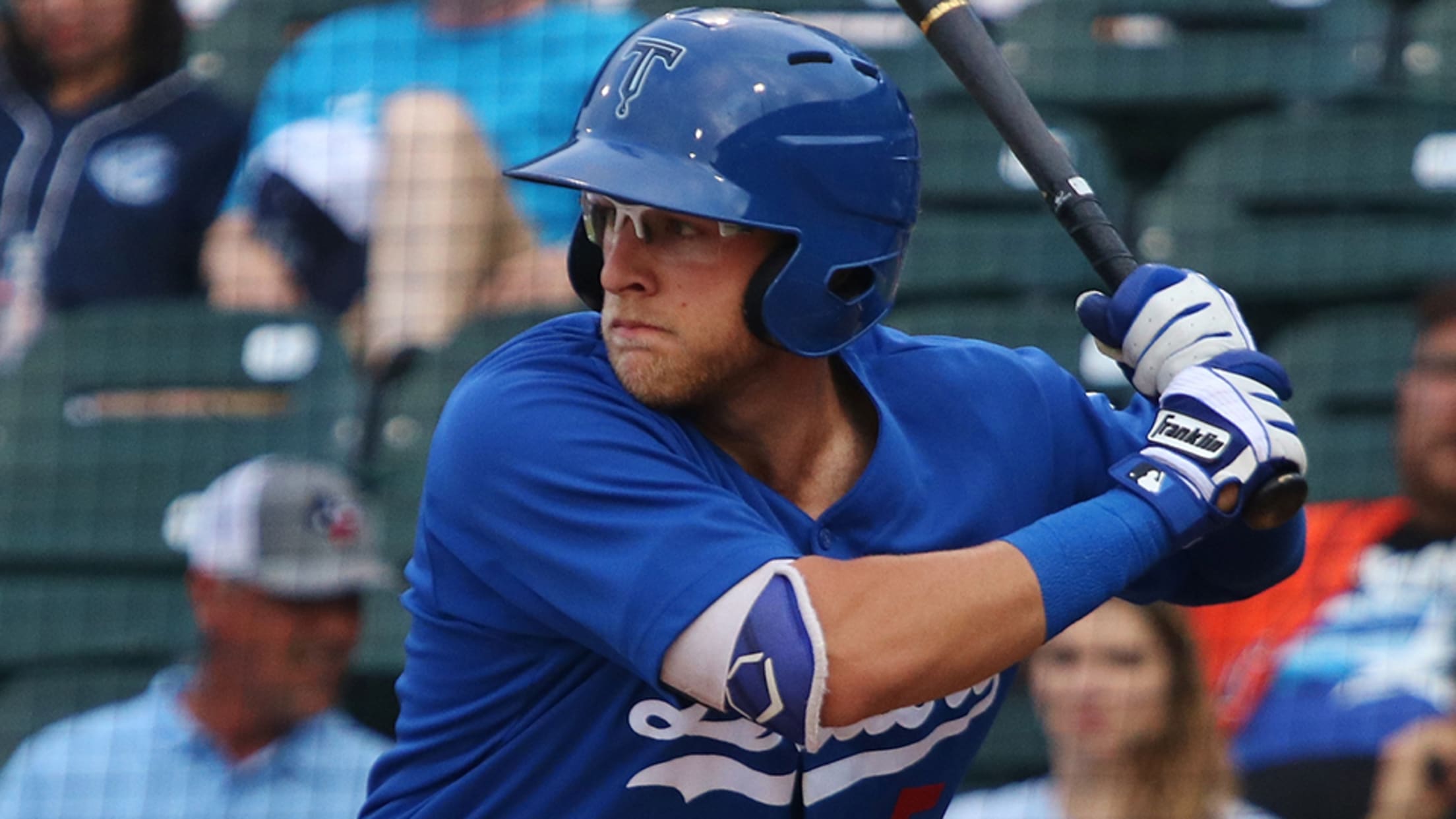 Matt Beaty is second in the league with a .509 slugging percentage and third with a .325 batting average. (Tammy Tucker/MiLB.com)
Games and at-bats can run together during the course of a six-month season, with none seemingly more important than the other.But Matt Beaty can easily pick out the most important day of the 2017 season.
Games and at-bats can run together during the course of a six-month season, with none seemingly more important than the other.
But Matt Beaty can easily pick out the most important day of the 2017 season.
It came April 25, when the Double-A Drillers were playing a home game and Beaty was still struggling at his new level. He was batting .167 and had gone hitless in his previous six games. Then he doubled in the fifth inning, singled in the seventh and singled again in the ninth -- his first three-hit game of the season.
"I had three get through," said the Dodgers' 30th-ranked prospect. "It kind of felt like the turning point of the season, honestly. It helped me gather some confidence [to know] that I can complete at this level.
"So, that was a good day."
Beaty, a 12th-round pick out of Belmont University in 2015, has had plenty since.
He's hitting .341 since April 25, tops in the Texas League over that time, with 14 home runs, 29 doubles and 62 RBIs. He's batting .325 overall through Thursday's games, third in the circuit. With just 11 games left, Beaty is among the front-runners for the circuit's Player of the Year and has a shot at becoming Tulsa's first-ever Texas League batting champ.
His .509 slugging percentage and 29 doubles are second in the league, and he's also in the top five in hits (129), on-base percentage (.382) and extra-base hits (44).
"I've seen it, and I've heard about it from people," said Beaty of his career-best offensive numbers. "But I try to keep my mind off it, because if you start thinking about that, you start putting pressure on yourself to keep those numbers. That's when things start going south."
Beaty credits his mental approach to the early-season turnaround. When struggling, he talked with Drillers' hitting coach Terrmel Sledge, who insisted that he change nothing about his swing. Instead, Beaty spoke with a Dodgers instructor who specializes in the mental approach to the game.
Those talks, Beaty said, revolved around how to keep a positive mind-set even when things aren't going great in the batter's box.
"He teaches us how to have positive thoughts, and how to keep yourself away from the negative thoughts," Beaty said. "Like, 'Oh, I'm starting to think of this, so I need to start thinking more of this,' to put yourself in a position to have a better performance."
While positive thoughts have spurred his bat, a willingness to do whatever is asked has changed his overall profile.
Beaty played mostly third base at Belmont but was drafted as a catcher. Since then, he's played first base, third base, left field and right. He's most comfortable at third, considering he's played there the longest, but insists he can play anywhere. And versatility helps, when he's trying to eventually join what is currently a team with baseball's best record.
"That helps the manager out a lot, so he can pick and choose," he said. "It increases my chances of getting lucky, catching a break and getting up [to the Majors]."

In brief
Streak broken:
Braden Bishop
hasn't missed a beat following his latest promotion in the Mariners system. The center fielder was promoted from Class A Advanced Modesto to Double-A Arkansas in July, hit safely in 11 of his first 12 games and has hardly slowed down since. He's batting .339 with nine doubles, one triple and 11 RBIs in his first 30 games. Seattle's sixth-ranked prospect reached safely in his first 27 games as a Traveler, a streak snapped with an 0-for-5 performance at home against Tulsa on Tuesday night.
Late surge:
With
J.D. Davis
in Houston and not able to add to the 21 home runs he hit this season at Corpus Christi, San Antonio's
Franmil Reyes
is in the best position to take the Texas League home run title. Reyes has gone deep in each of the last two games, including a three-run homer Thursday. It was his 21st of the season, tying Davis for the league lead, and his 93 RBIs rank second in the circuit.
Six to decide:
Springfield and Tulsa enter Friday's games tied for first place in the Texas League North Division second-half standings. The two teams will have plenty of chances over the season's last two weeks to decide the division head to head. The two teams begin a three-game series Saturday in Springfield and finish the season with a three-game set in Tulsa. Tulsa is 16-6 against Springfield this year, including wins in 14 of the last 16 games between the teams.
Troy Schulte is a contributor to MiLB.com.