Padres' Tatis Jr. breaks out of early slump
No. 8 overall prospect snaps drought with three hits, two RBIs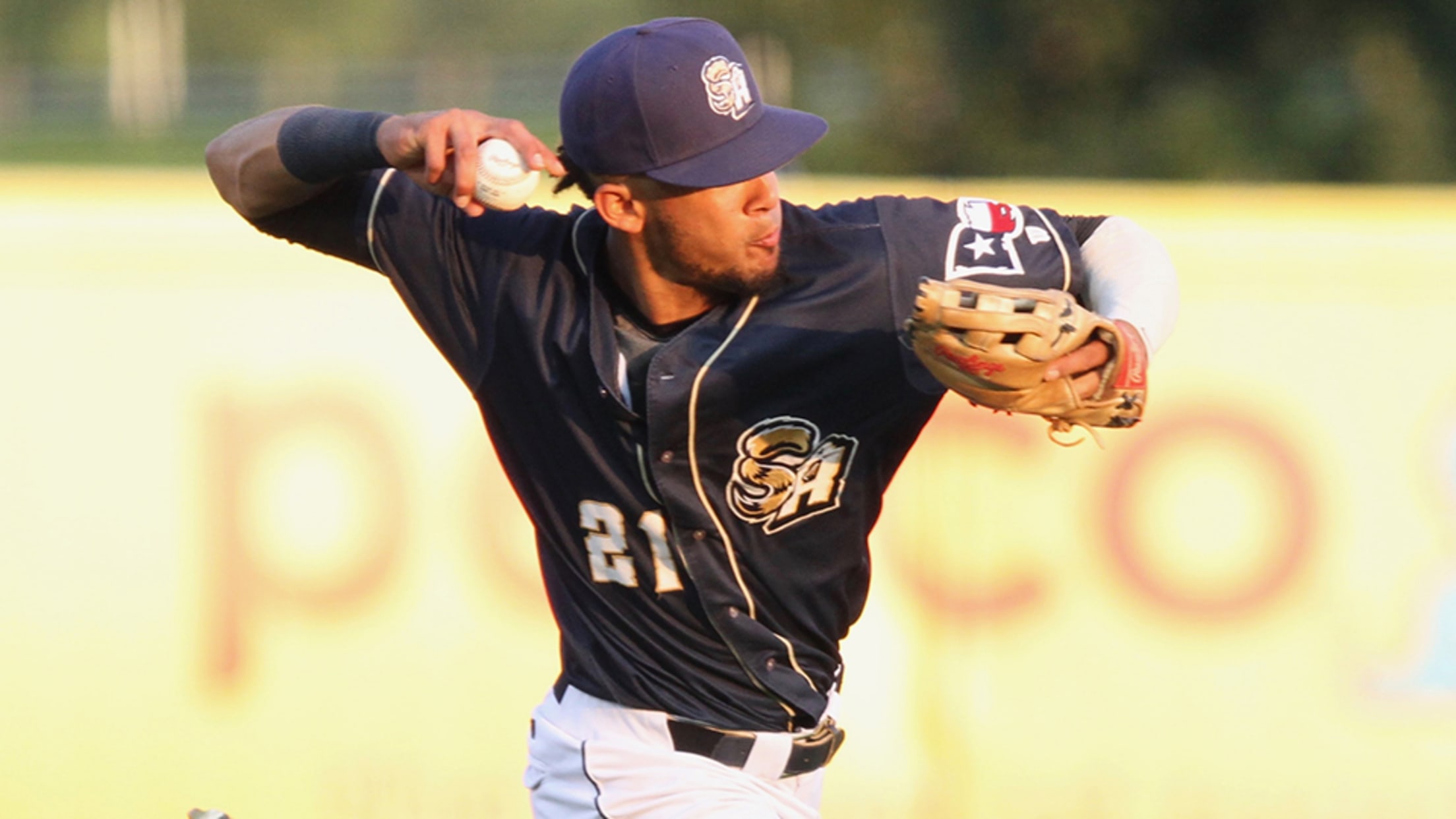 Fernando Tatis Jr. went 0-for-13 to start the season before his breakout game for San Antonio. (Dave Michael/MiLB.com)
Three games is hardly a blip over the course of a 140-game Minor League season. That doesn't mean it was a pleasant opening weekend for Fernando Tatis Jr. Then came Sunday.The Padres' top prospect snapped an 0-for-13 start with three hits, a sacrifice fly and two RBIs to help Double-A San
Three games is hardly a blip over the course of a 140-game Minor League season. That doesn't mean it was a pleasant opening weekend for Fernando Tatis Jr. Then came Sunday.
The Padres' top prospect snapped an 0-for-13 start with three hits, a sacrifice fly and two RBIs to help Double-A San Antonio defeat Northwest Arkansas, 8-4, on Sunday afternoon at Arvest Ballpark.
Sixth-ranked Padres prospect Josh Naylor slugged his third homer in two days and No. 30 Michael Gettys also went deep for the Missions.
"He might have been a little anxious," San Antonio hitting coach Raul Padron said of Tatis. "But he's confident and he knew he'd be OK. He's been swinging at good pitches and just getting a little beyond the ball. He broke that ice today after making a few little adjustments and we saw the results we want."
Gameday box score
After going hitless in his first three games, MLB.com's No. 8 overall prospect struck out in the first inning. He drove in his first run of the year with a sacrifice fly to right field in the second and notched his first hit on a single to left in the fourth. Tatis tallied his second RBI with a base hit to center in the sixth and came around to score on a throwing error by second baseman Erick Mejia. He beat out an infield single to second in the seventh and went down looking in the ninth.
"Coaching Fernando is fun," Padron said. "He's a very coachable guy who's been around baseball his whole life because of his dad [former Major Leaguer Fernando Tatis]. He's into everything we're doing as an organization in terms of approach and he's doing everything we ask of him. I'm looking forward to the challenge of coaching him because he's so young, but he has all the tools to succeed."
The 19-year-old began last year with Class A Fort Wayne, where he earned midseason All-Star honors. He bypassed Class A Advanced and was promoted to Double-A on Aug. 21. Overall, Tatis hit .281/.390/.520 with 22 homers, 75 RBIs and an .877 OPS in 131 games. He batted .350 with a homer and two RBIs in 20 postseason at-bats for the Missions and was rewarded with an invitation to big league camp this spring.
"Double-A is hard," Padron said. "If you play good here, you have a great shot of playing in the bigs. Right now, we just want to keep him on the right approach and keep him from trying to do too much and impress everyone. All of us know what tools he has, he just needs to keep things as simple as possible, keep his mind free and just play his game. He's very mature for a 19-year-old. I'm sure he's going to be all right."
Naylor drove in three runs and finished 3-for-5, his fourth consecutive multi-hit game to start the season. The 20-year-old is batting .563 and is tied with No. 4 Cardinals prospectTyler O'Neill for the Minor League lead with 10 RBIs. Gettys, Naylor and Tatis -- the top three hitters in the Missions' order -- combined for eight hits, including two homers, six RBIs and four runs scored.
"It's fun to have these guys," Padron said. "This is a great challenge for me because they're three really good hitters. They're so young and it's not easy to perform at this age at this level. But they're on the right track and it's going to be a lot of fun to keep them them on [that track]. They know that hard times will come. It's baseball, but it's going to be a lot of fun and they're off to a good start."
Missions starter Jerry Keel allowed one run on seven hits over five innings. The 24-year-old southpaw struck out nine and walked one in his season debut.