Texas notes: Ramsey keeps things upbeat
Cardinals center fielder displaying leadership on field, in clubhouse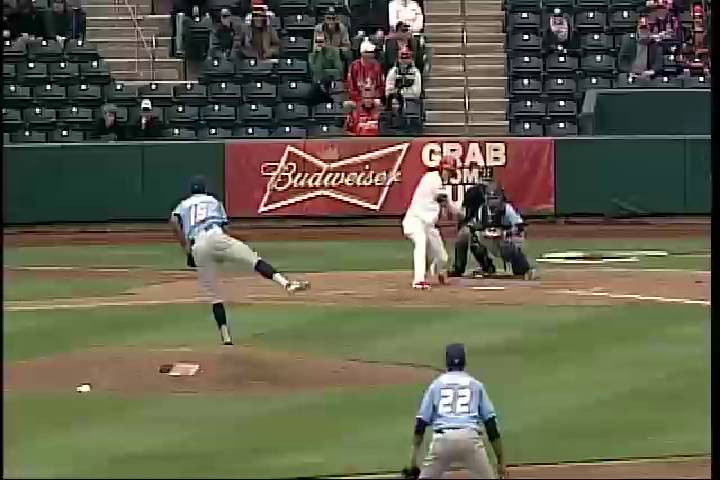 By Todd Traub / Special to MiLB.com | May 6, 2014 10:00 AM
James Ramsey wants to be the guy who calls the tune -- whether that's picking the clubhouse music for his Springfield Cardinals teammates or doing whatever he can to raise his stock in the St. Louis system.
"I can improve in a lot of facets in my game," said Ramsey, a center-field prospect and 2012 first-round pick out of Florida State. "But one thing I've been trying to focus on is the mental side. If I can be the most relentless competitor every day when I show up to the field, I'm going to give myself a good chance to succeed."
The left-handed-hitting Ramsey knows sometimes even the most well-struck balls don't fall in and anyone can have an 0-fer. That's why he tries to hustle consistently, maintain an upbeat presence in the dugout and clubhouse and zero in on the intangibles that fall under the heading of "makeup."
There's nothing worse, Ramsey said, than a teammate who sits by his locker and sulks over his personal performance after a victory.
"You do all the workouts, all that stuff, but we don't tend to spend as much time really focusing your mind and how you control your emotions," Ramsey said. "There are a lot of ups and downs, and if you can make the valleys a little shorter and the peaks a little longer, then you're going to be successful."
Part of Ramsey's effort apparently includes being clubhouse deejay. With his signature studiousness -- he was a Rhodes Scholar nominee at FSU -- he understands the need for the right music at the right time, regardless of what his personal tastes may be.
"You've got to judge the vibe in the clubhouse. You can't be playing upbeat music when your guys lose," Ramsey said. "Morning games I like to favor Latin music. ... It gets everybody going."
Ramsey's parents were both FSU athletes -- his dad played baseball and his mom, "the better athlete," played tennis -- but Ramsey said his parents let him make up his own mind when it came to school choice, although he grew up in a room painted in the school's colors.
"I guess I got brainwashed," jokes Ramsey, who is first in the Texas League with eight home runs and 26 runs scored, in the top five in hits (33), slugging percentage (.570) and total bases (65) and sixth with a .316 batting average.
Ramsey has played all three outfield spots in Spring Training and fall ball, and if he should move to a corner spot and that gets him to St. Louis, he is fine with that.
"Really, whatever that clubhouse up in St. Louis needs," he said. "I think I could fulfill whatever spot they want me to."
In brief
Cowart power: After a rough 4-15 stretch, the Arkansas Travelers have won six of seven and gotten a big boost from top Angels prospect Kaleb Cowart. The 21-year-old third baseman opened May by homering in three straight games and is hitting .326 over his last 10 contests.
Greet 'n' beat: San Antonio's Rymer Liriano belted two homers and Casey McElroy also went deep in a 6-5 victory over Corpus Christi on Sunday. It was a rude welcome to the Texas League for Hooks starter Kyle Smith, who went 4-0 with a 2.60 ERA to open the season at Class A Advanced Lancaster.
Rua's run: Frisco's Ryan Rua picked up an RBI single in the eighth inning Sunday to reach safely for the 27th straight game, the longest current streak in Double-A. The 24-year-old third baseman is batting .340 with a .431 on-base percentage.
Todd Traub is a contributor to MiLB.com. This story was not subject to the approval of the National Association of Professional Baseball Leagues or its clubs.
View More