Texas notes: Starling starts to 'figure it out'
Naturals center fielder enjoying success during 'turning point' season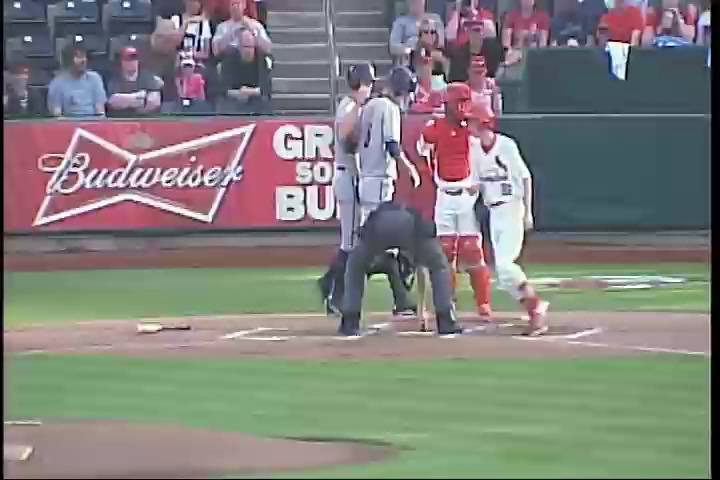 By Troy Schulte / Special to MiLB.com | May 12, 2015 10:00 AM
Teammates like to attribute Bubba Starling's recent power surge to a clubhouse dare, but it likely has more to do with a simplified approach produced by an offseason routine that included working with some of the Kansas City Royals' most recognizable names.
Whatever it is, the No. 5 overall pick in the 2011 Draft is in a rhythm at the plate that he hasn't experienced much during his four seasons in pro ball.
"Less is more for me," said Starling, who is hitting .255 with three homers in his first 15 Double-A games after battting an impressive .386 with two homers in 12 games at Class A Advanced Wilmington to open the year. "I've kind of started to figure this out. When you get guys in scoring position, not trying to drive all three runs in -- just do a little bit to help out the team."
The theory from Starling's teammates might be more fun, though.
As Starling tells it, his Naturals teammates dared him to eat a beetle and, enticed by a small amount of cash, he did it. What followed soon after was a stretch of three straight games with a home run.
"So, they like to say that's where my power came from," said Starling, the Royals' No. 13 prospect.
Starling's improved hitting has been evident all year, though.
After struggling through his first four seasons at the plate -- he was hitting .237 with 37 homers in 310 games prior to this season -- Starling spent the offseason at his home in Gardner, Kansas. Three or four times each week he would make the 45-minute drive east to the Royals' Kauffman Stadium to lift weights and hit with Hall of Famer George Brett.
There, Starling and Brett worked on rhythm, timing and hand placement. He was able to press current big league players Lorenzo Cain and Alex Gordon for tips, too. But the most valuable lessons came from Brett.
"The last few years I feel like I haven't been on time, or where I want to be in a good attack position," Starling said. "We worked on that a little bit, moved my hands a little bit, and he's like, 'Just go out and let your athletic ability take over,' and that's what I've done."
Athleticism has never been Starling's issue. He signed a scholarship to play quarterback at the University of Nebraska but instead took a $7.5 million bonus from the Royals in 2011. It's no surprise then that his play in center field since has never been mentioned as a liability.
Naturals manager Vance Wilson called Starling a "Major League center fielder" and said he's noticed a rising "confidence level" at the plate.
Confidence began to grow when Starling worked out with Brett and continued when he started the season back at Wilmington. He said he wasn't bothered being sent back to the Carolina League, realizing his .218 average over 482 at-bats in 2014 dictated such a move.
But he didn't look to be the same player.
Seven times in 12 games, Starling had at least two hits, and he collected 12 RBIs before being promoted to Double-A for the first time. With the Naturals, Starling started slow, but since May 3 he is hitting .409 with three homers and eight RBIs, and he's struck out only three times in 22 at-bats.
Whether it be eating a bug or garnering tips from a Royals legend, Starling is enjoying his success.
"I knew that this year was kind of a turning point where I have to start figuring things out and turning stuff around," Starling said. "That's why I worked so hard in the offseason, and just continuing to pick some of these guys' brains who have been here."
In brief
Gott game: Last season, the Arkansas Travelers had six pitchers eventually make an appearance with the Los Angeles Angels. Trevor Gott may be next in line. Gott, acquired by the Angels last year along with Huston Street, is the Texas League saves leader after converting all seven of his opportunities. The 22-year-old right-hander from Kentucky is 1-0 with a 3.55 ERA, 14 strikeouts and four walks in 12 2/3 innings.
Welcome back: Mike Bianucci is with a new team, but he's still frustrating Texas League pitchers. The 28-year-old outfielder is hitting .352 with seven home runs and 21 RBIs for Northwest Arkansas, his third different Texas League team. Bianucci hit .274 with 12 homers and 49 RBIs in 62 games last year at Arkansas and .243 with 30 home runs and 89 RBIs for Frisco in 2011.
Better return: Travis Jankowski hit .240 in his first stint at Double-A San Antonio last season. He's proven to handle the level much better in his first full season in the Texas League. The 23-year-old outfielder is hitting .348 -- sixth in the Texas League -- with a .438 on-base percentage. Jankowski has 11 multi-hit games, including one three-hit and one four-hit performance.
Troy Schulte is a contributor to MiLB.com. This story was not subject to the approval of the National Association of Professional Baseball Leagues or its clubs.
View More