Toolshed: Newcomb's climb from Northeast
Top Angels prospect went unnoticed out of Massachusetts high school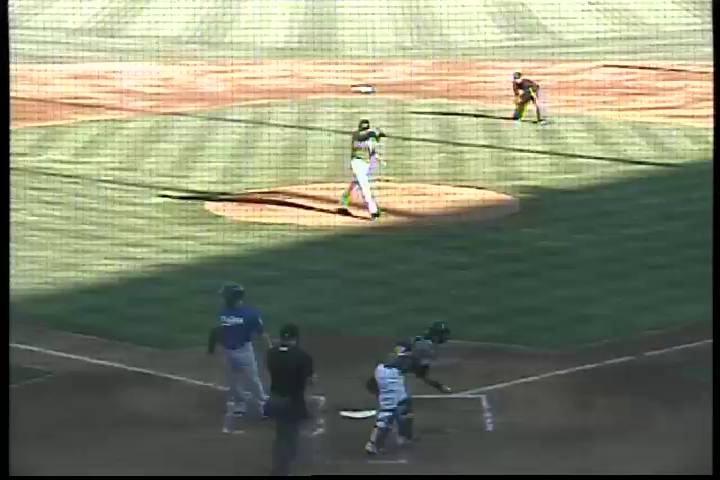 By Sam Dykstra / MiLB.com | August 7, 2015 11:00 AM ET
This is part of a series of Friday columns we're calling the Toolshed, focusing on some of the more interesting prospect-centered storylines of the 2015 season. Have ideas, feedback or questions for Sam? Email him or tweet him @SamDykstraMiLB. (Note: All stats are through Wednesday's games.)
It was July 13, one day before he was scheduled to pitch in the All-Star Futures Game on an 81-degree day at Cincinnati's Great American Ball Park, and Sean Newcomb was retweeting a picture of snow. More specifically, it was a picture of himself in the snow. A friend from home in Middleborough, Massachusetts, had sent along the image with the caption, "remember these days." Now the top prospect in the Angels' system, Newcomb knew exactly what it was and responded, "Gotta get that long toss in."
Three weeks later, Newcomb -- the Angels' first-round pick in 2014 -- was promoted from Class A Advanced Inland Empire to Double-A Arkansas. Another step in his march toward Los Angeles. Another step in a journey that started in a land not usually known for producing top baseball talent.
Gotta get that long toss in.. https://t.co/xcCroKnda8

- Sean W. Newcomb (@SeanNewk) July 13, 2015
You probably knew this already, but there's a reason why the Bay State isn't a source of baseball stars who don't call Fenway Park home. For a good third of the baseball season, it's simply too cold or there's too much snow to play on the diamond. Massachusetts' most famous baseball product is Hall of Famer Tom Glavine of Billerica, and even he considered a career in hockey before signing with the Braves following the 1984 Draft. Glavine's impressive 81.4 career Baseball-Reference WAR (bWAR) leads all Massachusetts natives, but it's a long fall from him to former Pirates infielder Richie Hebner, who is second at 32.9.
"We started out every season in the gym because you have to," Newcomb said of his career at Middleborough High School. "You hit in the cage. You take ground balls off the gym floor, which isn't exactly forgiving. We just didn't get to play as much. So I played football and basketball, too. But baseball, once it finally got started, I'd play that into the summer. But it started with the cold weather, tons of rain. Some years, you have to wait for a foot of snow to melt before you could get on the field. Looking back on it, it was kinda tough, but it's all I knew, so it wasn't a big deal."
In part because of the weather, the left-hander threw only 20 innings or so during his junior year. That number jumped to 58 as a senior, when he posted a 0.46 ERA and struck out 110. In Florida, California or Texas, those numbers would bring scouts by the dozens. In Massachusetts, it brought a lone questionnaire from the Cubs and a single Division I scholarship offer from the University of Hartford.
Despite having football offers as well, Newcomb decided to join the Hawks for 2011-12 and was immediately met with change. Hartford had fired Jeff Calcaterra, the coach who had recruited Newcomb during the 2011 season, and replaced him with then-UConn pitching coach Justin Blood, who had made his name helping the Huskies earn their first trip to the NCAA Super Regionals. Under Blood's guidance, right-hander Matt Barnes was named Big East Pitcher of the Year and became the 19th overall pick in the 2011 Draft by the Red Sox.
With the Hawks coming off a woeful 6-43-1 year in 2011, Blood immediately entrusted the freshman Newcomb -- though he was only throwing in the high 80s by that point -- with a spot as a weekend starter, a coveted role for any collegiate hurler, never mind one in his first season. The campaign itself was rather unremarkable (4.17 ERA, 45/38 K/BB in 45 1/3 IP), but a seven-inning no-hitter against Yale on March 24, 2012, gained him some notoriety, and even then Blood could see the development of something special.
"I thought he had a chance to be a third-to-fifth-round pick by the time he'd get to the Draft right from that first season," said the Hawks coach. "Honestly, there wasn't some secret throwing program. I mean, we're talking about a kid who's 6-foot-5, 245 pounds. It wasn't hard to see a human being with great strength. And it wasn't just that. You could watch him catch a football or catch balls in the outfield and see that he moved well and was fluid. He started putting on pounds -- and the right pounds -- from the start, once he was focusing on baseball year-round, and that's when he took off."
The Cape Cod Baseball League, the country's premier summer showcase for college players, came calling, and the Wareham Gatemen, who play 20 minutes south of Middleborough, wanted the local kid. Newcomb threw only 6 1/3 innings in his first season on the Cape in 2012, but he understood the opportunity.
"Growing up a town over, I really, really wanted to play there," he said. "It was pretty cool when I found out I could, because I knew how it worked with the amount of scouts who are there. I was pumped to go over there."
Despite his short time on the Cape, Newcomb carried that momentum back to Hartford in 2013, posting a 3.75 ERA with 92 strikeouts in 72 innings while cutting his BB/9 rate from 7.5 as a freshman to 4.6 as a sophomore. The Cape called again, and this time -- due to mononucleosis -- the southpaw again only managed 22 1/3 innings, during which he posted a 4.43 ERA with a 28-to-13 K-to-BB ratio, but that was enough for the scouts to see his now low-90s fastball and complementary curveball and changeup.
It was during that summer of 2013 that Newcomb went from Northeast novelty to legit Draft prospect, thanks to his physical development and work with Blood.
Newcomb, whose fastball by then had worked its way into the mid-90s and could touch 98, surged into first-round discussion with a remarkable junior campaign, posting a 1.25 ERA with 106 strikeouts and only 38 walks in 93 1/3 innings for the Hawks, who had improved to a 31-23 record and set a school record for wins in a season. Part of Newcomb's allure was also how fresh his arm was, compared to arms in the South that had been more taxed from year-round work and perhaps more susceptible to the Tommy John bug. That talk got back to Newcomb, but there were some caveats.
"Yeah, I heard about it a little bit," he said. "At the same time, teams wouldn't know what to think of me in terms of whether I'd be able to go deep into a season. It kinda worked for and against me. In my last year of college, the [93 1/3 innings] were the most I'd ever thrown, so I didn't really have a way of proving them wrong."
His coach, however, saw Newcomb's origins as a bit of a gift.
"I think it's important," Blood said. "Especially now when you hear about the rash of arm injuries in baseball. As a recruiter or a scout, everybody looks at velocity and stuff when it comes to pitchers, and usually, that comes from guys who have pitched more. So guys like Sean may get overlooked at first, but they haven't peaked yet.
"It kind of annoys me when people talk about northeastern kids not having the same potential. A lot of these kids are playing three sports in high school, so in some ways, they have a higher ceiling in baseball once they focus on it completely. Once they've chosen it, they have a little more drive than those that only played baseball all their life because that's the one they've decided to stick with."
The Angels liked enough of what they saw from the 6-foot-5 southpaw that they made him the 15th overall selection in 2014 -- the organization's first first-rounder since C.J. Cron in 2011 -- selecting him two spots before the Royals picked fellow college lefty Brandon Finnegan, who pitched for Kansas City during the club's playoff run last fall.
After signing for a $2,518,400 bonus with the Halos and spending short stints in the Rookie-level Arizona League and Class A Burlington, Newcomb has impressed once again in his first full season of Minor League ball. Combining his time at Burlington, Inland Empire and Arkansas, he leads the Minors with 134 strikeouts and has posted a 2.31 ERA in 105 innings. His 57 walks (and 4.9 BB/9) remain a concern, but his 65-grade fastball is well-established, and the Angels are happy with the progression of his curveball and, especially, his changeup.
"I'm working off my fastball a lot still, but being able to throw the offspeed stuff for strikes has been huge," Newcomb said. "These guys could foul off my fastball all day, but once I could put them away with my breaking ball and changeup, that was huge. I'm still learning how to command them better, but it's getting there."
The prospect landscape is catching on as well. MLB.com moved Newcomb up to the No. 24 spot in its overall ranking of prospects last week, and there have been enough rumblings that the southpaw deserves a Major League spot down the stretch that Angels assistant GM Scott Servais felt the need to shoot them down following Newcomb's promotion to the Texas League.
The Massachusetts native is paying attention to what the baseball world is saying about him but knows there's still more improvement needed before his road from Middleborough to the Majors is complete.
"It's definitely rewarding," he said. "I don't sit down and look through all of them, but my dad will text me to let me know or I'll get something from social media or some of the guys on the team. For me, I just keep thinking about how a couple years ago I was at a small college trying to get noticed. It's definitely rewarding now, and it makes me happy that the hard work is paying off."
Sam Dykstra is a contributor to MiLB.com. Follow and interact with him on Twitter, @SamDykstraMiLB. This story was not subject to the approval of the National Association of Professional Baseball Leagues or its clubs.
View More