Travelers' Kipper journeys into history
Angels righty faces minimum, fans eight in nine-inning no-hitter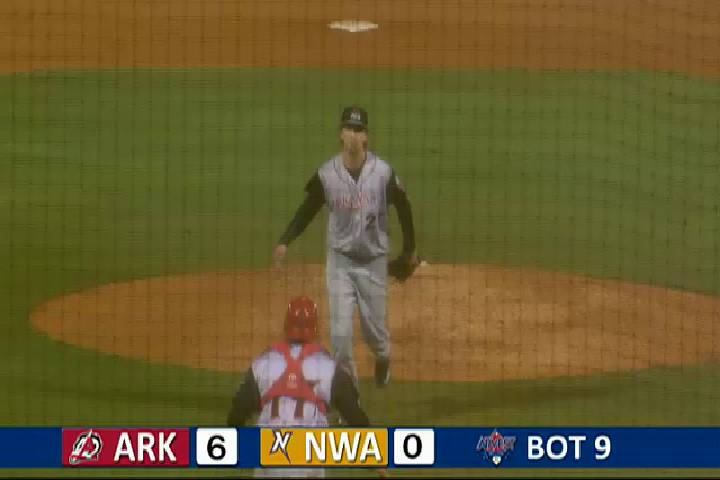 By Robert Emrich / MiLB.com | May 18, 2016 1:50 AM
There's dominant and then there's what Jordan Kipper did Tuesday.
The Angels right-hander retired the final 26 batters of the game following a leadoff walk as the Double-A Arkansas Travelers beat the Northwest Arkansas Naturals, 6-0.
Kipper walked Ramon Torres on five pitches to open the game. After striking out Carlos Garcia, the 23-year-old right-hander got Ryan O'Hearn to bounce into a 4-6-3 double play to end the first inning. From there Kipper cruised, allowing no one else to reach base while tying a career high with eight strikeouts.
"I felt great out there," said Kipper, who threw 70 of his 108 pitches for strikes. "Just wanted to attack the hitters, work down in the zone and allow my defense to work behind me and execute the gameplan we had tonight.
"I just wanted to stay in attack mode and keep being aggressive and not think that I need to get more perfect with my pitches. Just know that what I've been doing has been working and that I don't have to make anything better or nastier."
Kipper, who said he'd never thrown a no-hitter before, survived a close call in the ninth. Cam Gallagher hit a long fly ball down the left-field line that was called a foul ball. The Texas Christian product recovered to fan Gallagher for the first out of the inning.
"At first, I thought it was a home run," Kipper said. "I was standing there watching it and I knew it was close. I looked back and saw the home plate umpire [Reid Gibbs] and saw him looking at it and I didn't hear the third base umpire [Jon Felczak] make a call, so my initial thought was he's going to call this a home run. I heard him call it a foul and it was just kind of a sigh of relief."
The Phoenix native got Jack Lopez to ground out for the second out and closed out the no-no by fanning Terrance Gore.
"It was a cool way to finish it," he said. "Didn't have to leave anything up to chance. Being able to do it on a strikeout was a cool feeling."
For Kipper, the first no-hitter for the Travelers since Ryan Braiser delivered one on April 29, 2010, came after struggling through his last three starts. During that stretch, the 2014 ninth-round pick gave up 18 earned runs on 27 hits over 15 innings.
"I just got back to trusting myself and trusting my stuff most importantly," Kipper said. "Last start, I had the rough first inning, but then felt I gained a little bit of confidence back through the end of the game and I wanted to carry that into today."
But Kipper might have been the loneliest person in Arvest Ballpark during the game.
"Once the fifth or sixth inning started, I noticed that I was down at the end of the dugout by myself and everyone was on the other end of the dugout," he said. "Like you see in the big leagues, everyone started creating a little bit of distance between us."
Kipper became the first hurler this season to toss a complete-game nine-inning no-hitter and the first in the Minor Leagues since Pedro Brito managed the feat for the Dominican Summer League Rangers on July 2, 2015.
"It's pretty cool," the righty said. "Anytime you're able to throw a no-hitter, it's a great feeling. Not everyone is able to have this [opportunity]. Knowing that I was able to do that, it's pretty special."
Angels' No. 9 prospect Chad Hinshaw slugged a solo homer and Bo Way went 3-for-4 with an RBI and a run scored for the Travelers.
Robert Emrich is a contributor to MiLB.com. Follow him on Twitter @RobertEmrich. This story was not subject to the approval of the National Association of Professional Baseball Leagues or its clubs.
View More