Tulsa evens TL Finals on Downs' trifecta
Dodgers No. 6 prospect rakes four hits, Casey adds two homers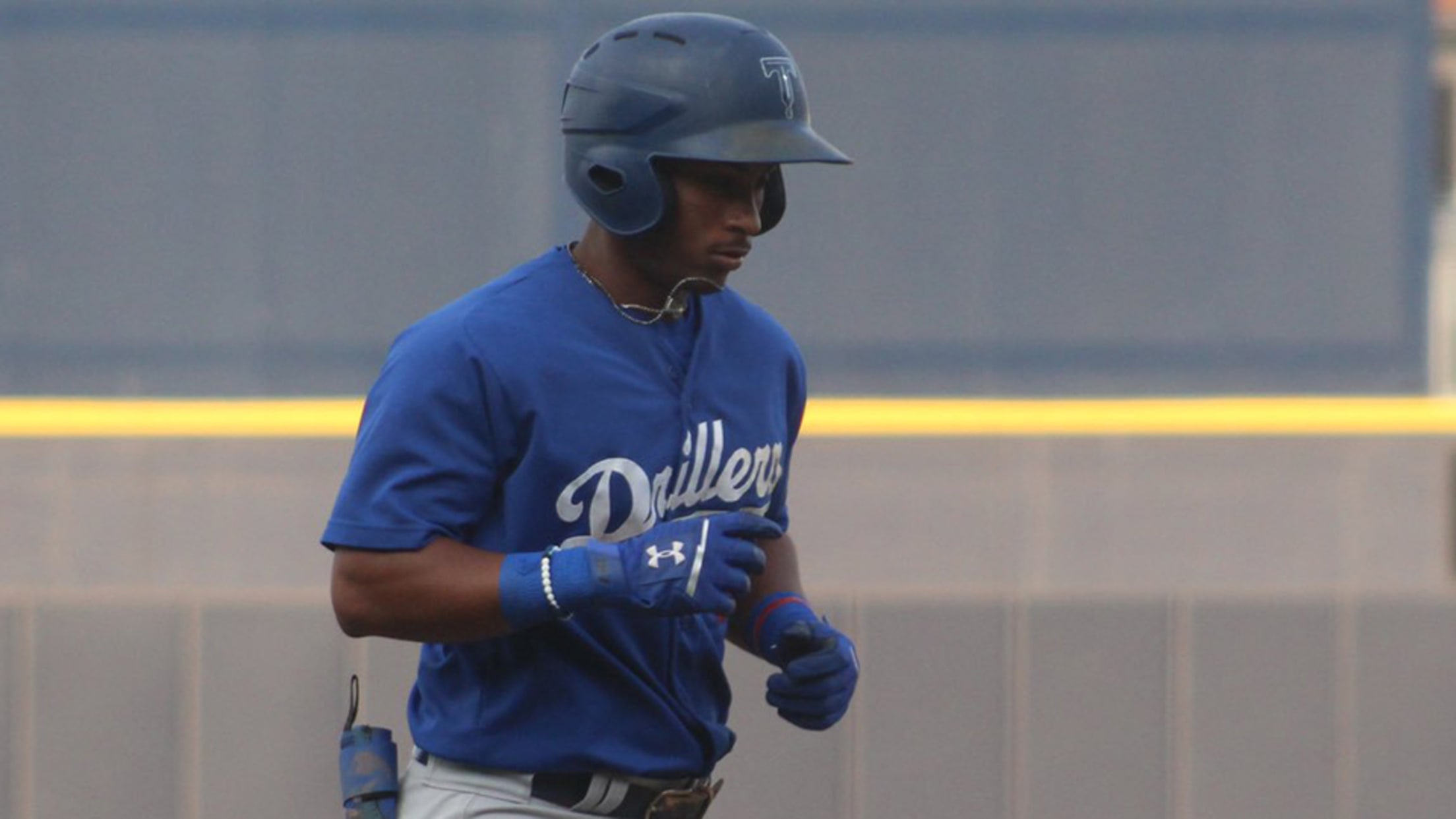 Jeter Downs batted .333 with five homers and 11 RBIs over 12 games in the Texas League this season. (Tulsa Drillers)
Jeter Downs set the tone for the Double-A Drillers with a milestone night..The sixth-ranked Dodgers prospect smacked three solo homers, reached base six times and scored five runs as Tulsa outslugged Amarillo, 18-9, in Game 2 of the Texas League Championship Series at Hodgetown. Donovan Casey added two dingers, two
Jeter Downs set the tone for the Double-A Drillers with a milestone night..
The sixth-ranked Dodgers prospect smacked three solo homers, reached base six times and scored five runs as Tulsa outslugged Amarillo, 18-9, in Game 2 of the Texas League Championship Series at Hodgetown. Donovan Casey added two dingers, two doubles, four RBIs and four runs.
On the first pitch of the game by Padres No. 28 prospectJacob Nix, Downs cracked a homer over the wall in left field. That gave the Drillers some adrenaline off the bat on the heels of the Game 1 loss, according to Tulsa manager Scott Hennessey.
"We kind of jumbled the lineup a little bit and wanted some power up top and Jeter hits the first pitch of the game out," he said. "After a loss, to jump out on top was good ... and we ended up scoring three runs."
Downs agreed with his coach.
"It was an amazing feeling, first pitch of the game, in a big bounce game for us after the Game 1 loss," the 21-year-old shortstop said. "Good way to start off and set the tone that we're here to fight. Got the guys amped up a bit."
Downs drew a two-out walk in the third, scoring on a double by Los Angeles' No. 28 prospect Connor Wong.
A throwing error by shortstop Ivan Castillo put the 32nd overall pick in the 2017 Draft on base to begin the third. He advanced to third on Wong's single and a flyout by Cody Thomas before Casey belted a three-run homer off right-hander Blake Rogers.
Gameday box score
Downs rounded the bases again in the fifth, crushing the first pitch he saw from Elliot Ashbeck to left for a solo shot. Facing the righty again in the seventh, the Florida native lined a double to left.
He wasn't done yet, planting a 2-0 pitch from 6-foot-5 righty Jordan Guerrero over the left-field wall in the ninth.
After his Aug. 20 promotion to the Texas League, Downs batted .333/.429/.688 with five home runs, two doubles, 14 runs scored, 11 RBIs and a stolen base in 12 games. With Class A Advanced Rancho Cucamonga, the right-handed hitter finished with a .269 average, 19 dingers, four triples, 33 doubles, 78 runs, 75 RBIs and 23 stolen bases over 107 contests.
"It is a special bat," Hennessey said. "He has a lot of power and continues to grow as a hitter. He knows who he is as a hitter, which is very unique for how young he is. He knows who he is as a player and never tries to do too much at the plate."
Wong contributed four hits -- including three doubles -- four runs and two RBIs and four runs while Los Angeles' No. 15 prospect Omar Estevez homered and doubled, driving in three and scoring twice. Cody Thomas added a homer and three RBIs and Chris Parmelee belted a two-run jack in the second. Carlos Rincon hit a solo tater in the sixth as Tulsa tallied nine long balls, a record in the history of professional baseball in the city.
All the offense helped counteract losing the lead in the first. Trailing 5-3, Hennessey brought in Luis Vasquez to change the momentum. After giving up a three-run dinger to Taylor Trammell, MLB.com's No. 27 overall prospect, the right-hander dug in.
Complete playoff coverage
"We hit them in the mouth and then they hit back," the manager said. "We brought Vasquez in, one of our back-end guys, just to slow the game down which we normally don't like to do, but we did. I basically said, 'Let's get a couple of runs. Scratch a couple out and give ourselves a puncher's chance.' I didn't think eight runs was enough the way the ballpark was playing. We kept on grinding out at-bats, not trying to hit home runs. Just a credit to our guys hanging with it."
"Punching back after they put up an eight-spot was huge," Downs added. "Felt like that killed the crowd and drained them a bit. That's a great squad over there. They aren't gonna give up, but it was definitely a good blow to get them right back, killing their momentum."
Left-hander Michael Boyle (1-0) allowed one run on one hit while fanning one over three frames. The relief pitchers -- Vasquez, Boyle, right-hander Shea Spitzbarth and righty Nolan Long -- allowed a run on two hits over the final eight innings.
That impressed Hennessey, particularly since the wind was blowing out at times at 20 mph.
"It started with Vasquez," he said. "That's why we brought him in there. He settled the game down. Then Michael Boyle was outstanding. They were getting ahead of hitters, keeping the ball down."
Ultimately the Drillers got what they were looking for, one win in two games on the road before returning to their friendly confines for the rest of the Finals. Game 3 will be played Friday.
"Obviously, we wanted to get a split just like in the Arkansas series," the skipper said. "So we've been here before and the guys were as loose as I've ever seen them today in batting practice, talking smack to each other, and we came out and just played like it."
Trammell also tripled and scored twice for Amarillo.
Brian Stultz is a contributor to MiLB.com. Follow him on Twitter @brianjstultz.