With Brett's advice, Starling stays hot
Outfielder goes yard in third straight, credits Royals' Hall of Famer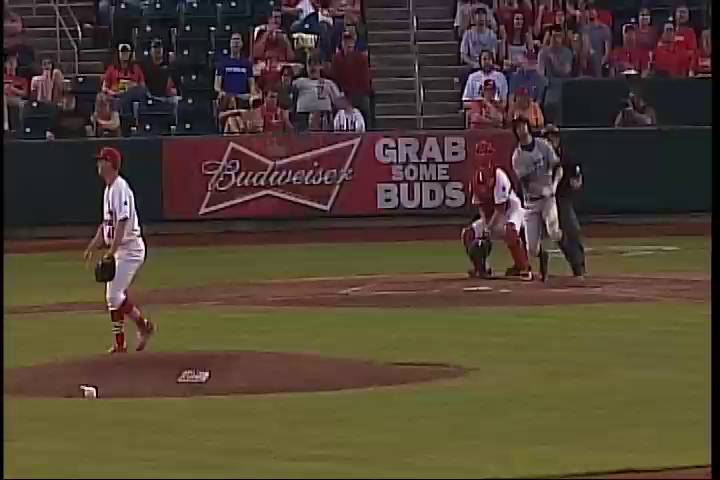 By Jake Seiner / MiLB.com | May 8, 2015 1:06 AM
George Brett's time as hitting coach in Kansas City was short. If he ever wants to dust off his resume and return to the dugout, Bubba Starling will gladly serve as a reference.
The Royals' No. 13 prospect worked with Brett three or four times a week this offseason, and the results have shown early in 2015. Starling homered for the third straight game Thursday as Double-A Northwest Arkansas fell to Springfield, 13-8.
Starling delivered his long ball in the top of the third inning, a two-run shot that carried over the wall in left-center field.
The 2011 first-rounder (fifth overall) cranked his first Double-A homer Tuesday, smacking a two-run round-tripper en route to the Naturals' 5-3 win. Homer No. 2 came the next day, when Starling's two-run shot helped Northwest Arkansas to an 8-4 victory.
Starling hit just .218 with Class A Advanced Wilmington in 2014, striking out 150 times and hitting nine home runs.
This year, he's hit .311 between Wilmington and Northwest Arkansas -- he was promoted to Double-A in late April -- and already has five home runs.
"I just feel like my timing is a little better this year," Starling said. "That's what I worked on quite a bit this offseason with George Brett. Rhythm, timing, getting on pitches, being ready to hit. Obviously, last year, and in years past, I was a little jumpy with my swing. I've slowed things down. Just be as smooth as possible."
Starling began working the Hall of Fame third baseman who collected 3,154 hits with the Royals in early December. Brett is currently the Royals' vice president of baseball operations, and he also served as an interim hitting coach for the Royals for about two months in 2013.
Brett and Starling made a few tweaks to his setup, with an eye on smoothing the transition between when Starling decides to swing and when he begins delivering the barrel to the hitting zone.
"We worked with my hands a little bit," Starling said. "Moved my hands back further, in a more comfortable position for myself. And we worked on rhythm and timing a lot. Just being able to be ready and attack the ball, be aggressive. Being able to pick George's brain, obviously, it's pretty cool for him to take the time to come in to the stadium and work out with me."
Strikeouts have been a problem for Starling in his pro career. He whiffed in 27 percent of his plate appearances last year, but he's managed to improve his two-strike hitting since the start of 2015. After striking out nine times in a three-game series with Wilmington to open the year, Starling has just 20 in 21 games, including 12 in his first 11 Double-A games.
"Obviously, the strikeouts, they're going to be there with me," he said. "I'm trying to limit them a little more. Go up and have a good at-bat. When you do get two strikes, try to shorten up a little more. In the past, I've gotten long with my swing. I'm just going out and working hard every day and putting in the work."
Springfield first baseman David Washington bashed a pair of home runs.
The Cardinals rallied to the lead with a seven-run seventh inning. The breakout included a two-out, three-run home run by designated hitter Anthony Garcia.
Jake Seiner is a contributor to MiLB.com. Follow him on Twitter at @Jake_Seiner. This story was not subject to the approval of the National Association of Professional Baseball Leagues or its clubs.
View More