Steady Scoring Takes Tri-City to Win over Hillsboro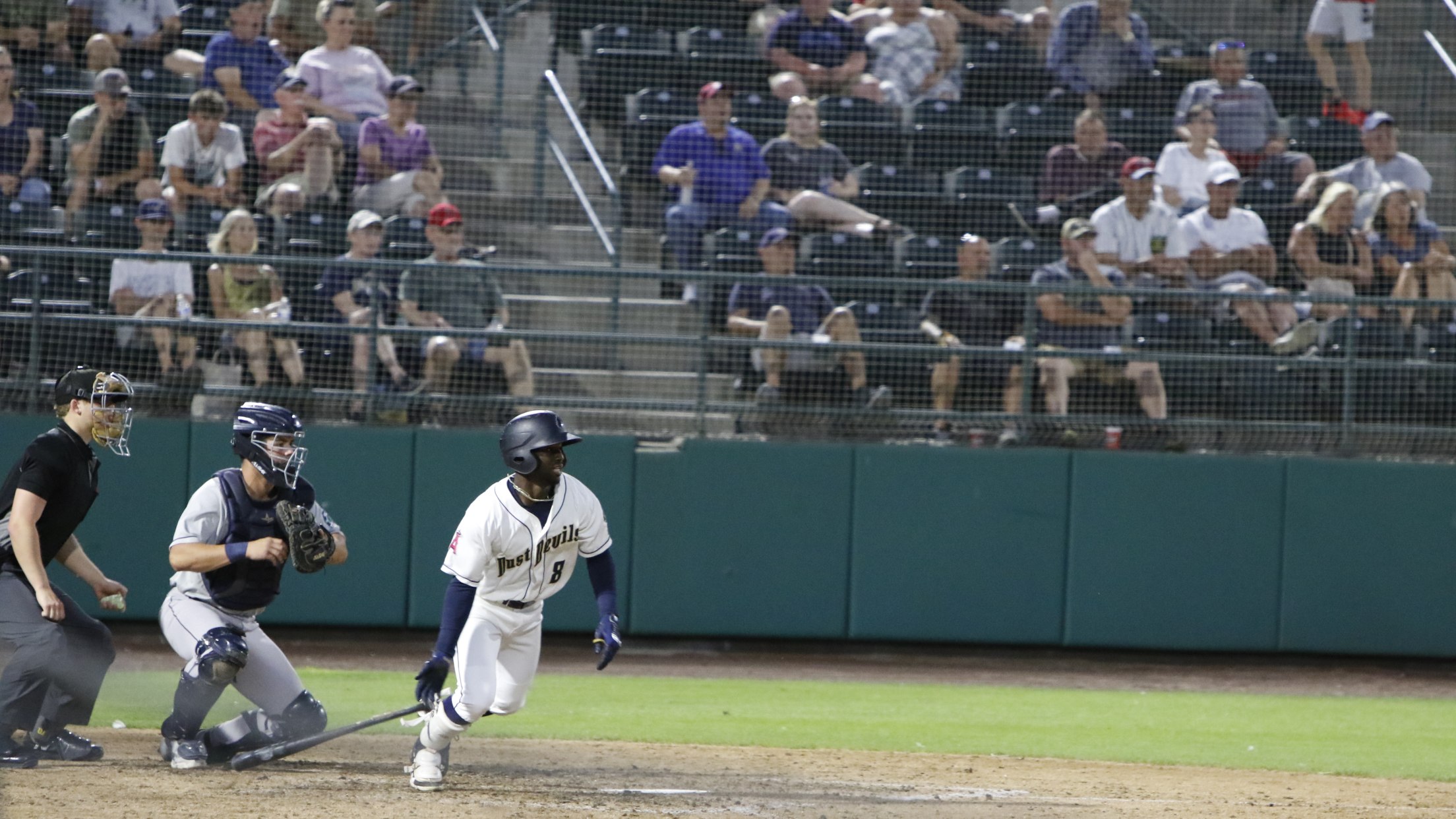 A single run in their first four at-bats pushed the Tri-City Dust Devils (23-34 2H, 52-68) past the Hillsboro Hops (26-31 2H, 55-66) to a 4-2 victory Thursday night at Ron Tonkin Field. The Dust Devils grabbed an early lead in the 1st inning. CF D'Shawn Knowles singled to right
A single run in their first four at-bats pushed the Tri-City Dust Devils (23-34 2H, 52-68) past the Hillsboro Hops (26-31 2H, 55-66) to a 4-2 victory Thursday night at Ron Tonkin Field.
The Dust Devils grabbed an early lead in the 1st inning. CF D'Shawn Knowles singled to right field, and Hops RF Caleb Roberts mishandled the ball by unintentionally kicking it away for a two-base error that put Knowles at third base. SS Osmy Gregorio then shot a single to right to score Knowles for a 1-0 lead.
That lead would be short lived, as in the bottom of the 1st inning Hillsboro 3B A.J. Vukovich lined a two-run home run to left field off Tri-City starter Jose Salvador (4-7) for a 2-1 lead for the home team.
The Dust Devils tied the game in the 2nd inning. 3B Christian Sepulveda led off the inning with an infield single, moving to second base on a throwing error by Hops SS Channy Ortiz. C Straton Podaras then blooped a one-out single to center field and DH Brendan Tinsman was hit by a pitch from Hillsboro starter Avery Short (1-3) to load the bases. 2B Kyle Kasser then slashed a single to center, scoring Sepulveda to tie the game at 2-2.
Tri-City took the lead for good at the top of the 3rd inning when 1B Gabe Matthews crushed a home run to right center field, the deepest part of the park, to give the visitors a 3-2 lead. It was the Salem, Oregon native's 14th home run and 60th RBI of the year.
The Dust Devils doubled their lead in the 4th inning with two outs. Kasser reached via fielder's choice and stole second base to move into scoring position. Knowles then bounced an opposite field single to right to score plate Kasser for the final margin of 4-2.
While the offense plunked runs on the scoreboard Salvador (4-7) had to grind through his outing, making it through 5.1 innings despite not having his best stuff. The southpaw from Santo Domingo walked five but struck out six and left with the lead. Reliever Hayden Seig then came in with one out in the bottom of the 6th inning, asked to preserve the two-run lead with the potential tying runs aboard at first and second base.
Seig did exactly that, with one pitch: a line drive hit by Ortiz straight to his counterpart at shortstop, Osmy Gregorio. Gregorio caught the liner and Hops 1B Neyfy Castillo found himself caught in no man's land, well off second base with no chance to get back. Gregorio stepped on second for the double play to end the inning. Seig has now had two one-pitch outings in his last three appearances, both to back up Salvador to aid in a victory.
From there the bullpen finished the job, with lefty two-way player Dylan Phillips pitching two innings of scoreless relief. Righty Nathan Burns closed out the 9th inning for his third save of the year.
At the plate the Dust Devils had eight of the nine in their lineup get a hit, with D'Shawn Knowles singling twice. Only RF Joe Stewart did not get a hit, but he walked to get aboard and extend his on-base streak to ten games. Gabe Matthews, via a 1st inning walk, extended his on-base streak to 19 games.
Tri-City will look to even the series in game four of their six-gamer with Hillsboro at 7:05 p.m. Friday night at Ron Tonkin Field. Two righties are scheduled to face off, with John Swanda (3-1, 5.79 ERA) going for the Dust Devils and Marcos Tineo (2-4, 4.59 ERA) going for the Hops.
The game broadcast begins with the King Beverage Budweiser Pregame Show at 6:50 p.m. at dustdevilsbaseball.com and the MiLB First Pitch app.
Tickets for Tri-City's final home series of the regular season, September 6-11 vs. Spokane, are on sale now with special ticket rates are available for groups of 20 or more. For more information on Dust Devils single game, season, mini-plan (11, 22, 33) and group tickets, visit dustdevilsbaseball.com or call 509-544-8789.