August 27, 2019: 'Cats End Home Series With 4-0 Shutout Over Staten Island
Four pitchers combined to give up just two hits, while two 'Cats went long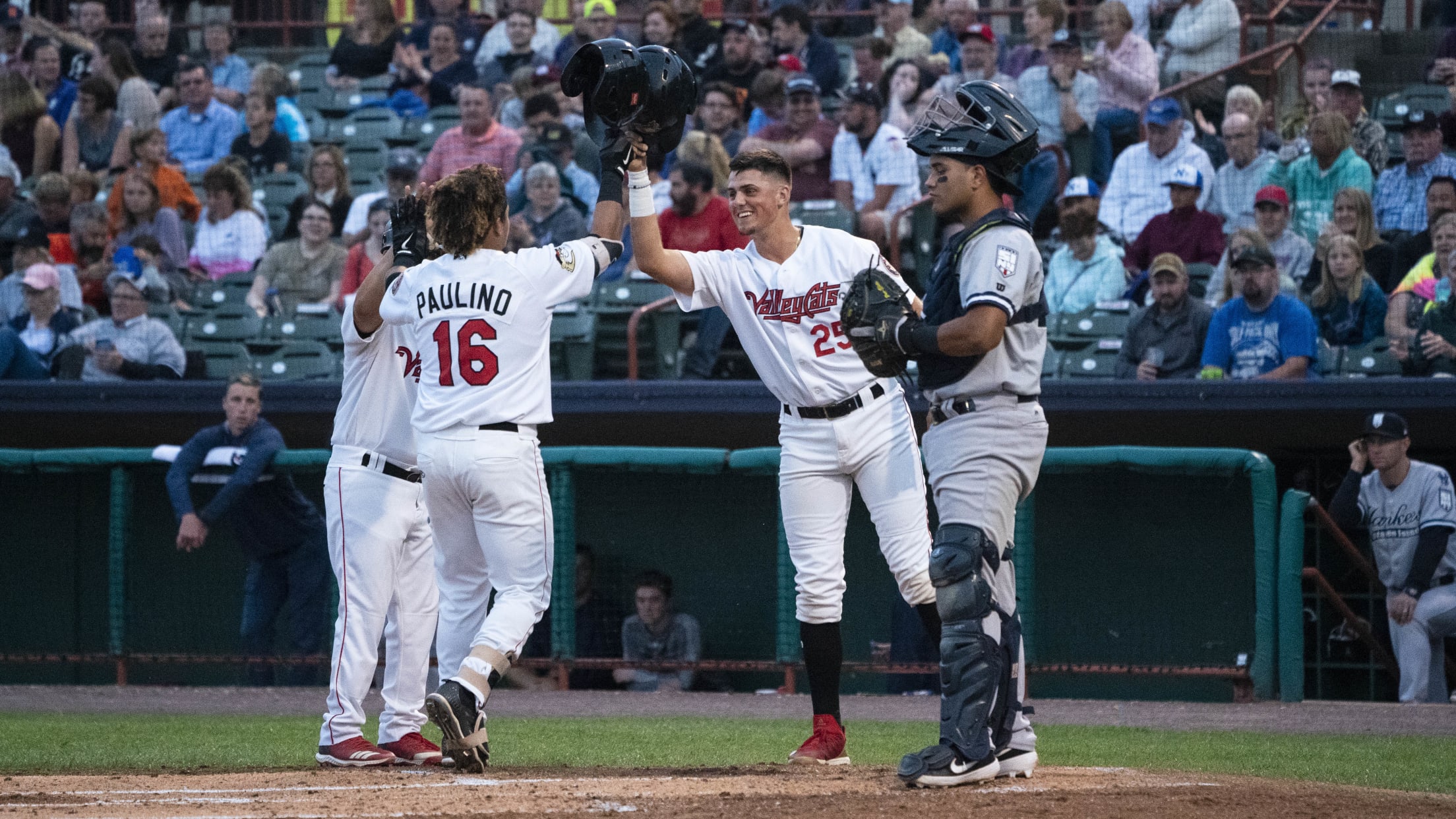 August 27, 2019: Tri-City ValleyCats catcher Nathan Perry (25) bumps batting helmuts with Tri-City ValleyCats catcher Juan Paulino (16) after he hit a two run home run during the first inning of the game between the Staten Island Yankees and the Tri-City ValleyCats. (Gregory J. Fisher)
TROY, NY- Despite being shutout twice in the previous three games in the series, the Tri-City ValleyCats returned the favor to the Staten Island Yankees at Joseph L. Bruno Stadium Tuesday evening. The 'Cats took a 4-0 win over their McNamara Division rivals to split the four-game series, giving each
TROY, NY- Despite being shutout twice in the previous three games in the series, the Tri-City ValleyCats returned the favor to the Staten Island Yankees at Joseph L. Bruno Stadium Tuesday evening. The 'Cats took a 4-0 win over their McNamara Division rivals to split the four-game series, giving each team four wins in the season matchup.
Rebounding off an 8-0 shutout loss Monday evening, the ValleyCats (28-41) saw starter Angel Macuare and Brayan De Paula (1-0) strikeout five and two batters, respectively, while only giving up one hit apiece. Blair Henley and Cole McDonald then came on in the latter innings to dish out three each and push along what was four hitless innings to end the game.
Offensively, the 'Cats got on the board with an RBI double in the first from Nate Perry that sent home Korey Lee. Juan Paulino made it 3-0 two batters later with his second home run of the season, a two-run shot that sent in both him and Perry.
The long ball would be in play once more in the contest, with Preston Pavlica launching his third of the season out of the park in left in the bottom of the third.
The Yankees (38-32) dropped a game while trying to hang in the race for their division title, going 0-6 with runners in scoring position and stranding 10 on the basepaths.
Right-hander Wellington Diaz (3-5) was tagged with the loss, allowing all four runs on as many hits while striking out eight and walking a pair in 3.2 innings.
Following their second shutout of the 2019 season, the ValleyCats will now head out on the road for the final time in 2019 to face the Lowell Spinners in a three game set, Wednesday - Friday. Tri-City will close out the season at home Saturday, August 31 through Monday, September 2, when they host the Vermont Lake Monsters at "The Joe".